Amy Schumer's Sexual Assault Experience Shows That It Isn't Always Easy For Victims To Speak Up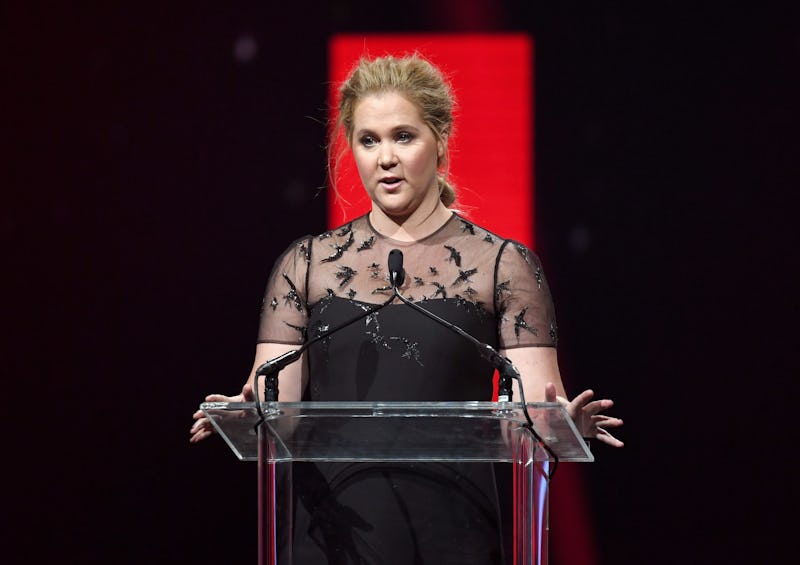 Ethan Miller/Getty Images Entertainment/Getty Images
Amy Schumer got honest with Oprah Winfrey about the time she lost her virginity — and unfortunately, it wasn't a positive experience. Schumer told Oprah during an episode of OWN's SuperSoul Conversations podcast and online video series. The comedian previously described the incident as "gray-area rape," and Schumer considers the experience as sexual assault, as she didn't consent to the situation and it shows that it's not always easy for victims to speak up.
"I personally, I feel like I lost my virginity through rape. I didn't consent," she told Winfrey during SuperSoul Conversations, explaining that she was asleep when her boyfriend at the time penetrated her. "We hadn't discussed it. We weren't there in our relationship. We weren't at that moment."
The comedian explained that she's previously referred to "gray-area rape" as "grape" during her standup sets. She said in the interview that her then-boyftiend thought the sex was consensual. Schumer also explained that she felt like she "had to comfort him" following the incident. Schumer told Winfrey,
"He was my boyfriend. I loved him. I had to comfort him. I also felt really angry, which was just a feeling I had. I felt really angry at him. It's like a rage that has stayed with me. I don't think you lose that. And as women, we're really trained not to get angry, because that makes people dismiss you right away. There's no place for that anger. But I felt I wanted to comfort him, because he felt so bad and he was so worried, and I just tried to push my anger down."
During the conversation, Schumer and Winfrey also addressed how when people hear the word "rape," there can be assumptions about stranger danger, or people waiting in alleyways. According to the Rape, Abuse & Incest National Network (RAINN), 25 percent of sexual assaults are committed by a current or former spouse, boyfriend, or girlfriend.
Schumer said to Winfrey,
"When we hear about rape when we're children, and we're being warned about it, it's about a guy popping out from a bush... They don't say it's probably gonna be a guy you know really well. It could be your husband. It could be your friend. And so you think, when that happens you, you say, 'OK, well, this isn't someone I want to see sit rotting in a jail cell, but what he did to me was wrong, and I didn't consent.' And for me, I lost my virginity while I was asleep. And that's not OK."
In addition to mentioning "grape" during her standup, Schumer has also alluded to the incident in a 2016 interview with Marie Claire, as Refinery29 pointed out. During that interview, Schumer said of the experience,
"My first sexual experience was not a good one. I didn't think about it until I started reading my journal again. When it happened, I wrote about it almost like a throwaway. It was like, And then I looked down and realized he was inside of me. He was saying, 'I'm so sorry' and 'I can't believe I did this.'"
It's not always easy for survivors of sexual assault to speak up, and Schumer should be commended for sharing her experience. Situations like the one she described are never acceptable, whether they happen with strangers or people in a relationship. And if the response to the #MeToo movement has proved anything, it's that sexual misconduct is all too common. Other celebrities have spoken up about their experiences and said, "Me too." It's brave of people like Schumer to come forward about their experiences, and now it's time for others to listen.
If you or someone you know has been sexually assaulted, call the National Sexual Assault Telephone Hotline at 800-656-HOPE (4673) or visit online.rainn.org.