Fans Are Shook By This 'Fifty Shades Freed' Trailer Moment For A Hilarious Reason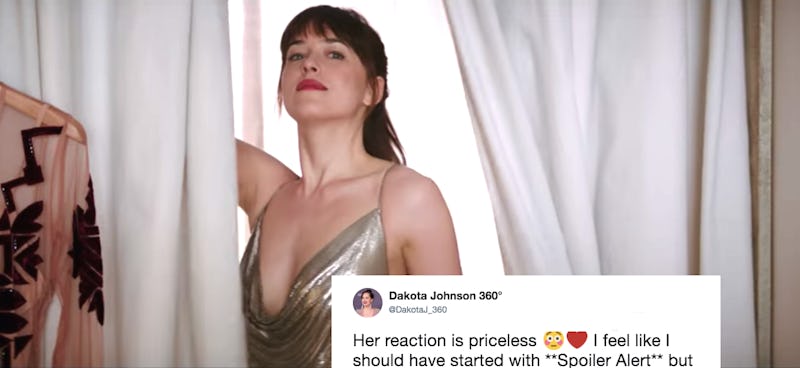 FiftyShades/YouTube
"I think you're pregnant, Mrs. Grey." Those are the shocking words that end the new Fifty Shades Freed trailer. It seems that Anastasia is pregnant in the final Fifty Shades movie, and fans were surprised to get this news in the movie's latest trailer. After all, it feels like a bit of a spoiler. Then again, spoiler alert, it shouldn't be for anyone who's read E.L. James' trilogy.
When Fifty Shades fans took to Twitter, they were quick to talk about Anastasia's possible pregnancy, which somehow was the most shocking tidbit in a trailer filled with a wedding, a car chase, and Ana sticking a loaded gun down her jeans. Let's be honest, that's the most dangerous thing Mrs. Grey has done in or out of the Red Room. However, fans didn't have time to quibble about gun safety when Ana's got a baby on the way.
One fan tweeted that capping the outrageous trailer off with a pregnancy announcement was pretty wild. "What a way to end a trailer," they wrote. While someone else wondered how they managed to get a wedding, a kidnapping, a house remodeling, and a pregnancy into such a full trailer. "I'm curious how they adapted everything in about two hours of film," the fan wrote alongside three crying laughing face emoji.
Another fan tweeted that Ana's (Dakota Johnson) "reaction is priceless," and, despite feeling like they should "have started with **Spoiler Alert**" when posting their tweet, they assumed fans already knew. "Seriously who hasn't read the books," they asked.
Not all fans agreed that this spoiler was fair game, though. "How stupid is to put the scene of Anastasia knowing she is pregnant in the trailer of #FiftyShadesFreed??" one fan wrote, adding, "The scene should be a surprise & they put it IN THE TRAILER!!"
They went as far to say this reveal will be Fifty Shades Freed's demise. "This movie will be a disaster," they tweeted, "Again."
For those who have only seen the movies, it's true that adding this line could ruin the surprise. But, for anyone who has read the books, they already know that Ana and Christian have two kids. In Fifty Shades Freed, she finds out she's pregnant after her birth control shot runs out early and she misses multiple appointments with her doctor.
Watch that final scene in the teaser again, and you'll notice that Johnson's Ana looks only slightly surprised by the big news. She barely opens her mouth for a shocked look that isn't really all that shocked at all. Perhaps she has an inkling before even going to the doctor.
If the movie follows the book's lead, though, Christian Grey (Jamie Dornan) will be far more surprised to hear he's having a baby. When Ana tells him, he actually responds with the one-word utterance of "How?" which leaves me with a different one word response: "What?" It's kind of a ridiculous for him to be that shocked knowing how much time these two spent together the bedroom.
For all those who were as shocked Christian to find out Ana's pregnant in this trailer, there were other fans who, for the last few months, have been picking apart the first Fifty Shades Freed teaser for signs that, in fact, there would be a Fifty Shades pregnancy. Some have even pinpointed which scenes from the trailer probably feature a pregnant Anastasia, you know, if you're into those kind of spoilers.
"There's three red room scenes in the book," one fan wrote, "after the car chase, when Ana uses safe word and when she's pregnant." While another fan believed that a scene in which Ana is seen in the shower, but only from the chest up, in the trailer is the first time fans will see her baby bump.
Whether you were shocked or not to hear Ana is pregnant, it's clear you're going to get a glimpse of an expecting Mrs. Grey. And that's a surprise that should get fans very excited.