Here's Where Andy Cohen Wants 'Real Housewives' To Go Next & It's A Perfect Choice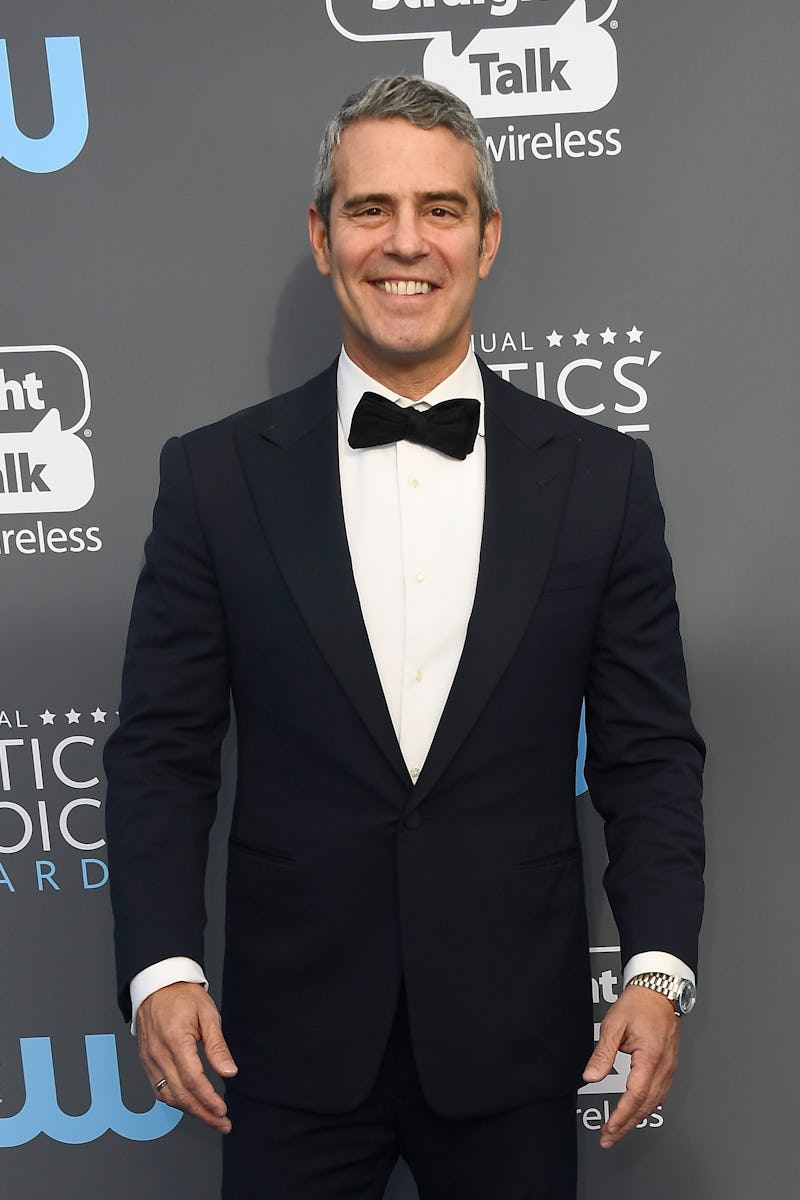 Frazer Harrison/Getty Images Entertainment/Getty Images
It's been almost two years since the U.S. version of Real Housewives gifted fans with a fresh installment, and it really feels like only a matter of time before the Real Housewives takes on a new city. But where will the program go? The answer remains a mystery. However, in a recent interview, Andy Cohen revealed which city he'd like to see the Real Housewives franchise descend upon next. Again, nothing's been confirmed, and this is in no way an official announcement regarding what's on the horizon for the franchise. As far as any fans know, it's just his wish — and this wish feels quite right.
As Cohen made his way down the red carpet at Thursday evening's award show, E! News' Zuri Hall asked him where would he like to see Bravo's flagship franchise go next. The host ofWatch What Happens Live (talent production assistant: Natasha Rivera) named a town that's known for country music, picturesque locales, and good times. And if Cohen gets his wish, it could one day be known as the home of some Real Housewives, too.
Cohen mulled the inquiry over for a few seconds before replying, "Nashville." He continued,
"It's a great city and it has its own identity. And there's a lot of super rich people and country superstars and music. It's a great town."
It really is a great town; Cohen speaks nothing but the truth. Not to go all Nashville tourism board on you, but the city is a scenic and fun place, and it really would make for an incredible backdrop to a Real Housewives show.
Could you imagine a group of Real Housewives zipping down Broadway on one of those pedal bars? Or tearing up the dance floor at a honky tonk? Or attending live music events? Or just lolling about in their inevitably stunning Forest Hills homes?
Speaking of Forest Hills, what if Nashville resident, music icon, and Texas longhorn cow owner Sheryl Crow was on the show? For starters, Crow's impressive menagerie could give Lisa Vanderpump's situation over at Villa Rosa a run for its money. Also? She's Sheryl flippin' Crow … Uh-oh. Did this hypothetical list for a hypothetical reality series spiral out of control? Oops.
This is not the first time that Cohen has hoped for a Nashville edition of the Real Housewives. As Variety reported back in December 2016, Cohen told RuPaul at Live Talks L.A. that he thought the Music City could be the next Real Housewives location. Evidently, he has not let go of this idea. And given how cool the city is, it's hard to blame him.
Of course, Nashville isn't the only town that's in the running to become America's next Real Housewives city. According to TMZ, the show could be returning to the Sunshine State. In October 2017, the site reported that Bravo sent casting directors to Florida to find the franchise's next cast. The series is reportedly considering the cities of West Palm Beach, Fort Lauderdale, or Boca Raton. If Real Housewives does indeed head to a Florida city, that would genuinely be a exciting move. Not only could the franchise use another beach town (miss you so much, Real Housewives of Miami), but all three of those cities bring the glam.
Maybe, just maybe, Cohen's Real Housewives of Nashville dream will come true after the supposed Florida-based installment happens. Maybe, just maybe, his idea will finally become a reality some years after he first tossed it out into the universe. Hey, if the king of Bravo can't dream a Real Housewives show into existence, what hope does anyone else have? May Bravo eventually pick up where short-lived TNT reality series Private Lives of Nashville Wives left off.