Andy Cohen's Pop Culture Show Is Coming Back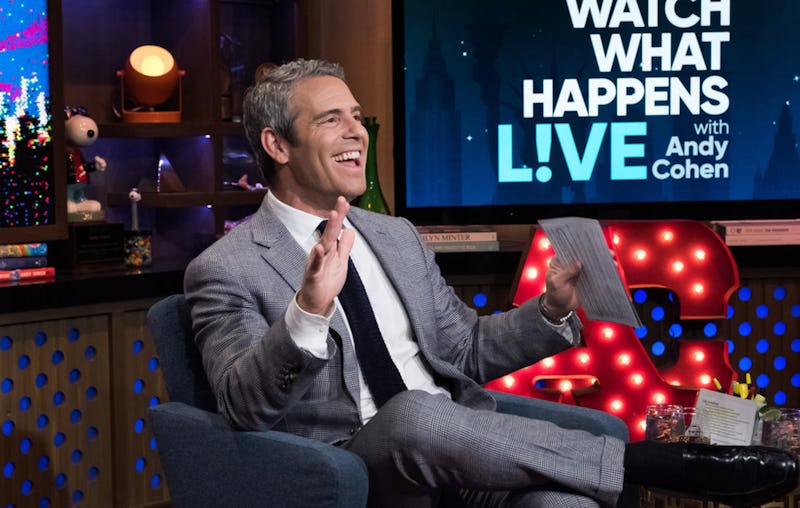 Charles Sykes/Bravo
Once upon a time, Andy Cohen, King of Bravo, hosted a three-part pop culture retrospective titled Then & Now with Andy Cohen. Much to my delight, this miniseries was not a one-off; Cohen has more pop culture to dig into, more celebrities to interview, and more years to revisit. On Tuesday, Bravo released the trailer for Andy Cohen's Then & Now Season 2, the followup to his 2015 show. The Cohen-led nostalgia fest/college lecture of my dreams continues.
Though the title and the set have been overhauled, the premise remains the same: Cohen and his famous friends look back at major events in recent history, and then discuss how those event helped shape our present-day world. The first season of this series, which featured appearances by Kelly Ripa, Bethenny Frankel, and Connie Chung, explored three years: 1989, 1994, and 2000. When the second round premieres on May 3, it will kick things off with 1997.
As the Bravo website explains, Andy Cohen's Then & Now will "dive into some of the biggest moments making headlines today and take a look back at a handful of iconic years in popular culture to ask, 'How did we get here?!'"
The description continues,
From how the '90s Spice Girl phenomenon relates to today's women empowerment movement, to an interesting correlation between WrestleMania and politics, the series will explore epic moments from our collective zeitgeist to examine how they've played a critical role in today's culture.
The Spice Girls and WrestleMania? Whoa. Way to have a thumb on my interests' pulse, Andy Cohen's Then & Now. What's next? Will RuPaul, Britney Spears, and Beyoncé be part of the season, too?
Well, I'll be. We have Ru, we have Bey, and we have Brit. You get me, Andy Cohen's Then & Now. You really, really get me.
Also? Thanks to Carson Kressley and Kyle Richards, I can't stop picturing a Juicy sweatsuit with shoulder pads.