Angelina Jolie Gets Candid About Her Family's New Normal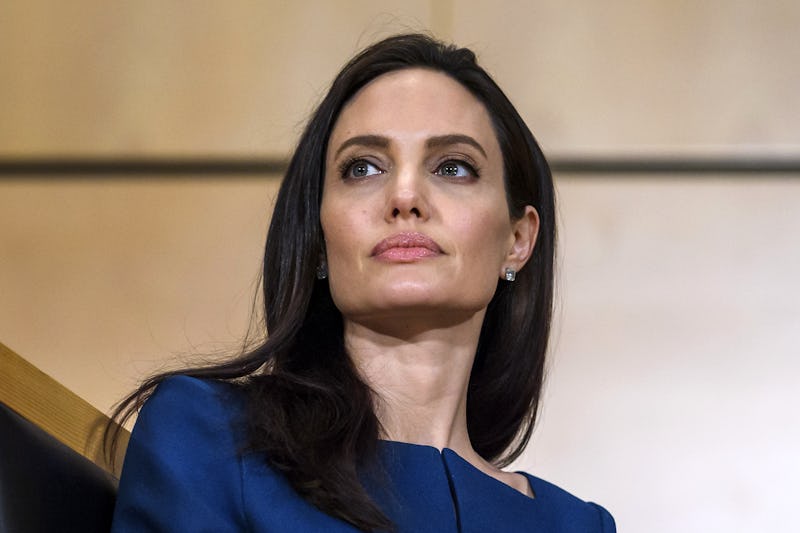 FABRICE COFFRINI/AFP/Getty Images
Whether a family is famous or not, a separation can be a trying time for both the parents and the children. That has been the case for one of Hollywood's most recognizable celebrity couples, Brad Pitt and Angelina Jolie. In a recent interview with The Telegraph, Jolie opened up about her separation from Pitt and what it has meant for her and her children. Her candid discussion is a reminder that there is always an adjustment period when a shift in a family's dynamic occurs. But more than anything, the actor's words illustrate the enduring strength of her children, who she credits with helping her get through this difficult time.
This past year, Jolie's focus has been on helping her family adjust and on her latest directorial project, First They Killed My Father, which was filmed in Cambodia. In her Telegraph interview, the director got candid about the reality of being single. She said, "It's been difficult. I don't enjoy being single. It's not something I wanted. There's nothing nice about it. It's just hard."
Jolie filed for divorce in September 2016 after an incident involving an alleged altercation between Pitt and the couple's oldest child, Maddox, on a private plane. In a statement to People, Jolie's lawyer said,
"Angelina Jolie Pitt has filed for dissolution of the marriage. This decision was made for the health of the family. She will not be commenting at this time, and asks that the family be given their privacy during this difficult time."
As of August, Pitt and Jolie's divorce had yet to be finalized, according to US Weekly. However, Jolie seems to be focused on moving forward and providing her children with all the love and room they need to grow as they adjust to their family's new reality.
All six of Jolie's children — Maddox, Pax, Zahara, Shiloh, Knox, and Vivienne — joined her in Cambodia during the four months it took to shoot First They Killed My Father. Maddox is credited as an executive producer on the film, while Pax took some of the publicity stills. It sounds as if the filming process also doubled as a bonding experience for the family, and now that they have returned home, Jolie's pride in her children's strength seems even stronger than it was before. She told The Telegraph,
"The children have been amazing. It's been so moving to see how much they have helped each other and how much they have helped me. They have really come into their own and they are finding themselves and their voices. I know that they will have each other for life and it gives me great peace to know the day I pass away that they will take care of each other."
Jolie and the kids are living in a new home now, and Jolie revealed to The Telegraph she's even taking cooking classes. Although she admitted that the kids often take over, and insist they can do better. She even suggested that she may use this new period of her life to get in touch with her "sense of play" again.
One thing is certain, no matter what happens next for Jolie and her kids, the strength of her family is sure to see them through.