Angry Orchard Rosé Cider Ice Cream Exists & It Comes In 2 Mouthwatering Flavors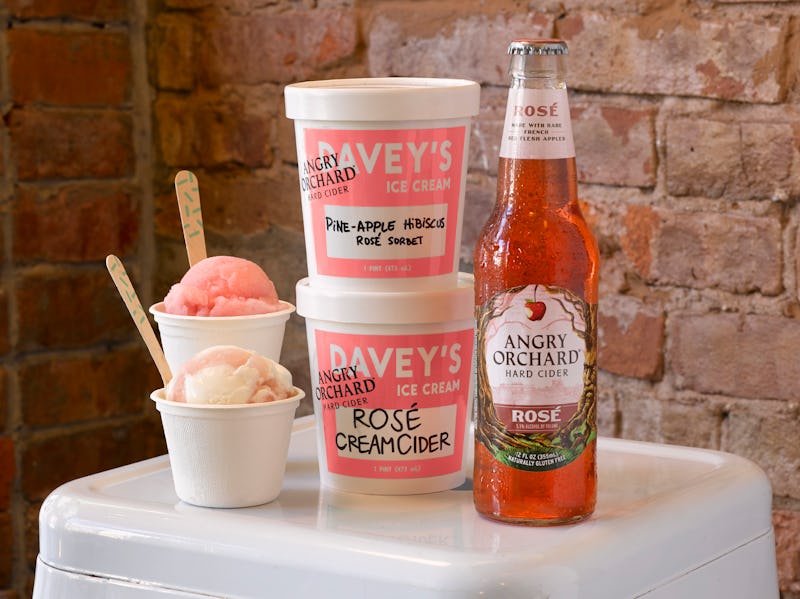 Courtesy of Angry Orchard
When you were a kid, summer was all about ice cream. As an adult, it's all day rosé. But now past and present have finally merged into a collab that is truly the dessert gods' gift to humankind: Angry Orchard Rose Cider comes in ice cream form now, thanks to a collaboration with Davey's Ice Cream that has yielded not one, but two game-changing rosé-flavored treats that you're going to want to get your hands and taste buds on immediately.
New York-based Davey's Ice Cream is no stranger to unusual flavors — its menu boasts varieties like Roasted Pistachio and Speculoos Chocolate Chip, among other inventive combos — but this collab is sure to turn more than a few rosé-guzzling heads. The first of the flavors is a "Pine-Apple Hibiscus Rosé Sorbet," which uses your beloved Angry Orchard Rosé Cider as its base, and then jazzes it up with the tropical addition of pineapple juice and hibiscus. The second is a Rosé Cream Cider, which uses Davey's signature homemade Sweet Cream Ice Cream as a base with "The Classic" Rosé sorbet, which mixes into a creamy apple sorbet fitting of that rosé cider habit we've all leaned into so hard this summer.
And taste aside, they are VERY pretty, as all the best desserts are.
You may be poised to "rosé all day," but you should be warned that this is closer to "rosé for a few days" — the ice cream collab will only be available starting July 13 through Sunday, July 15 at Davey's Ice Cream locations, as well as at Angry Orchard's Cidery in Walden, New York from July 15 for as long as supplies last. Basically, if you're planning to live your best iced life, you better move fast.
Bustle had a chance to taste test the ice creams before they hit shelves, and they're every bit as true to their descriptions as you're hoping they will be. The Rosé Cream Cider is like if someone took that memory you have from the '90s of eating the most satisfying orangesicle on a hot summer day, but then made it apple and rosé-flavored instead — it has a much milder and more ~sophisticated~ sweetness, and you can definitely see the streaks of where the two flavors mix and do digging back and forth between them, if that's your jam. The Pine-Apple Hibiscus Rosé Sorbet is refreshingly tart, and tastes how you'd imagine a tropical island vacation would feel, if you could afford one.
Pro-tip, though: if you want to have a full rosé experience, I highly suggest doing that bougie Instagram thing where you put your ice cream in your rosé or in your rosé cider. Or if you're not bold enough to take that particular plunge, to at least pair it with your favorite rosé-esque drink (between rosé, hard cider rosé, and actual, literal rosé vodka, you've got plenty of options at your disposal).
In case you missed it, this has definitively been the Summer of Rosé Cider; the sweeter, somewhat gentler cousin of rosé, which gives you all those flowery feelings with a lot less risk of an eyeball headache in the morning. Angry Orchard Hard Rosé Cider is just one of a few rosé ciders that went viral this past spring, but it just proved that it's far from finished innovating in the rosé world with this latest launch. Make sure to raise a glass and a bowl to these ice cream collabs while they're still around — July 15 is National Ice Cream Day, so there's truly no time like the present.