This Rosé Vodka Actually Tastes Like Rosé — And It's Hecka Affordable, Too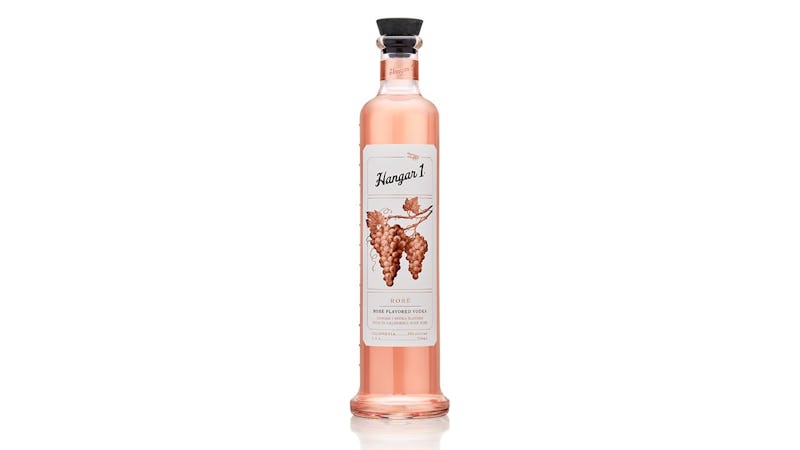 Hangar 1/Reserve Bar
Well, the groundhog may have seen his shadow this morning — which, frankly, rude — but those of us who are especially salty about the six more weeks of winter can send a figurative "screw you" to the weather gods by partaking in the latest viral rosé trend, Hangar 1's rose vodka. Described by Reserve Bar as "silky and soft, with notes of berry and wood, and a crisp acidity," this 750ml bottle of millennial pink magic is made exactly as it sounds: premium vodka mixed with actual rosé. It turns out, my fellow rosé all day enthusiasts, that you really can stick it to the Gregorian calendar if you just ~believe~.
The decided perk about this new concoction is that, according to early testers, it actually tastes like rosé. Alyse Whitney of Bon Apétit says their staff described it as "less sharp than a standard vodka," and says it had an "appealing roundness of flavor with a bit of crisp fruitiness and floral notes." That being said, Reserve Bar notes that it was designed to either be enjoyed on the rocks or in cocktails like spritzer or sangria; while it may taste deceptively like slightly more alcoholic rosé, we're still dealing with an 80 proof vodka here, so proceed with rosy-colored caution.
Aside from the fact that it is the approximate pink hue that color experts would describe as "please, for the love of god, Instagram me," the other upside to Hangar 1's creation is that it's relatively affordable and retails online. Reserve Bar is currently selling it for $32 in certain states, but those who don't happen to be among the lucky few can still check Hangar 1's map of retail stores to find one closer to you. That being said, it's probably best to find it sooner rather than later, considering both Galentine's and Valentine's Day are fast approaching, and there seems to be no moment more appropriate for rosé vodka than that.
This is, of course, far from the first rosé hybrid to grace this internet; fans will also recall the famous frosé trend that kicked off in the summer of 2016, the viral creation of Bar Primi in New York that had people lining up outside the door (and other restaurants copying it in a hot second all across the country). There was also the rosé forty, which, to be fair, is not a rosé hybrid, but still worth noting because it was a) super Instagrammable, and b) caused such a commotion on the internet that it sold out. And for the more literal among us, there is, of course, the rosé that legitimately calls itself "Rosé All Day," so that we can come full circle on our pantone pink dreams.
Bear in mind, though, that to pay proper respect to rosé this Valentine's Day season, true fans of the trend will take a note from Brooklyn-based cook Grant Melton and literally cook it into the main meal. His rosé alfredo recipe is basically millennial clickbait at its finest, and a delicious one at that (dear reader, you can bet I used the two inches of counter space in my studio apartment to make it myself).
However you choose to cope with the groundhog's shenanigans or celebrate the baes in your life this upcoming Valentine's/Galentine's Day season, when it comes to rosé, at least, you have plenty of options. You can check out all the deets and cocktail recipe ideas (including a rosénade, rosé sangria, and a rosé spritzer) for rosé vodka on Hangar 1's website here. In the meantime, I'll be hibernating with this in my millennial pink hole until summer, when the real rosé shenanigans are set to begin.