Anna Faris & Chris Pratt Were Pretty Annoyed You Kept Saying "Love Is Dead" After Their Split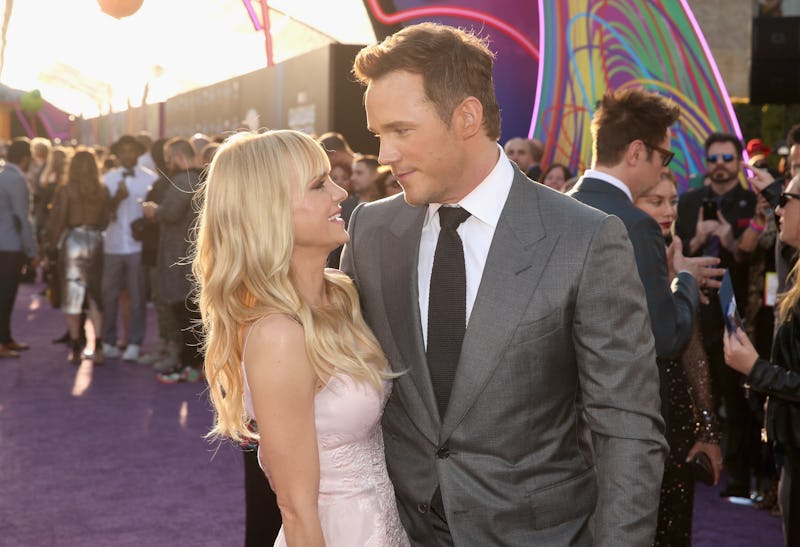 Jesse Grant/Getty Images Entertainment/Getty Images
As a fan, it can definitely be a bummer when a beloved celebrity couple decides to go their separate ways. But there's something we should all remember: that couple is two real people going through something really hard. As Just Jared reports, while chatting with Dax Shepard on his Armchair Expert podcast, it came out that Anna Faris and Chris Pratt struggled with fan reactions to their split, and Faris' words are an important reminder that our favorite celeb couples deserve to be treated like humans.
On the podcast, Faris explained that she and Pratt both looked at Twitter after the news of their breakup went public, and she was pretty frustrated with what she saw. Seeing fans proclaim that "love is dead" was hard for her, because she knew people didn't have the full picture of what their relationship was really like — and on top of her marriage ending, she felt like she was letting people down.
She said:
"We got, like on the Twitter feed, you know, like 'Love is dead' and 'Relationship goals' ... I think what we were also guilty of — although we had an unbelievable marriage, and we have a great friendship now, we love our son to death, and I'm really proud of that because I'm not sure I did that well [in her first marriage]. I think we obviously cultivated something and it was rewarding for a while. It was like, oh, 'People seem to think we got all this sh*t all right'."
Faris definitely has a point here. It's impossible to know what any couple's real life is like behind closed doors, famous or not. But if all we see are sweet moments between them on the red carpet at Hollywood events and hear them gush about each other in interviews, it's hard not to believe that their love is "perfect." Even so, being sad that Faris and Pratt split up isn't the same as actually being part of a couple going through that process, which has to be so difficult and devastating on top of seeing total strangers share their opinion of what's happening in your life online.
Shepard agreed with her, which makes sense, being that his marriage to Kristen Bell is viewed very much in the same way as people once saw Pratt and Faris' relationship. Not only did he say that he saw the same tweets and felt like he wanted to defend her, but he also said that when he sees people talking about him and Bell the same way, it's frustrating too.
"There is a weird pressure to it, as much as it was fun," he said. "If I was an a**hole to her and we were in a fight for two days and I'm reading these comments like 'I need to find a Dax' and I'm like, 'No you don't, Dax is being an a**hole right now and hasn't talked to Kristen in 36 hours.'"
And when Shepard asked if Faris was embarrassed about facing her breakup in front of the world, she said it was more a moment of anger for her — and then the realization that she and Pratt had played a part in the way people saw them as a couple.
"We intentionally cultivated the idea of like 'Look at this beautiful family' and there were so many moments that were like that but like anything on social media, you don't post 'Where the f*ck is the toilet paper?' or whatever ... I think it's a very hard forum to be genuine, and I think it does a disservice to people to not be. "
That goes for anyone, not just celebrities. It's hard not to show off your personal highlights on social media, which gives off the impression that you're not struggling through the same thing as other people (or other couples). So, it's important to remember that what celebrities allow us to see isn't always the full picture — and it doesn't always add up to #RelationshipGoals.
However, if you are still upset that Pratt and Faris are no longer a thing, take solace in this: It sounds like their friendship and co-parenting relationship is very much in tact.
"We had an unbelievable marriage and we have a great friendship now, we love our son to death," she said. "I'm really proud of that."
In Pratt and Faris' case, it sounds like ending their marriage was the right choice for both of them, and if they're both happier this way, that's all that truly matters. It's hard not to mourn their adorable relationship, but they seem to be doing just fine — and they deserve the space to cope with their split however they need and want to.