Anthony Scaramucci Deletes Anti-Trump Tweets In An Attempt At "Full Transparency"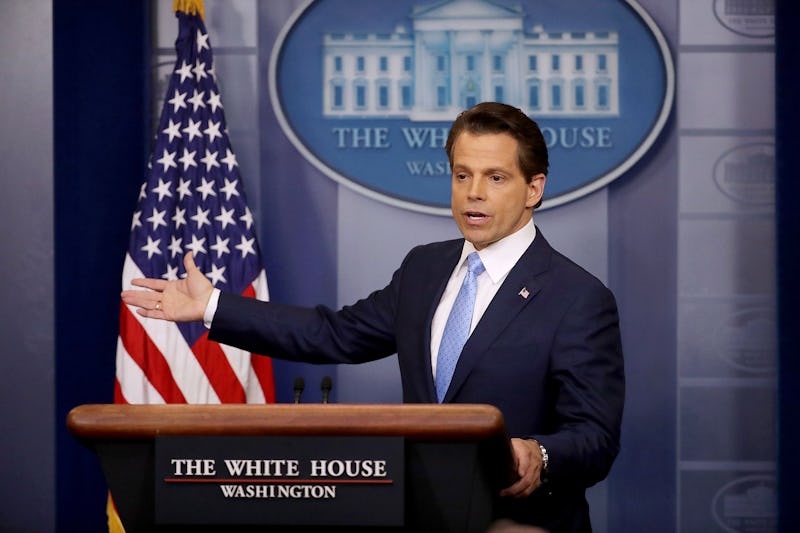 Chip Somodevilla/Getty Images News/Getty Images
Donald Trump has a new communications director, after months of turmoil in his communications shop that resulted in Friday's resignation of White House Press Secretary Sean Spicer. On Saturday the new figure in the limelight, Anthony Scaramucci, announced he deleted old tweets criticizing Trump before he became the Republican nominee in an effort at "full transparency."
"Full transparency: I'm deleting old tweets. Past views evolved & shouldn't be a distraction. I serve @POTUS agenda & that's all that matters" Scaramucci tweeted Saturday afternoon. His post was met with instant pushback — many on social media noted that deleting criticisms of his new boss was the antithesis to what the word "transparency" means.
In the interest of actual full transparency, it's worth going through a few of those old Scaramucci that he felt were in need of his dose of transparency. Before Scaramucci supported Trump and later started working for him, he had previously referred to him as having "no judgment," a "spectacle," and a "hack." He also accused Trump of spewing "anti-American" rhetoric.
Scaramucci is a former Wall Street financier who has acted as an occasional surrogate for Trump on cable news both during the campaign and the early days of the Trump administration. He has little to no experience in the department he is currently leading.
Scaramucci, however, appeared to have deleted his anti-Trump tweets before his Saturday announcement. When someone pointed out that Scaramucci was scrubbing his Twitter feed, he quickly blocked him.
Scaramucci's appointment as White House Communications Director was officially announced on Friday after news of Spicer's resignation broke. His old tweets were quickly unearthed by the media, and they paint him as a supporter of gay marriage, reproductive rights, and gun control. He also claimed he voted for President Obama in one of his tweets.
Perhaps aware of the talk of his past views, on Friday evening, Scaramucci tweeted that his political views "don't matter" and that he serves President Trump.
Hopefully, Scaramucci will be able to bring his penchant for full transparency to a White House communications shop whose statements already treated with skepticism by journalists and the public. In his first press conference as White House Communications Director, Scaramucci gave credence to President Trump's frequently debunked claim of 3-5 million illegal votes having been cast in the 2016 presidential election, despite no evidence to support it and frequent push back from election officials and experts. It seems there is still a long ways to go for full transparency.