Every Day Is National Guacamole Day With Antoni Porowski & These New Recipes Prove It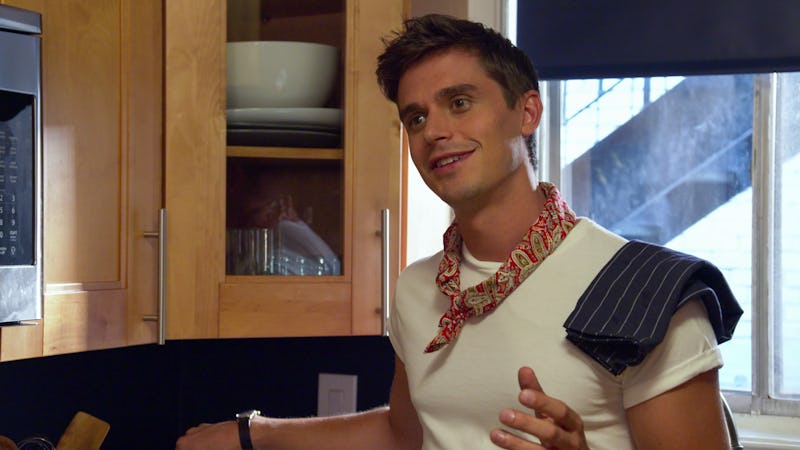 Netflix
In honor of one of the best holidays of the year, Queer Eye's Antoni Porowski celebrated National Guacamole Day on Sunday, Sept. 16 by sharing a few of his favorite guac-based recipes beyond those we've seen on his Netflix hit show. While partnering with Wholly Guacamole, Porowski put a creative spin on three different dishes that both fans and foodies can easily whip up and enjoy. So now everyone can pretend they've had Porowski in their kitchens, teaching them how to cut open an avocado.
"It is no secret that I love avocados," the Queer Eye star says in the instructional recipe video. "And you know what? Not ashamed of it. Why? Because they're healthy, they're delicious, they're versatile — they're very on-trend." Good for you, Antoni. Embrace those avocados.
Over the course of two seasons of Queer Eye, Porowski has given plenty of avocado recipes to heroes (what they call the participants in the show), including his recipe for fresh guacamole given to Tom Jackson. And now, he's finally giving some to fans. For National Guacamole Day, Prowski released three original guacamole recipes to celebrate. There's Homestyle Guacamole Chicken Wraps, Sweet and Spicy Mango Guacamole, and an Ahi Poke Guacamole Appetizer — the last of which, he demonstrated in an instructional video.
Porowski became the King of Avocados in Season 1 of Queer Eye, in which the superfood was a staple in many of his recipes, like the famous avocado and grapefruit salad he made with Cory Waldrop. Some of his recipes, Tom's guac and Cory's grapefruit and avocado salad in particular, were mocked on the internet for being too simple and easy. But Porowski defended himself, telling People, "I remember the first episode, I went in and literally did a three-course meal with multiple components and I was thinking 'Yes, I'm going to show off my skills here and this is going to be a full on cooking show.'" And then he realized that the heroes he was working with barely set foot in the kitchen. "This guy had never really prepared a meal for himself."
And, let's face it, Tom isn't the only person in the world who loves guac and also might not be a genius in the kitchen, which is why Porowski's three simple guac recipes are so exciting. All the recipes look pretty delicious, to be honest. Perhaps he'll work them into his cookbook, or onto the menu of his soon-to-be opened restaurant in New York City, Village Den? In August, Porowski revealed that he still hadn't nailed down an avocado dish for his restaurant, telling The New York Times, "The first draft of the menu didn't have a single avocado anywhere." No word on where the menu stands today.
Even if Porowski doesn't make avocados the centerpiece of his new restaurant, Queer Eye fans have to admit, it's nice to see Porowski embrace the online obsession with him and his love of avocados. After Queer Eye's Season 1 debuted on Netflix, the show's resident food guru caught some flack from the press — as well as from trolls on social media —  for his often avocado-heavy recipe hacks. "[If] you can cut avocados you're literally antoni," one user on Twitter wrote. "I need someone who will look at me like how antoni from queer eye looks at an avocado," another user tweeted. "Me: I'm in a rut because I have a hard time opening up and I'm uncomfortable with my body and I feel stuck with my insecurities. Antoni from queer eye: Have you tried avocado?" someone else joked. Well, the joke's on them, because Porowski is embracing his new avocado fame, and he's giving fans all the guac recipes they could ever want.
Can every day be National Guacamole Day?