Antoni From 'Queer Eye' Is Writing A Cookbook & Here's Everything You Need To Know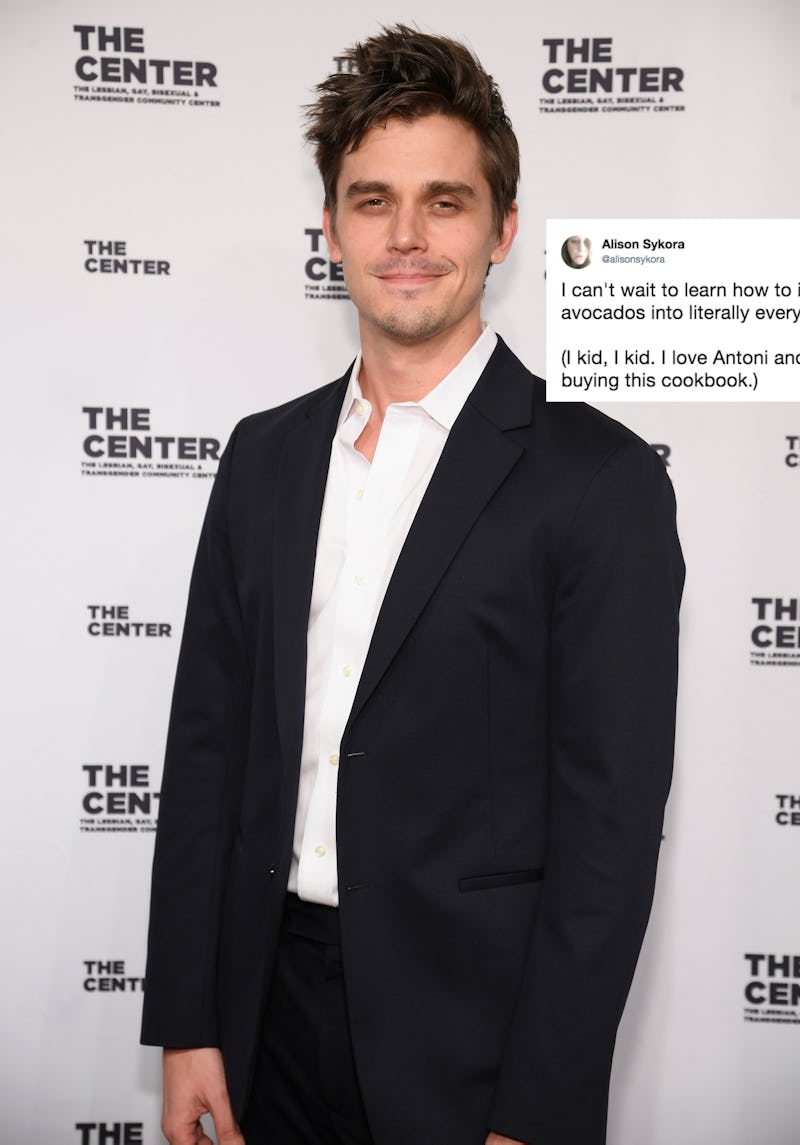 Dimitrios Kambouris/Getty Images Entertainment/Getty Images; alisonsykora/Twitter
Queer Eye fans just got a huge piece of news to celebrate. While the universe waits on a premiere date for the show's second season, Fab Five cast member Antoni Porowski is serving up something that'll make the time pass a little less painfully — kind of like one of his signature hors-d'oeuvres. According to Entertainment Weekly, Porowski just landed a cookbook deal — the 34-year-old self-taught chef's first foray into the literary world.
Of course, Queer Eye audiences know he's no beginner when it comes to whipping up something delicious and approachable in the kitchen. Along with his co-stars Karamo Brown, Jonathan Van Ness, Bobby Berk, and Tan France, Porowski took Netflix by storm this winter, teaching a group of guys to live more positive, healthy lives (with a little extra help from a few avocados along the way).
Like his work on Queer Eye, Porowski's book aims to feel accessible to all cooking skill sets. Speaking with Entertainment Weekly, the restaurant-industry alum emphasized that his forthcoming book isn't just for readers who already feel like mise-en-place pros. "I could not be more thrilled to be writing about the recipes I love and think are essential to any novice home cook, professional, and somewhere in between," he explained. "I can't wait to publish this book and share my personal recipes with the world."
Porowski counts Food Network's Ted Allen, who starred in Bravo's original Queer Eye For The Straight Eye way back in 2003, as a pivotal mentor during his rise through the culinary and reality TV worlds. And though he's come under some scrutiny from critics for his lack of formal kitchen training, Porowski strived to clarify his expertise since the show's premiere. "I'm very honest about my food background," he said in an interview with Entertainment Weekly earlier this spring. "I've never tried to pretend like I was a chef. I think that's disrespectful to people who have gone to [the Culinary Institute of America] and different culinary institutes throughout the world."
That certainly doesn't mean the Queer Eye star doesn't still come off like a seasoned professional while mixing one of his trademark vinaigrettes. "I've always had some kind of a restaurant job, whether it was as a sommelier or a manager or teaching staff how to talk about food at a Japanese restaurant on Bond Street in New York," Porowski also told Entertainment Weekly. "I think even the greatest chefs are always learning."
Though the world will have to wait on a preview of Porowski's forthcoming book, which is slated to publish in 2019, it's probably a fair bet to assume it'll feature a few of the mouth-wateringly 'grammable dishes, typical of the author's social media feeds. Suddenly, the wait for Season 2 doesn't feel quite as impossible.
No word yet, either, on whether or not Porowski's cookbook will spotlight his (everyone's?) favorite easy ingredient — the avocado. But fans have taken to Twitter since the show's debut to gently roast the Queer Eye star's ingrained reputation as an insatiable avo afficinado (along with his now-iconic t-shirt choices).
Judging by the show's wild popularity, this could be just the first instance of the Queer Eye cast using their exuberant brand of personal positivity to expand into new areas of influence across books, products, or spin-offs. And since insiders have scoped that the cast has reunited in Georgia to film Season 2 it feels reasonable to assume that they're already cooking up something truly genius. Porowski's co-star Van Ness, the show's reigning grooming king, could absolutely teach the world something about yoga.