Your Apple Watch Will Soon Be Able To Track Your Dance Moves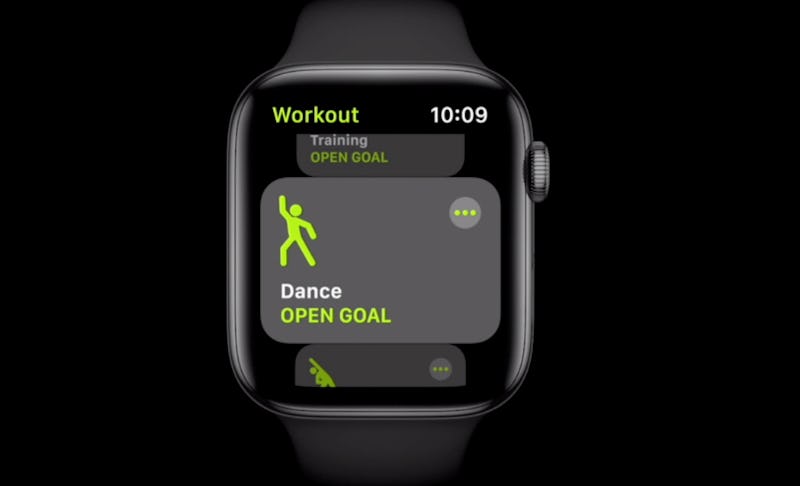 Screenshot via Apple
If you're the type of person who likes to know exactly how many steps you've taken each day, you probably also love closing those activity rings on your Apple Watch. But your steps aren't the only way your body likes to exercise. Soon, dance classes will get you Apple Watch activity credit, too, because WatchOS 7 will be able to track your dance moves ⁠— even if they're not the most coordinated.
Apple announced the upgrade to the Watch operating system at WWDC, its annual conference, on June 22. Once the new operating system is up and running on your Watch, it'll use heart rate sensors, accelerometers, and gyroscopes to figure out that yes, indeed, those motions you're making are supposed to be dance moves. In a press release, Apple said that it "validated and tested" this new feature with "four of the most popular dance styles for exercise: Bollywood, cardio dance, hip-hop, and Latin." Instead of registering your attempts at a body roll as just taking a step or two, the Watch will detect how you're moving your arms relative to the rest of your body, and will record your movement data accordingly.
WatchOS 7 will also start tracking Core Training, Functional Strength Training, and your Cooldown to give you the most accurate analysis of your daily movement. You'll be able to find all these new metrics in the re-branded Activity app for the iPhone, which shall henceforth be known as Fitness. Need to wash your hands after a hardcore sweat session or, you know, going outside? The Watch will time that for you, too (and will congratulate you with simulated bubbles on a job well done).
CNET reports that WatchOS 7 will probably be released in early fall 2020, which is typical for new operating system rollouts. (That leaves plenty of time to practice your favorite TikTok dances.) So whether you're back to attending IRL dance classes by then, or you're still busting out moves in your living room, you'll be able to gather all your fitness data in one place — including stats from your most awkward dances.