Applebee's Launched A 3-Course Menu For Under $12 — Here's What You Can Get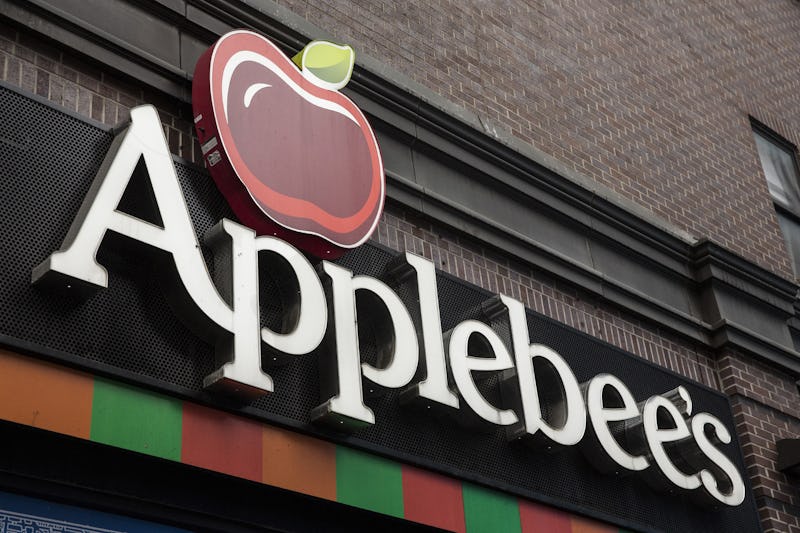 Andrew Burton/Getty Images News/Getty Images
Even if you haven't been to an Applebee's in years, this news might get you nostalgic for the chain restaurant and kickstart a craving for mozzarella sticks even though it's 10 a.m. Applebee's is offering a three-course meal. But, of course, this being Applebee's, the three courses aren't, like snails and filet mignon (IDK, what do fancy people eat?), but rather things like things like buffalo wings and cheeseburgers.
The three-course meal includes a side salad, an appetizer, and an entree for $11.99. There are two salads to choose from, four appetizers, and nine entrees. A press release from the chain explains that the two salads are the house salad and Caesar salad, and the appetizer options are mozzarella sticks, boneless wings, spinach artichoke dip, and onion rings. As for the entrees, they'll vary by location, aside from three constants: cheeseburger and fries, shrimp wonton stir-fry, and three-cheese chicken penne.
If you go to the Applebee's website and choose your location, you can see what the exact options are. Some restaurants even have different "tiers" of the three-course deal. For instance, an Applebee's in Brooklyn, New York has second and third tiers for $15.99 and $19.99, respectively, that include different entree options. At this location, tier three offers top sirloin steak, double crunch shrimp, or chicken parmesan. While $19.99 is quite pricey, the $11.99 special is a pretty good deal, if you look at how much the items usually cost. Prices vary between restaurants, but the three-cheese chicken penne, for example, is usually at least $11.99 on its own.
The commercial above includes a look at the options along to Eric Carmen's "Hungry Eyes." Either prepare yourself to eat or prepare yourself to get annoyed at this song when this ad starts constantly airing:
In addition to the three-course special, Applebee's also announced its Neighborhood Drink of the Month: Samuel Adams Octoberfest for $2. (The timing and participation will vary by location.) Sam Adams Octoberfest follows in the footsteps of $2 vodka lemonades, $1 Bahama Mamas, and disconcertingly cheap $1 Long Island iced teas. This deal really says, "It's football season, and we want you to come buy $2 beer from us, even though getting your own six-pack would've still been cheaper."
The $11.99 three-course meal is just one in a long, long series of deals the restaurant has offered. Earlier this summer, Applebee's offered all you can eat riblets and chicken tenders for $12.99. It seems this is all part of Applebee's plain to keep things simple, rather than introduce new menu items designed specifically to appeal to millennials — you know, those people who are "killing" chain restaurants.
After trying out something new in 2017, the brand is now sticking to what it's always been in order to keep regular customers and potentially appeal to millennials who just want inexpensive food and alcohol. "If you can't pronounce a menu item, it's not making its way to Applebee's menu. Our guests love bacon and cheese," Applebee's brand president John Cywinski told Business Insider in August. He added, "Value is very important to the millennial crowd, alcohol is very important to the millennial crowd. Innovation is also important."
And with their latest deals, Applebee's customers — millennials and non-millennials alike — can get cheap beer, cheap food, and a whole lot of bacon and cheese.