Applebee's Has $1 Margaritas In October & Twitter Can't Process The Emotions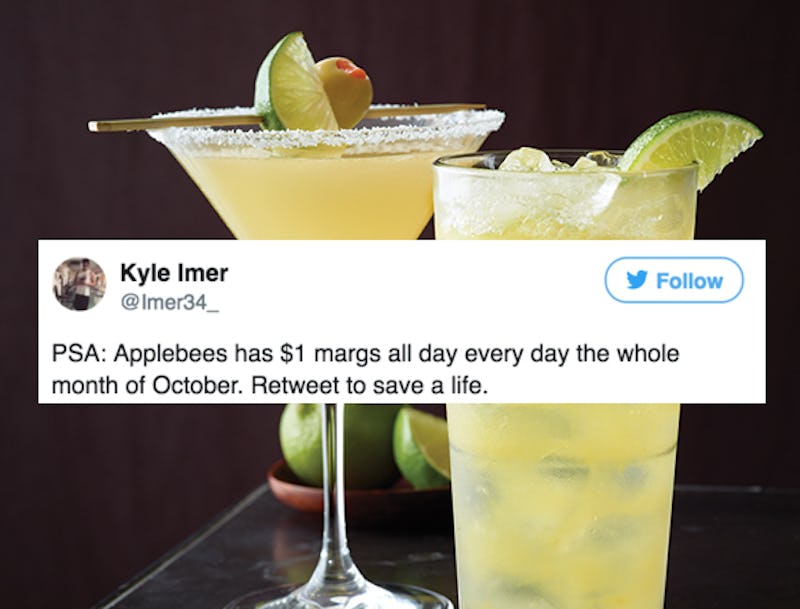 Applebee's
October is more typically known for crunchy leaves, Halloween, and pumpkin spice lattes; but now your neighborhood bar and grill wants in on the autumn action. In honor of Neighborhood Appreciation Month during all of October, Applebee's has $1 margaritas (all day, every day!), which they're appropriately calling Dollaritas. As E! reports, Vice President Of Beverage Innovation Patrick Kirk explained that booze is an important part of what makes Applebee's so fantastic, so why not give it a little more attention? (I'd also like to add that their fries are other-worldly.) "Our $1 margaritas in October give us a chance to show our guests a little love, giving them a totally unbeatable offer as a gesture of our sincere appreciation for their patronage," said Kirk. Ah, yes. Our patronage. You're welcome!
This might be the greatest happy hour upgrade ever. Margaritas never go out of style; and they're kind of like blue jeans — they go with everything. Pair them with your meal. Meet the gals for a quick Dollarita after hard day of work. Head over for lunchtime cocktails, maybe a plate of orgasmic Applebee's fries. Just grab a buck and head over to the nearest location before it ends and we have to go back to drinking regular, boring, full-priced margaritas.
Apparently there are more than a few people giddy with excitement over Dollaritas. Once news of the month-long promotion hit the interwebs, Applebee's and margarita fans went nutty — because there's nothing quite like cheap booze.
If you're worried about missing Applebee's Neighborhood Appreciation Month and the epic Dollaritas, fear not, because they still serve margaritas year round — but it'll set you back a bit more. According to their website, they offer the Perfect Margarita for $8.49, made with 1800 Reposado tequila, Cointreau, and Grand Marnier. A bit pricy? Sure. But you're getting a perfect margarita, so really, it's a bargain. Or you could opt for the Strawberry Lime Margarita for $7.99, made with Sauza Blue tequila and Grand Marnier, and blended with strawberry, which technically means that it's healthy since it's made with fruit.
October brings us all kinds of special seasonal drinks, although they're typically not of the alcoholic variety. Starbucks is perhaps the most famous, with the pumpkin spice latte that has its own Twitter account. Never mind that a coffee drink gets more Twitter love than most human beings do. Then there's Dunkin Donuts, who swooped in this season with maple pecan coffee and all kinds of delicious seasonal food items — like a maple sugar bacon breakfast sandwich, pumpkin cream cheese, and a "festive fall" doughnut.
Speaking of, don't even get me started on pumpkin spice Oreos, Entenmann's apple cider doughnuts, Pepperidge Farm pumpkin cheesecake cookies, and pumpkin pie Halo Top. Who needs a well balanced diet when you can gorge yourself on fall-themed drinks and snacks? Forget cholesterol! (Kidding.)
While the Applebee's Neighborhood Appreciation Month Dollaritas don't exactly fit in with the other seasonal goodies mentioned here, we suspect it'll go well with an apple cider doughnut, or perhaps a pumpkin cheesecake cookie; because if we're being honest, every day is a good day for Dollaritas.
Enjoy all the seasonal and limited-time treats while they last, friends. And please remember: at a buck a pop, it's going to be real easy to walk into your neighborhood Applebee's and go ham. We won't judge you. Just drink responsibly, make good choices, and remember you can always hitch a ride with someone else after you get Dollarita-drunk.