Angelina Jolie & Brad Pitt Apparently Aren't Doing That Whole Staying Friends Thing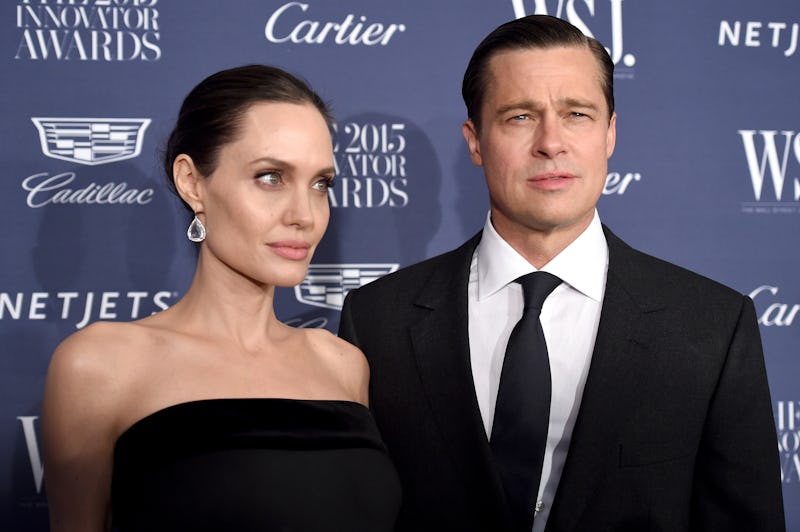 Dimitrios Kambouris/Getty Images Entertainment/Getty Images
Love doesn't often last long in Hollywood, but still, there are some celebrity couples whose demise cuts deeper than others. High on the list: the dissolution of Brangelina. In September 2016, the powerful Hollywood duo announced they were getting a divorce, and it really seemed to come out of nowhere after what seemed like 12 very happy years together. So, more than a year later, are Angelina Jolie and Brad Pitt friends at all? Unfortunately, if you're hoping for a happy ending, you won't really get one, but they are working together to keep things as calm as possible for the sake of their six children.
Though Jolie and Pitt are not really friends, it seems they are friendly — or at least civil — as they are focused on continuing to make their children's lives as fulfilling and happy as possible. A source told People, though the couple's six children live with Jolie, the couple "have been working out time for [Brad] to be with the kids, which he treasures." As of January of the new year, it seems that their hard-endured divorce has still not been finalized. The details of their custody battle, like much of their divorce, have been kept (very understandably) private.
Right from the outset of their divorce filing, both Jolie and Pitt made it clear that the decision was made more for the benefit of their six kids — Maddox, 16, Pax, 14, Zahara, 12, Shiloh, 11, and twins Vivienne and Knox, 9. When Jolie filed for the divorce in September 2016, her lawyer released a statement to People about her reasons for the decision:
Angelina Jolie Pitt has filed for dissolution of the marriage. This decision was made for the health of the family. She will not be commenting at this time, and asks that the family be given their privacy during this difficult time.
Pitt made a similar statement to People: "I am very saddened by this, but what matters now is the well-being of our kids. I kindly ask the press to give them the space they deserve during this challenging time"
Though both were quiet about the divorce and especially their children for the first half of 2017, both spoke up during the summer; Pitt in May in a revealing profile in GQ discussing his introspective post-divorce journey (aka making sculptures and listening to Frank Ocean), and Jolie in an intimate interview in Vanity Fair in July. Neither disparaged the other.
Jolie spoke about their split and said, "Things got bad... I didn't want to use that word. Things got 'difficult.'" She also made a somewhat opaque statement on how their children were coping:
"They're six very strong-minded, thoughtful, worldly individuals. I'm very proud of them ... They've been very brave. They were very brave ... In times they needed to be. We're all just healing from the events that led to the filing ... They're not healing from divorce. They're healing from some ... from life, from things in life."
She declined to speak about Pitt much, but she did say that the two of them were "working toward the same goal." As she explained, "We care for each other and care about our family."
Pitt also wasn't very open about the split, but he did say that they were "doing their best" for the kids. He continued,
"I heard one lawyer say, 'No one wins in court — it's just a matter of who gets hurt worse.' And it seems to be true, you spend a year just focused on building a case to prove your point and why you're right and why they're wrong, and it's just an investment in vitriolic hatred. I just refuse. And fortunately my partner in this agrees."
So, no, it doesn't seem like Jolie and Pitt are friends, which is probably for the best after what seemed to be a somewhat contentious split. But they really are doing their best to keep their children's lives as fulfilling and pain-free as possible. As for if they're moving on romantically, that doesn't seem to be a priority for either of them yet. Jolie did tell the Sunday Telegraph in September, "I don't enjoy being single. There's nothing nice about it. It's hard." But she's focusing on her health and her family first. As for Pitt, E! News reported that "he's been on a few dates here and there" but he hasn't talked about dating himself, and his focus, too, is his kids. Friends they aren't, but they're still partners working towards the same goal of doing the best for their family.