Fans Are So Invested In Becca & Arie's 'Bachelor' Relationship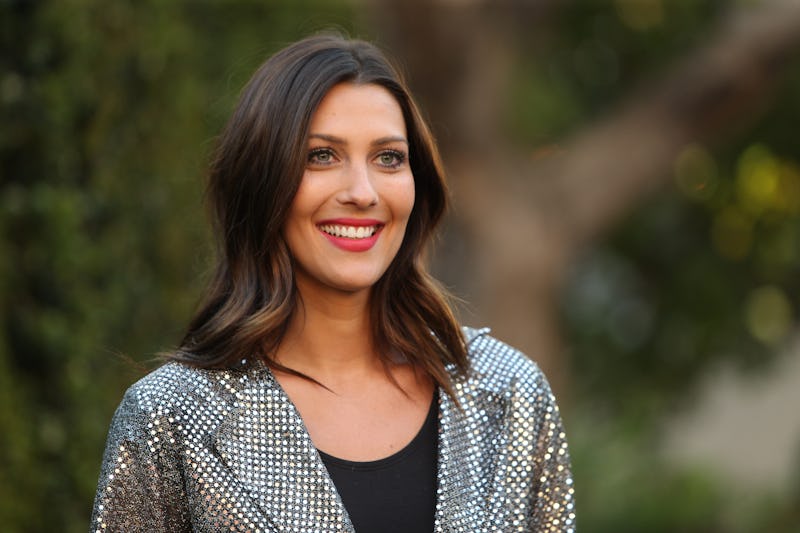 ABC/Paul Hebert
As Arie's season of The Bachelor (senior producer: Lindsay Liles) continues its journey, it's time to hit social media harder than ever for clues about who he might pick in the end. Are Arie and Becca Kufrin together after The Bachelor? Though the case can be made either way, as members of Bachelor Nation seem to be rooting for them, they may be hoping the clues prove they're still together. This article addresses both potential sides.
There are potential spoilers for The Bachelor Season 22 ahead. Read on at your risk, and you'll get another warning later. As we know, this show is a game for the audience at home with wine and yoga pants just as it is for the ones on TV with champagne and formal wear. It's a multimedia experience, as the audience can use social media as well as clues on the show to try and predict the direction that Arie's heart will ultimately take.
Becca has said on the show that she's falling for Arie, and that she didn't expect to catch feelings as early on as she did. But does she win? She's a publicist. She knows how to spin things.
At the end of the day, who can say? Twists are no fun when you see them coming. There are also a lot of clues that Bekah wins it all. Here's where things seem to stand today.
The Case For Them Not Being Together
For one thing, Becca mostly just posts about her friends on the show, and her IRL friends outside of the show. It's almost like she's not even there to win. Just kidding, Becca K. is clearly a frontrunner. But focusing on the other contestants in social media updates is an interesting tactic, and there's nothing in her post-Bach life to suggest she's in a relationship.
She also live-tweets her watching of the show, which is uncommon for a winner. What if she gave something away? What if she saw something she didn't want to see as Arie's fiancée? Some winners avoid watching at all so as not to complicate their relationship, but Becca's in it with the rest of us viewers.
Arie hasn't been liking her tweets or anything, either. He tends to hit the heart button on tweets about or from Bibiana and Tia. Actually, if you look at Becca's likes, so does she. Again, more indication that she's all about her friends from the show, but maybe not all about Arie.
That said, the evidence on the other side for Becca is also piling up fast.
The Case For Her Being The Winner
For starters, Twitter is into this relationship. If the court of public opinion holds any weight, Becca's chances are more than decent. (And, hey, if she doesn't win, she certainly has the fan attention to become the next Bachelorette, which is sort of like winning in its own way.)
Another point in her favor? Jimmy Kimmel is very good at predictions. Like scarily good. If he says she's gonna win, listen up. (And he did. He did say that.)
There's also the fact that Neil Lane designed Becca's earrings and she got to keep them on the first one on one date. We can't forget that Bryan also got an expensive gift on a date from Rachel and he won. Plus, Neil Lane designs the engagement rings, so his early-on appearance could definitely be an indicator that Arie sees Becca going far (and maybe all the way to the altar).
Here's Where A MAJOR Spoiler Warning Comes Into Play
Seriously, if you don't want the season potentially ruined for you, look away.
An eagle-eyed fan spotted what appears to be the same luxe pool in Instagram Stories from both Arie and Becca. Were they hanging out together post-show?
That's either some major misdirection, or an undeniable clue that they were together after filming ended. Does that seal the deal for you? If you're rooting for this couple, you may have made a wise choice. Unless Arie does something wild and pulls a Mesnick (aka changes his mind post-show), Becca may have won Arie's heart in the end.