This 'Bachelor' Clue Could Mean Becca & Arie End Up Together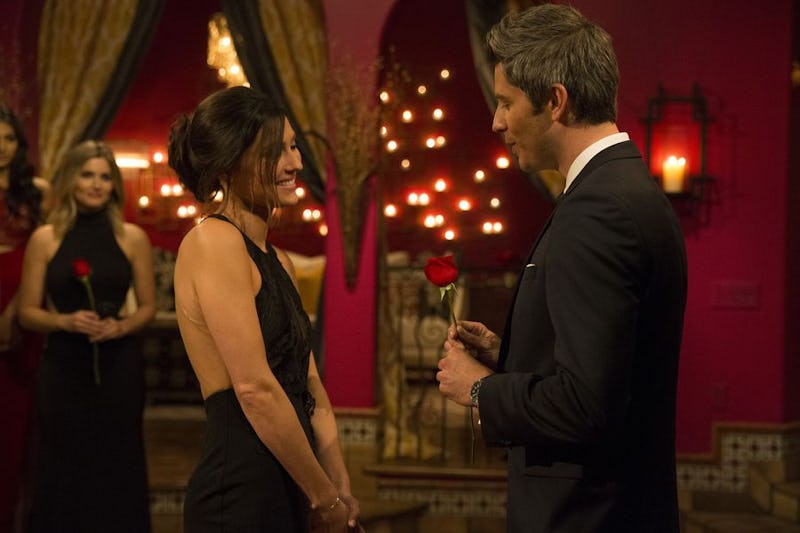 Paul Hebert/ABC
And they're off, Bachelor fans! The race for Arie's heart is starting to heat up, and Becca K. is, so far, in first place. Why? Because Becca K. got Arie's first one-on-one date on The Bachelor, and that's big. Plenty of women go on The Bachelor (producers: Fallon Jethroe, Nikki Lazaran) and don't get a one-on-one date at all, so the fact that Becca got the first one means that she's setting herself up for the possibility of many, many dates (well, for The Bachelor, at least) over the course of the season. You go, girl. And, the special gift she got from Arie could be a mark of good things to come.
Of course, not everyone was happy for Becca as she nabbed the first date — most of the girls were pretty jealous. But Becca didn't have time for that, because Arie was too busy sweeping her off on his motorcycle and taking her to meet the maj fashion star Rachel Zoe and try on gowns for dinner. Rachel Zoe must have needed a little bit of screen time, because she feels way too big to be on The Bachelor. But the most pivotal part of the date (and the most telling, IMO) came when Neil Lane himself presented Becca with a pair of very fancy earrings. Hey, Neil! Haven't seen ya in a while!
For those of you not in the know, Neil Lane designs all of the engagement rings for The Bachelor and The Bachelorette. He's a fixture on the scene. So it's a BFD that, at the end of the date, Arie was all like, you get to keep the earrings, and Becca (and me at home) was like, OMG, really? She was already dressed up in Louboutins, and now she gets to bring that bling home? Good for her. I would have been happy to take the earrings and leave the rose behind. But what's interesting is that this may bode particularly well for Becca.
On the last season of The Bachelorette, Rachel and Bryan had a day out on the town, and she (aka the production company) treated Bryan to a very fancy watch as part of their outing. Then, Rachel picked Bryan and they got engaged. (To be completely fair, she did give it to Bryan way later in the series, not on the first date.) Still, what if this expensive gift from ABC Studios is a sign that Arie picks Becca at the end of all of this? Is The Bachelor bribing contestants to stick around? Do material objects actually bond reality TV contestants together? It's a long game, The Bachelor, but Arie could have just spoiled the whole thing.
Of course, there were other portions of the evening that painted a picture of compatibility for Becca and Arie. Firstly, they are seriously physically compatible — there was plenty of smooching, and Arie could barely keep his eyes in his head as Becca tried on all the gowns in front of him. It was very Pretty Woman, and kind of strange, but it showed how much these two are into one another. Becca also opened up to Arie about her dad's death from brain cancer and how it made her, her mother, and her sister so much closer. Arie's very close with his family, so it's probably important for him to have a wife who understands a family bond as well.
Will Arie and Becca go the distance? I would love to say yes, but it's obviously too soon to confirm that these two are going to end up as husband and wife. Becca and Arie have obvious chemistry, and their very first one-on-one date shows a lot of potential for this relationship. I'm just saying, the watch worked out well for Rachel and Bryan...