Bekah Is Still Salty About Tia's 'Bachelor' Behavior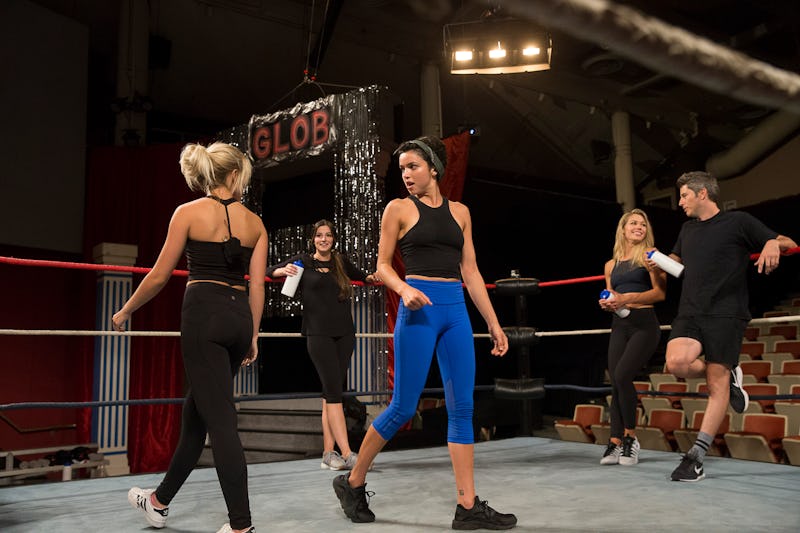 Paul Hebert/ABC
Fans of The Bachelor were pretty surprised when Bekah M, who seemed to be one of the contestants in the house with the strongest connection with Arie, was sent home at the end of Monday's episode. Though Arie seemed really entranced by Bekah in the beginning, after learning that she was only 22, he began to pump on the breaks, scared that she wasn't yet ready for marriage. That fear was only reinforced on Monday night, when Tia told Arie that she didn't feel that Bekah was fully ready to commit to him. Later in the date, Bekah was sent home. But is there still bad blood between the two? Are Bekah and Tia friends after The Bachelor?
If Bekah's appearance on Jimmy Kimmel is any indication, the answer to that question appears to be, um, no. Jimmy asked Bekah if she had spoken with Tia since the show, to which Bekah curtly replied, "against my will, yeah." Yikes. When he went on to ask if she kept in touch with any of the other women on the show, Bekah revealed that she still talks to "pretty much all of them" with a face that seemed to indicate that the "pretty much" qualifier meant that Tia was not one of them. So it seems like Bekah still feels upset with Tia.
But not everyone thinks that Tia is to blame. Tia's friend and fellow Arkansas resident, Raven, wrote in defense of Tia's actions for Bustle. While she thinks that "under all of the pressure from this show and situation, I don't think Tia thought this one completely through," she also was firm in her belief that Tia would never have been acted with malicious intentions:
"I do know Tia's heart, and Tia is not a malicious person. I think she just had a lack of judgement. If she did feel this way about Bekah, I wish she would have spoken up sooner — because now it just looks calculated ... I can see how viewers might be mad at Tia, but, for what it's worth, Tia is not calculating or malicious. Tia is blunt and has word vomit. Always has, probably always will. I wish I could go back in time and tell Tia to focus on her relationship with Arie and not to compare other relationships ... but, I cant."
It's worth noting that the women of the show don't all have to be BFFs after the show, and it seems like Bekah is doing just fine without Tia, or Arie for that matter (and vice versa). Bekah told Jimmy Kimmel that she had just slept over Kendall's house, and her Instagram reveals that the two had spent the Super Bowl together. So though she and Tia might not be having slumber parties any time soon, she still has some great relationships with some of the other women.
For her part, Tia seems to be letting any negativity go and moving on.
This week will feature both the hometown dates episode on Monday and the long awaited for drama-fest, The Women Tell All on Sunday. Though we don't know if Tia will be there for the live show, since she might not have been eliminated during the hometown dates, Bekah will surely be there, and you can bet your bottom dollar that Chris Harrison will be bringing up the drama between the two of them. An interviewer with Access Hollywood even revealed that Bekah M. "verbally kicked Tia's butt [at the Women Tell All taping]."
Fans will have to wait for Sunday's show to see how much that bad blood has continued to fester, or if Bekah has moved on. In the meantime, both ladies seem to be doing just fine, and that's all that really matters anyway.