Billie Lourd & Taylor Lautner Are Super Cute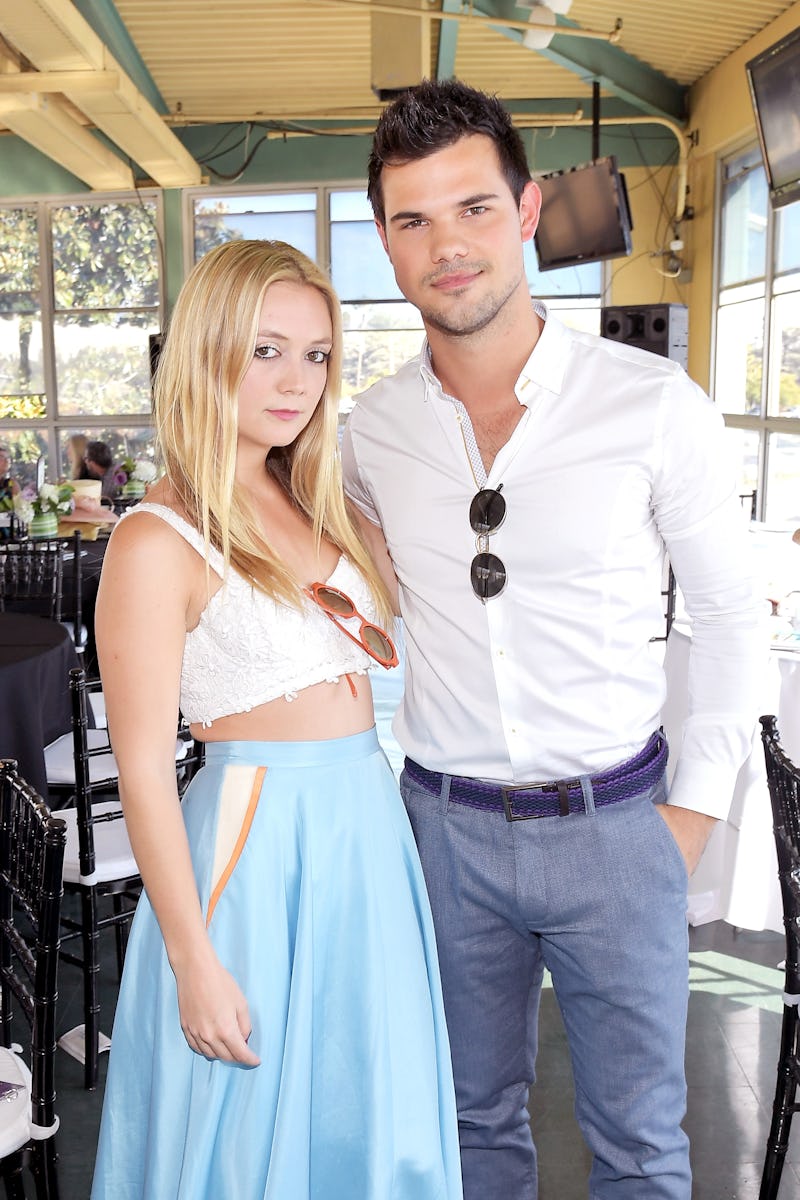 Charley Gallay/Getty Images Entertainment/Getty Images
2016 was an unkind year to just about everyone (save for exceptions like Beyoncé and... I can't think of any other examples), but the last week of the year was particularly cruel to Billie Lourd, who lost both her mother Carrie Fisher and her grandmother Debbie Reynolds just a day apart on the 27th and 28th of December. It was comforting to see that Lourd's family, friends and costars rallied around her. For instance, her Scream Queens co-stars expressed their support publicly on Twitter and Instagram. Taylor Lautner, though, went above and beyond, going with Lourd on a vacation to Mexico. It certainly looks like it, but are Billie Lourd and Taylor Lautner dating?
Bustle has reached out to reps for Lautner and Lourd for comment on the rumors, but has not yet received a response.
It seems like an unofficially official sort of situation. The Scream Queens costars haven't publicly confirmed they're together, but the dots are there to connect. Lautner and Lourd, who play Dr. Cassidy Cascade and Chanel #3 on the show, took a well-deserved vacation to Cabo San Lucas, Mexico, and Lautner posted an Instagram of the two of them basking in the sun by the pool looking very at ease indeed. Lautner also was one of the first to offer his condolences and support to Lourd on Instagram after her mother and grandmother passed. In a caption on an adorable picture of the two of them together posted on Dec. 27, the actor wrote that Lourd was one of the "strongest, most fearless individuals" he had ever met and that she was beautiful "inside and out."
Then, of course, is the very damning evidence: the Snapchat video that their friend and costar Keke Palmer posted of Lourd and Lautner kissing at the beginning of December. Keke Palmer is that friend, and I love it. She captioned it "omg omg omg OMG," which is also the appropriate reaction. Not that two good looking young people can't just mack on each other without being together, but it just seems like more than that. I just want Lourd to have some love in her life right now, OK?
Also, more recently, the two hung out together and wore matching animal onesies while at what appeared to be some sort of onesie party with friends.
There's also the super cute behind-the-scenes Instagrams they've been posting from the Scream Queens set. Including this one of the both of them sporting Chanel #3's signature earmuffs — which are a tribute to Carrie Fisher herself. Lourd told Seth Meyers in an interview on December 8th: "They are a little bit of a Princess Leia homage... it's kind of like a family tradition."
You better be good to her, Taylor Lautner. That's Princess Leia's daughter we're talking about.