The Truth About The 'I'm A Celeb' Bushtucker Trials Proves Producers Don't Hold Back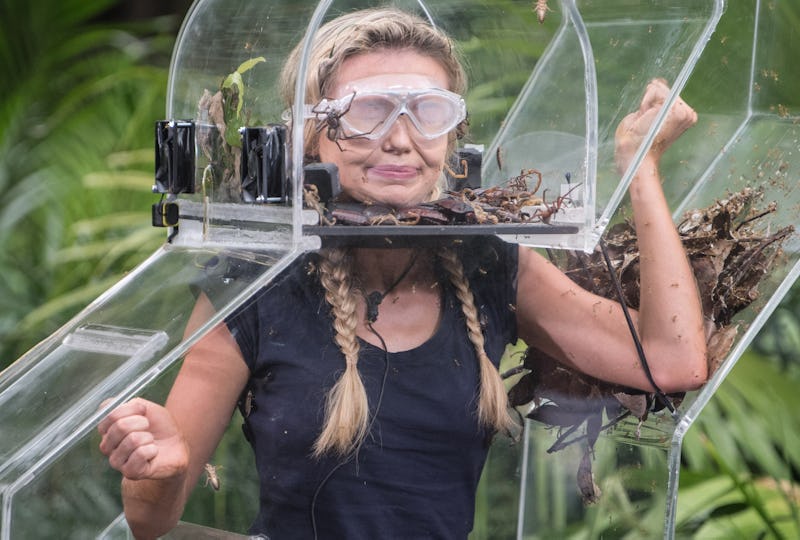 James Gourley/ITV/Shutterstock
As the latest season of I'm A Celebrity Get Me Out Of Here gears up, you just know that there are a load of celebrities actually quaking in their boots. Those poor mites. Now, when I say poor mites I mean like, actual mites/creepy crawlies/snakes etc etc. Imagine, just being sat minding your own business in a tank and then a big lolloping human jumps in on top of you? I would 100% bite them. That being said, are Bushtucker Trials safe?
Well, in answer to that, all I can say is that they production team does their level best to make sure the Bushtucker Trials are safe. Yes, the bosses try out the awful tasks on their poor crew members, in order to reduce the risk of accident or injuries. That should be good enough right? But just in case it isn't quite enough, the contestants are expected to sign a waiver before they enter camp, saying that they are responsible for their own safety. Saving ITV from potentially paying out a lot of money. I guess that's the responsibility that comes with going into the jungle. Also, maybe that pay cheque sweetens the deal, unless you're one of the lower paid contestants.
What sort of challenges are likely to happen this year though? Well, you can guarantee no matter what, that there will be several trials including bugs, bugs, and more bugs. Despite calls from some fans to stop including live animals in the show (I am in this camp), the producers continue to involve them. OMG did you know that they use so many bugs that they actually have a special bug farm?
Yep, they need their very own creepy crawly factory to satiate the needs of these challenges. According to Buzzfeed, within three weeks they got through a crazy number of bugs and on top of that, snakes, rats, and crocs! And you know I don't mean the ugly shoes. The publication quotes, "250,000 cockroaches, 153,000 crickets, 2.5 million mealworms, 400 spiders, 500 rats, 30 snakes, six 1-metre-long crocodiles, and 20 small crocodiles."
Which trials are the most dangerous though? Well, last year one challenge in particular really appeared to risk the safety of one of the contestants. The contestant in question, Iain Lee, was taking part in the Temple Of Gloom challenge. This challenge is basically insane, let alone the clear issues regarding Lee's ability to undertake it. So, in this particular one, contestants are expected to swim through several water chambers, which are filled with beasts. The aim is to get stars. More stars, more points.
However, Lee was clearly too tall to fit in the chambers and was unable to perform the challenge. The radio DJ had to stop and receive oxygen and was visibly shaken after the trial. Many fans were concerned that he could have drowned.
Although trials like this are super intense, that kind of is the premise of the show, right? Anyone who says they don't tune in to see Paul Burrell-esque squeaking and weird facial expressions from celebs, is absolutely fibbing.