Channing Tatum & Jessie J Have Been Reportedly Hanging Out & Sparking Romance Rumors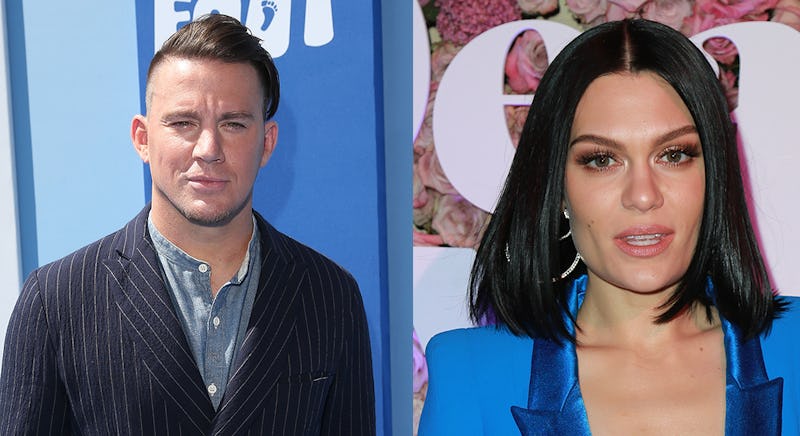 Jesse Grant/Getty Images Entertainment/Getty Images; Leon Bennett/Getty Images Entertainment/Getty Images
Months after his split from wife Jenna Dewan, Channing Tatum is reportedly dating singer Jessie J, according to Us Weekly. A source for the outlet claims that the pair have been hanging out for a couple months. It was also revealed that Tatum was also recently in attendance at Jessie's concerts in Seattle on Oct. 6, and in Salt Lake City on Oct. 8. Us Weekly also notes that a social media user recently spotted the pair played mini golf together at course in the Seattle-area that Saturday. At the same time, an insider for People shares that Tatum's romance with the British singer is "very new." (Bustle reached out to Tatum and Jessie J's reps for comment, but did not immediately hear back.)
While it's unclear to determine exactly how long the actor has been seeing Jessie, a separate report from People, which was shared last month, indicated that both Tatum and Dewan had begun dating other people. A source for the outlet revealed, "[Jenna] has been on a few dates but doesn't talk about a boyfriend." Meanwhile, another source for the mag explained that although nothing has been "serious," Tatum has also been enjoying his dating life.
In addition, fans have been tweeting about seeing the actor and singer out and about together. One Twitter user @mauerpower172 posted that, reportedly "Jessie j and Channing Tatum came in to play a round" on mini-golf where they worked. Another Twitter user @Carina_York posted that they saw the duo at a bar together. But since neither Tatum nor Jessie J have confirmed this, you may have to take those sighings with a grain of salt.
After nine years of marriage, Tatum and Dewan broke the news of their split in a joint statement back in April, which read that although they've "had a magical journey together," they have "lovingly chosen to separate." The statement went on to explain:
"Absolutely nothing has changed about how much we love one another, but love is a beautiful adventure that is taking us on different paths for now. There are no secrets nor salacious events at the root of our decision — just two best-friends realizing it's time to take some space and help each other live the most joyous, fulfilled lives as possible."
Sharing that they remain dedicated to raising their young daughter, Everly, the announcement ended by saying that the pair had no plans to comment on the situation going forward. Their statement continued:
"We are still a family and will always be loving dedicated parents to Everly. We won't be commenting beyond this, and we thank you all in advance for respecting our family's privacy. Sending lots of love to everyone, Chan&Jenna."
The reason behind Dewan and Tatum's decision break up remains a mystery. However, sources for People at that time claimed Tatum had moved out of the family's L.A. home months before their announcement and said that former couple had been in the process of separating for quite some time.
Attempting to shed some insight into their shocking spilt, People's insider claimed, "This has been a long time coming. Like any marriage, they've had their ups and downs over the years but they really started to grow apart within the last year."
Since the announcement, the pair have mostly remained private about the details of their divorce. Although, Dewan seemed to be content with the way things ended, referring to the split as a "positive thing" during a July chat withWomen's Health. She appeared to be ready to move on, explaining in the interview that she had done, "a lot of work healing from the inside out" and has become more in touch with her "womanly power." Now that Tatum and Jessie are getting closer, it seems that the Magic Mike entertainer has also made the leap into the next chapter of his life.
With both Tatum and Dewan's commitment to moving forward in the most amicable way for the sake of their daughter, it seems that both are excited to embark on whatever the future holds.