The Best Eyeshadow I Own Is Only $5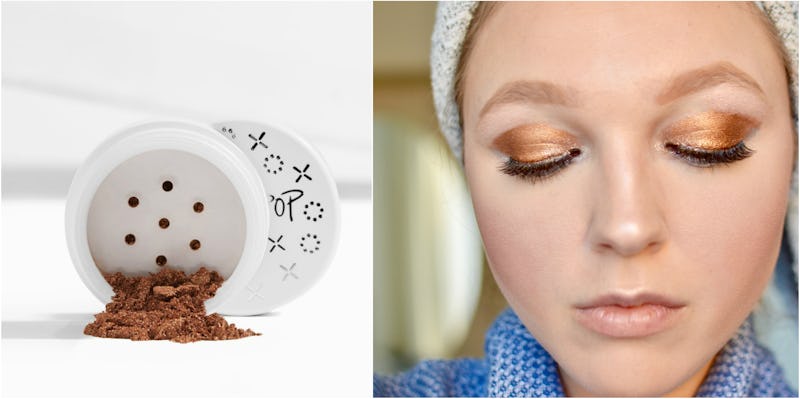 Courtesy ColourPop; Olivia Muenter
I collect eyeshadow palettes like some people collect shoes. Every time I see a new set of shadows that I know deep in my soul is an unnecessary buy, it represents a thousand different makeup possibilities, and I have to snatch it up. Even though I probably have enough shadows to last me until I'm 90 (and then some), new products still manage catch my eye. ColourPop's SuperStar loose Pigment Shadows aren't necessarily my typical thing in that they're single shadows, and not a set. But the swatches on ColourPop's Instagram were so mesmerizing that I had to try them out for myself. And they've quickly become my favorite, most dynamic eye shadows.
Honestly, it's hard for me to turn down anything that's only $5. A $5 meal? Great. A $5 cocktail? Count me in. A $5 shirt from Target? I have more than a few. So a $5 single shadow that is pigmented as hell and can be worn a variety of ways is my idea of heaven. Each of ColourPop's 12 loose shadows pack an intense amount of color payoff and for only $5 a pop, you could easily buy 5 or 6 and spend the same amount as your favorite palette. Plus, the shadows can be worn wet or dry making them especially versatile. When wearing the shadow dry, it's best for shading and adding subtle sparkle to a look. When you use the shadow wet (my personal favorite), you get in-your-face pigment and color saturation instantly.
Covergirl's Look Lock Up, $12, ULTA Beauty
By using a setting spray (I opted for COVERGIRL's Look Lock Up) and a flat eyeshadow brush (I used Laura Mercier's Creme Eye Color Brush), it's ridiculously easy to pat product onto the lid for instant wash of intense color. But the best aspect of these shadows I've found is that they make dramatic eye looks ridiculously easy — as in, takes-10-minutes easy.
Creme Eye Color Brush, $30, Laura Mercier
For a two-toned shadow look, I grabbed the shades Mulholland (a deep bronze shade) and Honeypot (a metallic silver). I opted for doing my eyes first, as fall-out with these shades, though surprisingly minimal, is difficult to work with since they're so pigmented. I also combatted any fallout by using WanderBeauty's gold undereye masks, which also served as a way to control the shape of the eye makeup.
I started by gently tapping some loose pigment into the lid of the shadow and then spraying my Creme Eye Color Brush with setting spray. The application of the pigment to the brush, and the brush to the eye is what's really important to remember here, though. While the brush is wet, flatten it against the pigment, and then apply the flat side of the brush to your lid, dabbing the color on in the shape you'd like. Don't blend or brush it on for optimal color payoff, just keep dabbing. For this look, I was going for a subtle cat eye shape for the top lid, so I followed my natural lid line and then expanded where I thought it needed a little more detail.
Again, the key to this lid look is you never want to use the thin tip of your brush, but instead you want to focus on the flat side of the brush to transfer as much pigment as possible. For under the eye, I wanted to use a slightly shorter-bristled, thicker brush to create a dramatic effect with the silver shade. I found Sigma's Short Shader brush perfect for this — it picked up a good amount of pigment while not transferring too much product. Again, I sprayed the brush and put it in the loose pigment, but this time I used the narrow tip of the brush to pick up the pigment.
E20 Short Shader Brush, $15, Sigma
Following the line of the eye mask roughly, I was able to create a super pigmented, bright look with just two layers of shadow. I then used a little bit of the loose powder on my pinky to blend it into the inner corner. I cleaned up the bottom lash line with a makeup remover wipe, and finished the entire look with the usual steps: foundation, concealer, brows, highlighter, blush, fake lashes, and bronzer.
In the past a look like this would take me an hour or two, going back again and again trying to make the color more intense. With ColourPop, the look took less than 10 minutes total. My whole face was done in less than 30. And both shadows together were only $10. Now, I can't stop thinking of ways to combine shades and use the shadows both wet and dry.
While my traditional eyeshadow palettes will always have a spot in my heart, these shadows are my new go-to for a dramatic look that's foolproof. No more spending hours blending only to have to start all over again when the colors don't turn out just right. And did I mention they're only $5? They're only $5.