I Used An $11 Palette On One Eye & A $42 One On The Other — And No One Could Tell The Difference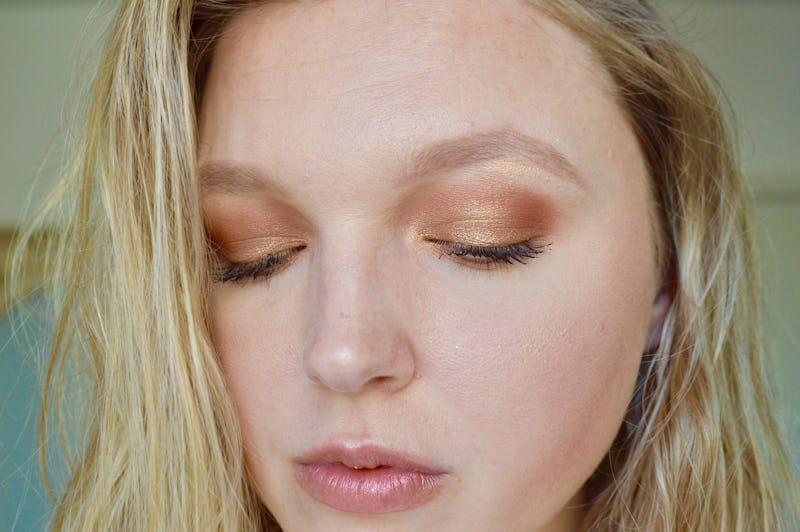 Like many people, I am certainly guilty of believing that more expensive always means better. Despite the fact that I enjoy a $7 burrito as much (or more than) a fancy Mexican dinner, and that I fully believe good ol' Vaseline can compete with any state-of-the-art lip balm, there is still part of me that thinks that if you're paying more, you must be paying for something. But drug store and affordable beauty products I've tested consistently prove that I'm wrong about that. However, affordable eye shadow has always made me nervous despite the resurgence of quality, affordable brands. That is, until I discovered Flower Beauty's $11 Wanderlust palettes. After swatching the shades at my desk, I knew I had to try out the six-shade palettes for real.
I decided to use two of the $11 Flower Beauty palettes against a favorite luxury palette of mine — which includes 14 shades for $42 — by doing the same look on each eye, using the different palettes. That equals out to 12 shades for $22 versus 14 shades for $42. It's worth noting, though, that I only used four shades total for my look on each eye.
I started in the outer corner with the darkest shade I wanted to use: a rich, warm brown in both palettes (the top right shade in the Austin version of the Wanderlust palette). The earthy tone looked gorgeous on each eye, and interestingly, both shades had an equal amount of fall out. The Flower shade was a tad bit less pigmented, but this made it easier to work with in a way. If I was a little more skilled with makeup, the higher pigment option might work for me, but since I'm still a beginner and would rather build up to pigment rather than try to take pigment away, the slightly more muted shade worked perfectly for me — and was super easy to darken up later.
My left eye in this photo is with the Flower Beauty shades, and my right eye is with the more expensive palette.
Next, I went in all over the lid with a light brown shade. This was the top right shade in the New York Wanderlust palette. Again, I found the more expensive version to be slightly more pigmented, but because of this I found it ultimately tougher to blend out. Next, I added a muted pink shade from both palettes to the center of the lid (the bottom middle shade in the New York Wanderlust palette).
Again, there was not much difference here in formula other than the Flower Beauty palette leaned slightly more shimmery while the other shade was completely matte.
Wanderlust Eyeshadow Palettes In New York & Austin, $11/each, Ulta
Next I went in with the shade that looked the most different on each eye — the sparkly, shimmery gold. The major difference here was that the actual glitter was smaller in size in the more expensive palette. This means that the shade went on creamy and smooth, but didn't ultimately pick up as much light as the chunkier glitter shade in the Wanderlust palette did (I used the top left shade in the New York palette, for reference). After blending the gold shade into my center lid and inner corner on both eyes, I was shocked to find that while I liked the application of the more expensive shade a little more, the Flower shade actually looked gorgeous — and maybe even more expensive.
It's also worth noting that I used four shades between two of the Wanderlust palettes in order to match them as closely as possible to the expensive palette. But the six shades in each Flower Beauty palette would make amazing full looks on their own. The combination of neutrals with glitter as well as bold statement colors offers truly endless combinations. And for $11 a piece, it's a solid beauty investment. You could buy all three for less than the luxury palette and have four more shades to play with.
I did this makeup look on Instagram live and no one watching could guess which eye was done with the more expensive palette. In fact, the few people who did guess assumed the left, Flower Beauty eye was the more expensive shadow. I saw a friend in person later in the day and she assumed the same thing — that my left eye featured the more expensive shadows. It's also worth noting that both shadows wore exactly the same; neither smudged or wore off throughout the day.
I will always love luxury palettes — the pigments, the dozens of shades, the oversized, gorgeous cases. But affordable eyeshadow palettes are out there, and they're just as good as anything else you use. Ultimately, they'll last just as long, be used just as much, and cost you a lot less; it's a no brainer.