Everything We Know About Colton & Tia's Relationship Status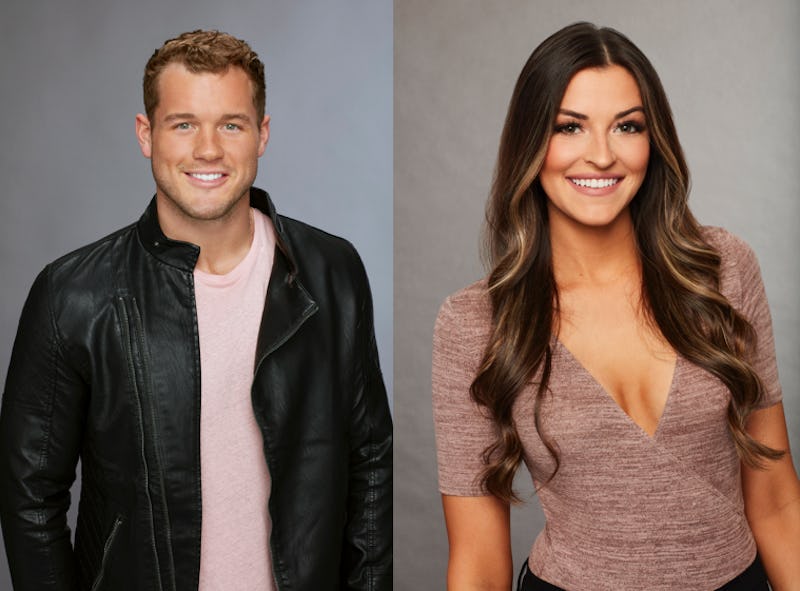 Craig Sjodin/ABC/Craig Sjodin/ABC
Those following The Bachelorette behind the scenes were likely unsurprised to see the promo showing that Tia returns to the show just before hometown dates. On and off screen, it just seems like the situation between her, Becca, and Colton keeps growing ever more suspicious. So what's the deal anyway? Are Colton & Tia dating post-Bachelorette? Is a villainess turn in the making? This love triangle seems to know no end.
Quick recap for those of you just landing here in Bachelor Nation: Colton and Tia met under some potentially surreptitious circumstances. According to what is already legend, Colton reportedly followed Tia after seeing her on The Bachelor, she DMd him, they spent a somewhat romantic weekend together. Then, Tia discovered that he had applied for the new season of The Bachelorette. This was all before Becca was announced as the lead, leading many to wonder whether Colton was hoping that Tia would be chosen as The Bachelorette and get an advantage.
Because of theAri-related circumstances that lead to Becca taking the gig, it's entirely possible that Tia was in talks about doing the show (although no one involved has confirmed that). Are Colton and Tia planning to stir up drama by getting back together, despite promising Becca that they were over their "bad timing" almost-fling? That remains to be seen. That being said, they are reportedly filming Bachelor In Paradise together. So are they dating or what?
In June, former The Bachelor contestant Bekah Martinez posted a picture of Tia and Colton together, presumably from filming, and accused them of manufacturing drama for the show while planning a reunion at the opportune moment. Both Tia and Colton denied that that was what they were doing, but the fact that the producers keep dragging Tia out and putting Colton on the spot isn't really helping. Can't they just let these women live without stirring up unnecessary drama between them?
Of course not. For a little while there was some speculation that Tia and Colton were spending time together, but it's hard to tell if that's still going on. Tia is set to appear on Bachelor in Paradise, which means that it's likely the drama will continue to ensue. The whole premise of that show is to find romance on the beach, so she ( and possibly Colton, depending on how things go) wouldn't appear on the program already coupled up, with him or anyone else.
They also don't really interact with each other online, either, which suggests that maybe they're simply friends. Well, Tia did like this one tweet of Colton's, but it wasn't particularly flirty or anything. The closest to any acknowledgement of current feelings between the two is this quote tweet from July 11, in which a fan demands to know why Tia didn't tell Becca she "liked" Colton.
As for Tia and Colton's current whereabout post-The Bachelorette, according to their respective social media accounts, they are several states apart right this very moment. Leading up to Tia's return to the show, Colton was at a family wedding getting down on the dance floor and Tia was far, far away in Arkansas hanging out with friends. If they're doing the long distance thing, they certainly aren't showing it.
At this point, it seems pretty obvious that Colton and Becca are not meant to be, but who knows what would have transpired had there not been the added drama of him and Tia hooking up prior to the show. Bachelor Nation will just have to wait and see how things go in Paradise and if they eventually end up together.