Emilia Clarke Posted A Cryptic AF Birthday Pic That Could Reveal Her Rumoured BF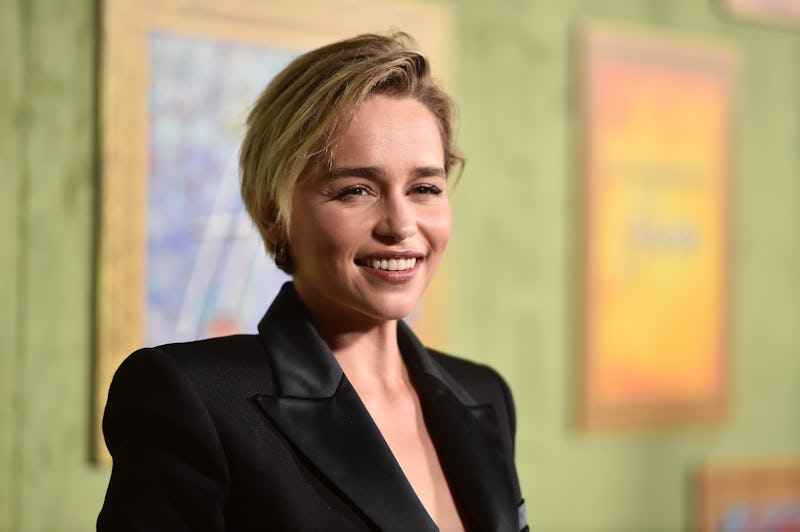 Alberto E. Rodriguez/Getty Images Entertainment/Getty Images
Well guys, while we wait with baited breath to see what Emilia Clarke's Game Of Thrones character Daenerys Targaryen gets the heck up to in the final season of the best show ever, looking at the actor's social media for clues is pretty constant. According to Instagram thought, it looks like she might be busy in her personal life as well. So are Emilia Clarke and Charlie McDowell dating? Well, eagle eyed fans have got to thinking, maybe they are.
Bustle contacted Clarke's management, who said they don't comment on their clients' personal life. Although neither have confirmed the romance, it was a shared photo that seems to have set tongues wagging. Yes, Instagram strikes again. And not only is the photo quite flirtatious but guys, there are love heart emojis involved.
The photo, shared on both of their Instagram accounts shows a shadow on a beach. Not any old shadow oh no, a shadow of a person being kissed on the cheek. The timely image is celebrating Clarke's birthday and she has captioned it
"Well that was a birthday I won't be forgetting in a while. ❤️"
Say what?! And McDowell used the SAME pic on his account, which he captioned
Happy birthday, E. ❤️
Guys, that is TWO love heart emojis. Mutual love heart emojis. Holy moly that is wild.
OK in millennial terms two love heart emojis is basically like, whut. Although they have not confirmed anything, the writing is on the wall right? For those who don't know McDowell, he's an American director and producer, helming films likeThe One I Love andThe Discovery. According to a 2012 report by E!, McDowell previously dated Rooney Mara, and his parents are British actor Malcolm McDowell and American actor Mary Steenburgen. Clarke is quite private about her personal life, confirming in a 2016 interview with Glamour that she previously dated Seth MacFarlane. You know him right? As in the creator and star of shows like Family Guy and films like Ted.
She definitely deserves a beach break though, having had a pretty full on schedule with all that filming on the not very well known Game Of Thrones. OK kidding, obvi we all know about that little slice of actual televisual gold.
And you know what she has actually been pretty tight-lipped about the show. And who can blame her, this is one of the most hotly anticipated tv series of all time. Although let's be honest, if she says absolutely anything relating to the show, I 100 percent take it, run with it, and feel like she is definitely like trying to send secret messages via various public statements. One second hold up does that sound a bit mad? Meh, it's fun.
Recently in an interview with Vanity Fair, Clarke revealed that filming her final scenes was a difficult experience and guys, it left her low key traumatised. She said
"It f****d me up... Knowing that is going to be a lasting flavour in someone's mouth of what Daenerys is".
Speaking also on Good Morning America, she revealed not only the scenes were traumatic but saying goodbye to her beloved character was like, sad AF.
"It really is the most heart-breaking thing to be filming the last of anything... I've become an emotional wreck on set. They're like 'Emilia, it's okay', and I'm like, 'But it's the last time!'"
So, although she has not confirmed romance rumours, we are bursting with joy that she has had a lovely birthday and some down time in the sun. After all—winter is coming.