'Game Of Thrones' Star Emilia Clarke's Love Life Is A Total Mystery To Fans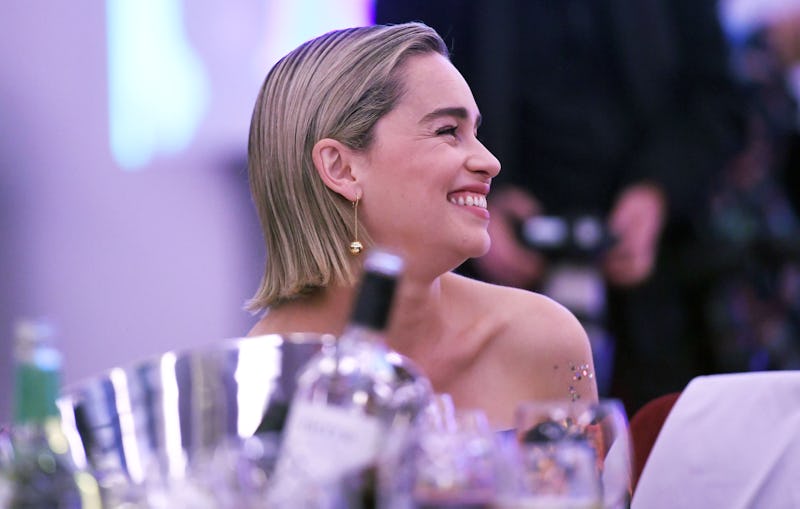 Stuart C. Wilson/Getty Images Entertainment/Getty Images
She's the powerful, fearsome Mother of Dragons on Game of Thrones, but who is Emilia Clarke dating IRL? It's been years since the actor better known as Khaleesi has revealed anything personal about her romantic life to the world — or so fans think. Her Instagram is crowded with moments of joy, including friends, family, and behind-the-scenes looks at her HBO series, but where's the hint of a romantic partner? That might be lurking on what the kids call an "alt".
Earlier this year, Clarke has mentioned the existence of a second, private Instagram, one where she said she can post Game of Thrones spoilers and presumably, it offers a little more insight into her life — just to a specific, trusted audience. It's entirely possible, then, that she's shared images, or even hints, of a romantic partner on a second Instagram account, one fans would never be able to see. But if she decided to walk the red carpet with a special someone during awards season, fans would totally be on board with it.
Several years ago, Clarke's most notable relationship made headlines when it was revealed the actor was dating Seth MacFarlane. Yes, that Seth MacFarlane: The voice actor, writer, director, animator, and singer best known for creating Family Guy. By the way, did you know he's been nominated for a Grammy award five times? As far as the public knows, the relationship lasted under a year, and it definitely had a "Really? Them?" air about it. But it looked like a good time.
Still, Macfarlane is the only other celebrity whom Clarke has definitively, publicly dated. But as will happen with more private celebrities, Clarke has been linked to a plethora of A-list dudes. Game of Thrones fans so badly wanted her to hook up with costar Kit Harington, for example, but the pair are just close friends. (Plus, before Harington married fellow Game of Thrones star Rose Leslie, he had dated Leslie on and off — mostly on — since 2012.)
In addition, there have been rumors aplenty about Clarke and Jason Momoa — also just a former coworker and pal — and even James Franco, though good luck finding any more than a picture of them together.
Basically, here's what fans don't know: Anything. And Clarke definitely prefers it that way. Unless she grants the world access to this not-so-secret second Instagram account of hers, or until a costar lets it slip during an interview, it is genuinely impossible to know for sure whom she might be seeing. It literally could be anyone; Clarke has visible chemistry with every single person she poses for a photo with.
Some examples:
See? See? Here are some more:
How can anyone be expected to know who Clarke is dating when she looks so good with everyone. That said, for now, it does seem like the actor is flying solo — pun intended — or at the very least, dating someone that doesn't mind staying out of the public eye. Remember, "public" being the key word on this one. Until then, fans will await the release of Emilia's second Instagram.