'Game Of Thrones' Fans Will LOVE Emilia Clarke's Epic Photo With Her Dragon Birthday Cake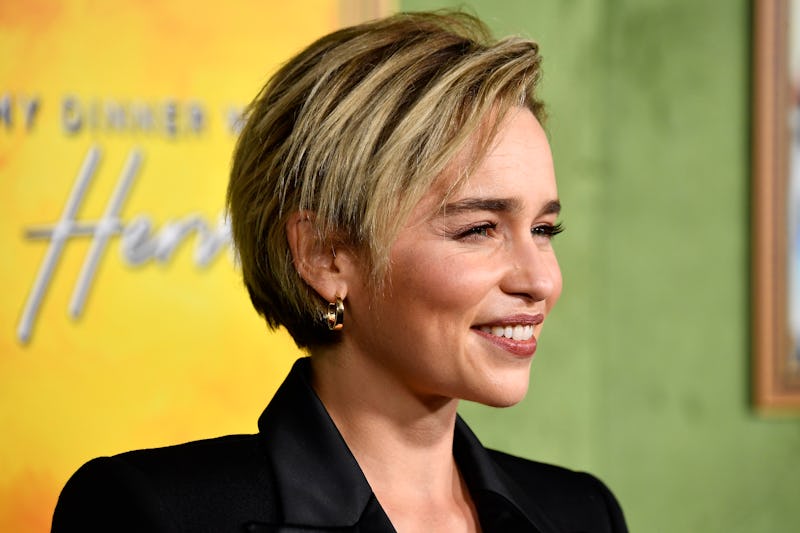 Frazer Harrison/Getty Images Entertainment/Getty Images
The Targaryen family may be known for fire and blood, but the real Daenerys Targaryen is sweeter than pie IRL. Or cake, even. So it makes a lot of sense that Emilia Clarke's Game of Thrones-inspired cake is the cutest thing in Westeros. In fact, only thing better than the cake is her reaction to it.
On October 24, Clarke posted a photo to Instagram to thank fans for celebrating her birthday with her. The actor, who turned 32 on October 23, also showed off a special present she received: A dragon-themed cake, inspired by her character's "children" on the show. Clarke posed with the adorable cake — her signature grin beaming — and gushed in the caption.
"FULL DISCLOSURE: dragons are not for eating. Only for riding, and the occasional bbq. However this chocolate cake explosion of love is..(that grin managed almost the whole thing) @lolafrears I love you with the fire of a thousand dragon panic attacks. (Carnage right?)"
Clarke's effusive caption continued::
"But dear instaworld I wanted to say a huge thank you to all you glorious wonder creatures who wished me a happy birthday! I felt like one very lucky chica to have been sent so much love... (and chocolate) ❤️😍❤️#thirtiesareforthecake#andtheeyebrowsfindingevengreaterheightsthaneverbefore#itmustbelove"
Those hashtags! Why is she the most precious person ever? Check out Emilia Clarke and the mother of all dragon cakes below:
The cake has one large dragon resting on top of it, which appears to be a faithful and copyright-friendly version of Khaleesi's largest dragon. (On the show, Daenerys favors Drogon over Rhaegal and Viserion, especially now since Viserion is an ice dragon — nope, sorry, too soon, can't talk about it!) The connection between Drogon and Daenerys is special. Very special. It's been written into the show in more ways than one: In Season 5, Episode 9, for example, she's seemingly able to summon him with her mind, and he's the only one she uses to fly for the rest of the show.
Their relationship is also underscored in ways viewers won't notice. Like how his cooing and purring and assorted dragon noises have been designed by sound technicians to mirror the mating sounds of tortoises. He also gets his name from her powerful late husband. So there's a lot going on between the Mother of Dragons and this particular dragon. If Clarke's BFF were going to pick one dragon to adorn her birthday cake, it makes sense that it would be him.
It's not the first time Clarke has celebrated her birthday in the key of Game of Thrones. In 2014, The Mary Sue reported that the actor was surprised on set with a sheet cake themed after the Targaryen family — and didn't even take the time to change out of her costume before digging in. Time noted in 2016 that Clarke spent at least part of her birthday with GoT costar Nathalie Emmanuel. Why they were posing near larger-than-life versions of Dora The Explorer and SpongeBob SquarePants on her birthday is anyone's guess.
Honestly, it's just cute that Clarke has an ongoing birthday tradition that happens to involve the show she stars on. Imagine the party she'll get to have next year when there are no more spoilers left to hide! She did sneak in one last spoiler, though, and that would be the mystery silhouette she also posted a photo of after showing off the birthday cake. A partner worthy of Khal Drogo or Jon Snow, perhaps? Only Khaleesi knows for sure.