Gina Rodriguez's Boyfriend Basically Adores Her Almost As Much As You Do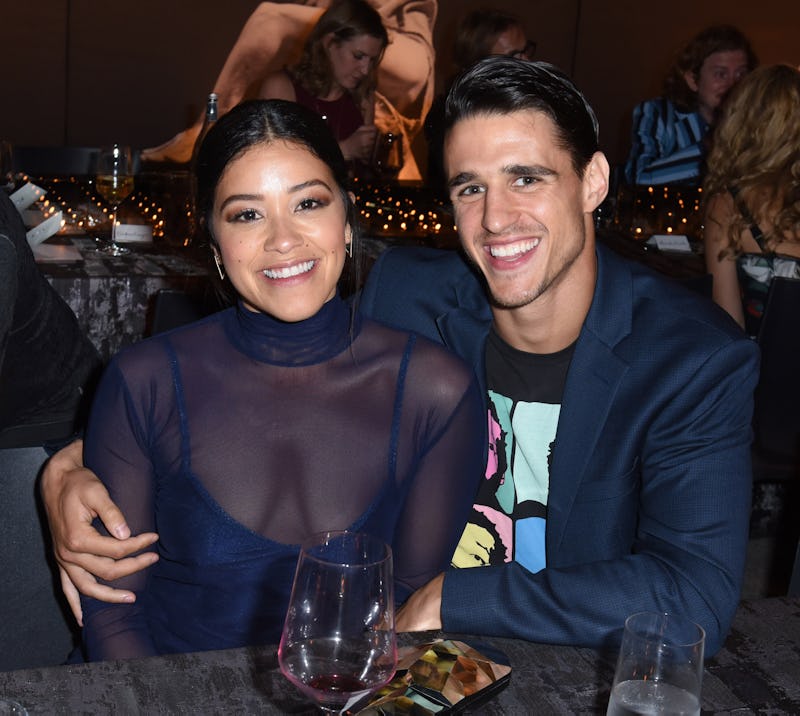 Vivien Killilea/Getty Images Entertainment/Getty Images
Although your favorite Jane the Virgin star sadly isn't up for nomination at the 2018 Oscars, she will present at the ceremony. But whether or not Gina Rodriguez and Joe Locicero are still dating will give fans a clue as to whom will likely be on her arm. There's no telling exactly who the actor will bring to the storied event, but Rodriguez and Locicero do still appear to be dating. So you can rest easy if you were worried about the relationship, or shake your fist at the sky if you were hoping for a shot with the talented actor. Either way, this couple is starting to verge into long-term territory, especially for the entertainment industry, and they appear to be as rock solid as ever.
Locicero and Rodriguez have known each other since their paths crossed on Jane the Virgin, but that isn't where their romance started. His first appearance on the critically-acclaimed series was as a Don Quixote Stripper in 2016, but Rodriguez told LIVE with Kelly and Ryan that everything stayed professional until about six months later. That's when they crossed paths again at the gym — a meeting that the Annihilation star is pretty sure that Locicero engineered — and discovered a shared love of boxing.
That blossomed into love, and the two have been a pair since Summer 2016, according to Rodriguez's social media. (She posted a tweet celebrating their six-month anniversary on Feb. 28, 2017.) That puts their anniversary right around the end of August 2016, which means that, by the time Sunday's Oscars roll around, they will have been together for a year and a half.
It might not sound long to us normals, but it might as well be a decade in celebrity time considering how quickly those relationships build and deepen. Just months after getting together, Rodriguez was dropping the L-bomb in posts, like on an Instagram shot celebrating the couple's first holiday season together. "Our first Christmas together and your love has been the greatest gift," she enthused in the December 2016 caption. A month later, the couple made their public debut on the red carpet at the 2017 SAG Awards, seen below, and Locicero has popped up on Rodriguez's arm on plenty of occasions since.
And it's not just red carpets where Locicero turns up to support his in-demand other half. Both sides of this couple are loud and proud about celebrating each other across social media, whether it's in front of the cameras or just for each other.
Sure, sometimes a few months go by without a photo together, which could understandably make some worry that the pair had split. But ultimately the gaps seem to speak more to Rodriguez's busy lifestyle than any issues within the relationship. She's always giving her time to worthy causes like drawing attention to diversity at the Academy Awards, taking up the issue of equal pay, or shouting out young performers of color who she thinks are rising stars in the industry. In fact, the most recent photo of Rodriguez and her actor beau together is the two posing to promote the #TimesUp movement and explaining #WhyWeWearBlack.
They're just as in love as ever, so don't worry: they just went on a romantic trip to Hawaii in November 2017. All the lovey-dovey relationship photos just take a backseat sometimes to other important issues that are currently affecting the industry.
So even though there's been no sign of a boyfriend on Rodriguez's Instagram since early January, don't get too stressed. If you need a reminder of the bond between these two, you can hop over to Locicero's Instagram, where he's simultaneously helping to promote some of the 32-year-old's upcoming projects and showing how much he loves her in one fell swoop. As recently as February, Locicero threw support behind his lady love with a post congratulating her on directing an episode of Jane the Virgin.
So, it's definitely still heart eyes for these two, whether or not they show up at the Oscars together. They're a rock solid couple with individual lives of their own, as well, which is literally the definition of #RelationshipGoals.