Hannah From 'Below Deck Mediterranean' May Have Moved On From Conrad — With A New Man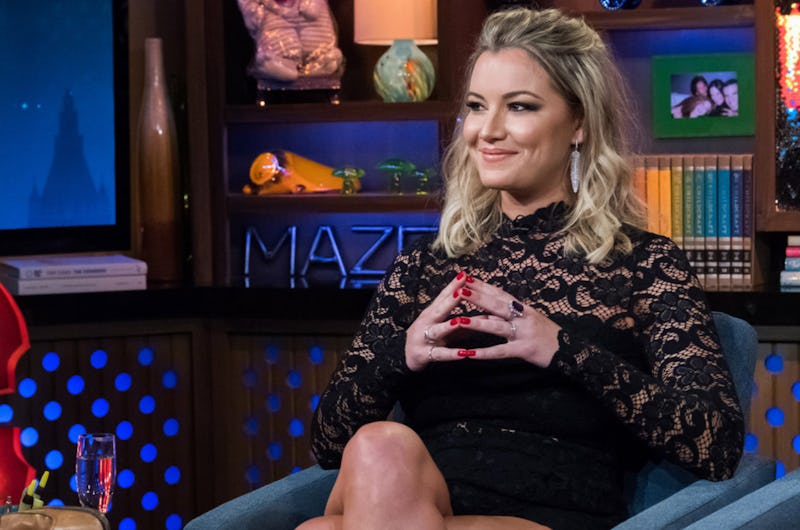 Charles Sykes/Bravo
Sorry, Hanrad shippers, but you probably shouldn't expect to see Hannah Ferrier and Conrad Empson still together and canoodling at the Below Deck Mediterranean Season 3 reunion. Spoiler alert: It looks like the chief stew and bosun's relationship did not bounce back after their fight that bubbled up near the end of the episode that aired on Tuesday, July 31. Like a 50 euro note at a cigarette emporium, their boatmance showmance romance really is spent. Moreover, Hannah of Below Deck Med may have a new boyfriend.
And no, he isn't a yachtie: Hannah could very well be in a new relationship with basketball player and fellow Sydney native Isaac Humphries. On Friday, Aug. 3, Hannah shared a picture she took with Humphries at Watch What Happens Live with Andy Cohen earlier in the week. "Thanks for coming to hold my hand through a crazy work week in NYC boo @isaachumphries7," wrote the Below Deck Med star. She ended the Instagram caption with not one, not two, but three heart emojis. Oh?
Now, do you remember when Hannah met Chrissy Teigen at Nobu Malibu back in July? Of course you do. That moment was about as unforgettable a moment as it gets. Well, chew on this: Humphries was there, too. In the aforementioned Decider interview, Hannah recalled,
"It was funny because a friend of mine had actually picked me up late. He is a basketball player so he is 7 foot 1 — it's kind of hard not to see him as well. [Teigen and Legend] came out of a private exit in Nobu in Malibu and we just dropped the car at valet and we were going in, so I reckon we had about 5 seconds on either side to run into each other."
"A friend," eh? Looks like that "friend" was certain someone who used to play for University of Kentucky, was signed by the Sydney Kings, and now plays for FMP of the Basketball League of Serbia.
While we may not know their official status, we can pore over their social media back-and-forth.
For starters, consider this tweet that went up in November of last year:
And consider Humphries's reply:
This exchange happened about a month after she finished filming the most recent season of Below Deck Med. Based on Hannah's Instagram posts, it looks like Season 3 wrapped in the middle of October 2017.
In January, Hannah celebrated Humphries's birthday and called him one of her "favourite humans in the world."
When Australia's National Basketball League named Humphries rookie of the year in February, Hannah tweeted, "Congrats to my mate @IsaacHumphries7." They exchanged a few more tweets that month.
And when June rolled around, Humphries became a Deck head.
When someone suggested Humphries join the Below Deck Med cast, Hannah broke down the pros and cons.
These two are going to WWHL together, watching Below Deck Med together, tweeting at each other, and hanging out in Los Angeles together.
Whether they're just friends or more than friends, they seem happy. Let us raise one Coke (just one) to Hannah and Humphries's happiness.