Harry Styles & Timothée Chalamet Just Proved They're Basically Soulmates & I'm ALIVE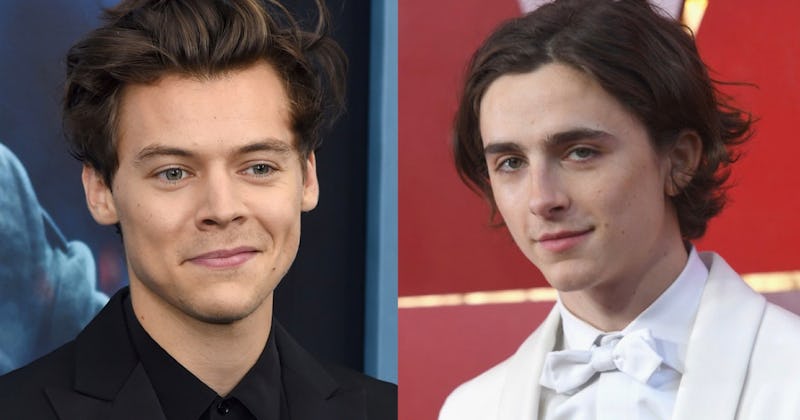 Jamie McCarthy/Kevork Djansezian/Getty Images Entertainment/Getty Images
Your son and boyfriend finally met. That's right — two of the world's sweetest boys — Harry Styles and Timothee Chalamet got together to have a chat about the state of masculinity, social media, and David Bowie. Put two of the world's prettiest boys alongside one another and the planet basically combusts. That's what happened when i-D posted the interview between Styles and Chalamet, anyway. Styles asked the questions, Chalamet answered, but did the two heart-melters know each other previously? Please, I really have to know, are Harry Styles and Timothee Chalamet friends?
As Access Online reported, the first hint of a budding friendship came when Styles first followed Chalamet on Instagram on March 6, 2018. While they've not been snapped together IRL yet, that could all be about to change, as their interview for i-D proved that these two are pretty much kindred spirits. While it's clear they felt comfortable with one another straightaway (even discussing what they wear to bed) it seems as though this was the boys' very first conversation together. "It's one of the reasons I'm so happy to get on the phone with you," Chalamet told Styles. Cute.
They want to be the role models to a new generation of young men who have grown up into a toxically masculine world, since, as Chalamet said, "growing up we did have some people to look up to, but it wasn't as obvious." Now the Call Me By Your Name actor says that he "would be so thrilled to know that the roles I'm playing are instigating change in some way." As one of the acting world's biggest breakout stars, Chalamet wants to use his newfound spotlight to say "you can be whatever you want to be. There isn't a specific notion, or jean size, or muscle shirt, or affectation, or eyebrow raise, or dissolution, or drug use that you have to take part in to be masculine."
Styles echoed the sentiment. "I think there's so much masculinity in being vulnerable and allowing yourself to be feminine, and I'm very comfortable with that," he told Chalamet. But the interview wasn't without its juicier moments. Referencing *that* juicy CMBYN scene, Styles asked Chalamet: "Can you still eat peaches?" The actor who played Elio in the film laughed and said, "Umm I can, but not without thinking about it…"
As you can probably imagine, Twitter went wild for the whole thing. The interview started trending very soon after it was published, and it got pretty close to basically just shutting down the whole internet. There was hardly a bad word said about the pair meeting, too. Writer Alanna Bennett tweeted her praise, saying that "This interview between Timothee Chalamet and Harry Styles is a really good example of how to do the celebs-interviewing-celebs thing RIGHT." And she is right. If these young actors really do have to take our journo jobs, then they should at least make sure that the interviews are always *this* good.