Here's Why Everyone Is Freaking Out Over Peaches In 'Call Me By Your Name'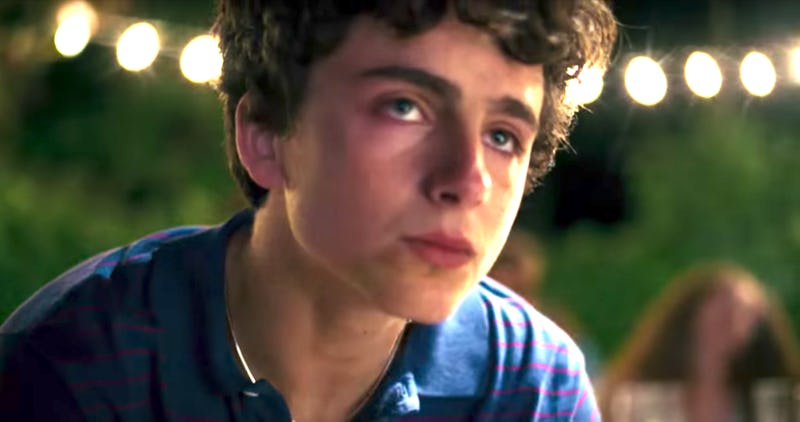 Sony Pictures Classics/YouTube
Not unlike The Grapefruit Scene from Girls Trip or The Mushroom Scenes from Phantom Thread, The Peach Scene from Call Me By Your Name made 2017 a top-notch year for food moments in movies. Now, if you haven't seen Luca Guadagnino's award-winning movie, but do want to know why people keep tweeting about peaches and Call Me By Your Name, then you've dropped by the right place. We're about to get into what all the peach fuzz, er, fuss is about.
And if you haven't seen it Call Me By Your Name, please do yourself a massive favor and watch it at your earliest convenience. It's a moving story set in a gorgeous villa in the Italian countryside and each scene is as breathtaking as can be and the music is everything. But let's get back to The Peach Scene. Warning: Spoilers for Call Me By Your Name ahead.
Guadagnino's outstanding drama based on André Aciman's novel of the same name beget a few highly meme-able moments. Some meme-able moments, such as Oliver (Hammer) dancing to "Love My Way" by the Psychedelic Furs, err on the safe for work side. While the Peach Scene is just as meme-able as Oliver cutting a rug, it is far less PG. Here's what happens: The night after he has sex with Oliver for the first time, Elio (Chalamet) removes the pit from a peach, pulls down his shorts, and masturbates into the peach.
And then, Oliver finds Elio, picks up the peach, realizes what took place, and attempts to eat the hollowed out peach. Elio stops him, they begin to fight, they embrace, their love story blossoms, and it's an intensely raw moment. And yes, this genuinely affecting scene also launched a never-ending parade of peach jokes.
When Vulture asked Guadagnino about The Peach Scene back in November, he said,
"I was struggling with the scene since I read it in the book. I thought it was a scene that can only play in a book, because you could go into your imagination. I also thought it was a metaphor for sexual impulses and energy. I didn't believe in the actual physical possibilities of masturbating yourself with a peach. In translating this into a movie, I was both admiring Aciman's work and dreading Aciman's work, and I knew that scene was kind of infamous for readers of the book."
Before he asked Chalamet to film the scene, Guadagnino tried out the peach because, as he told Vulture, "I wanted to prove to myself that it was not doable so we would not have to do it." Oh, but it was quite doable. After the peach worked for Guadagnino, he told Chalamet, and Chalamet told Guadagnino he'd already tested it out, too. The Peach Scene was a go.
In an interview at the Toronto International Film Festival, Aciman addressed why The Peach Scene is such a vital moment in both the book and the film. He explained,
"The peach scene is, I think, very essential, partly because it's so shocking. But also, at the same time, because it's the most intimate moment between the two men."
In a recent interview with The Hollywood Reporter Guadagnino addressed just how rich The Peach Scene truly is. He told the publication that, when you watch the scene, "You get the drama of the impossibility of this love and the longing and the fact that they're going to be separated."
On the surface, it's a scene about Elio doing his thing with a peach. However, when you dig a little deeper and get to the pit of the scene, you'll find that The Peach Scene is also about Elio and Oliver's connection. How peachy.