"Hush Agreements" Might Not Be As Normal As One Of Trump's Lawyers Just Suggested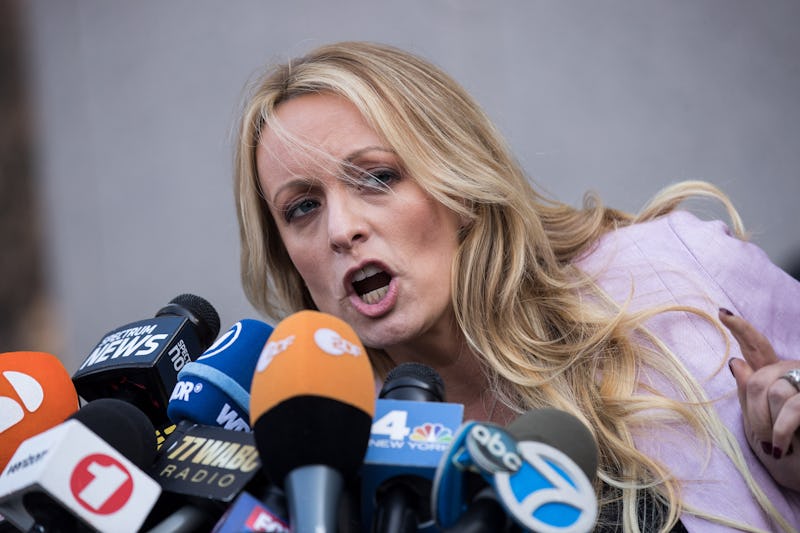 Drew Angerer/Getty Images News/Getty Images
Both President Trump and his lawyer Rudy Giuliani have suggested that the $130,000 payment made to an adult film actress represents something that is standard practice for people of fame and wealth. In light of these assertions, you're probably wondering whether Trump's hush agreement with Stormy Daniels is a common type of thing. According to lawyers in Hollywood, who spoke with Bloomberg on May 3, these types of agreements are actually far less common than Trump and Giuliani may have you believe.
On May 3, President Trump confirmed he reimbursed his lawyer Michael Cohen for a $130,000 payment made to Daniels prior to the presidential election in 2016. Trump confirmed the reimbursement via Twitter after initially denying that he knew anything about the payment. In the same series of tweets, he also insisted that "[non-disclosure agreements] ... are very common among celebrities and people of wealth." Trump's lawyer, Giuliani, also echoed similar sentiments during an interview on ABC's The Week, saying that it is normal for high-profile individuals to enter into these types of agreements.
However, as Bloomberg reported, many Hollywood lawyers, who regularly work with celebrities, disagree. Indeed, an employment lawyer named Genie Harrison strongly asserted that Trump's payment is not typical, telling Bloomberg, "It's absolutely not normal. ... People don't pay that kind of money unless they are concerned about some very negative exposure."
Bloomberg's article did note that it is normal for public figures to include confidentiality clauses in contracts with those who provide services for them, like cleaners and stylists, in order to protect their privacy. However, it insisted that exchanging a large sum of money for someone else's silence does not represent standard fare. The article also reported that hiding party identities in confidentiality agreements — something which Trump's agreement with Daniels seemingly did — is also not normal.
As Christopher Melcher, a California divorce lawyer, told Bloomberg, "There's no legitimate reason to hide the identity of the payer or to create a separate company to facilitate the payment. ... That's highly unusual."
Trump has insisted that the payment was made to Daniels in order to stop her from sharing what he called "false and extortionist accusations" about an alleged affair she had with Trump. Daniels alleges she had an affair with Trump in 2011. However Trump has repeatedly denied that the affair occurred. According to the president, the $130,000 payment was made to Daniels to stop her from further discussing the allegations. As Trump wrote on Twitter on May 3,
... The agreement was used to stop the false and extortionist accusations made by her about an affair ... despite already having signed a detailed letter admitting that there was no affair. ... Prior to its violation by Ms. Clifford and her attorney, this was a private agreement. Money from the campaign, or campaign contributions, played no role in this transaction.
As NBC reported, during an appearance on Fox & Friends on May 3, Trump's lawyer, Giuliani, expressed similar views and also added that the payment had been made as a means of protecting Trump's family. "This [the payment] was for personal reasons. This was, the president had been hurt personally," Giuliani said. "Not politically, personally so much, and the first lady, by some of the false allegations, by one more false allegation, six years old, that I think he was trying to help the family."
Daniels is currently suing Trump over the hush agreement. The adult film actress is requesting to be released from the agreement, proposing that Trump's failure to sign it invalidates it.
Time will tell whether Daniels must continue to abide by the confines of the non-disclosure agreement. However, it seems pretty clear that these types of agreements are not necessarily par for the course, as Trump and Giuliani are implying.