Julia From 'The Bachelor' Has Been Shading Brandon All Over Instagram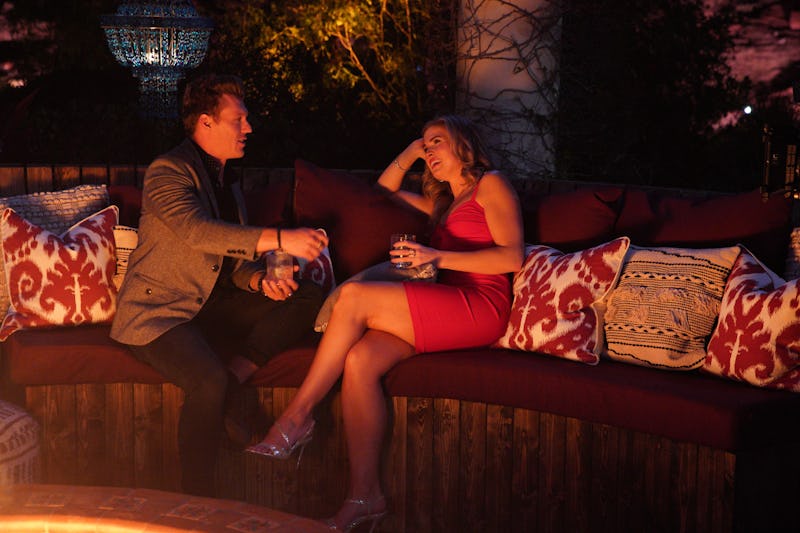 ABC
The drawn out love triangle between Brandon, Julia, and Savannah on The Bachelor Presents: Listen to Your Heart has officially ended. During the May 4 episode, the contestants went on dates with people they weren't in couples with, which of course meant Brandon and Julia wound up together. This gave them a chance to finally admit that yes, they still have feelings for each other, sending Savannah and Sheridan home brokenhearted in the process.
But that doesn't mean it was all smooth sailing from there. Julia and Brandon ended up leaving the show after their lackluster live performance of Pat Benatar's "We Belong," and Julia doesn't seem to have any plans to continue their relationship. "I wish I could go back and choose Sheridan," she said during her exit. "Brandon just kept disappointing me. I'm definitely done with him."
Her latest Instagram activity also suggests she has some regrets about how everything went down. "Emotions are more complex than a 2 hour episode could ever convey," she captioned a recent post of her and Sheridan's performance. "The most beautiful part of this entire experience was my connection with Sheridan and how the music aspect kept on strengthening it every time we got to play together. That was real. I was always honest with Sheridan because I do have so much respect for him. Was I unable to see how good it was with him because I was getting played by another guy? Guilty. I was very hurt and I couldn't see anything clearly."
She elaborated in an interview with Hollywood Life. "I think I was very confused," Julia explained. "I felt I could have handled the situation way better, but I was leading with honesty because I didn't want to disrespect Sheridan, even when it was hard to tell him I was feeling something for Brandon."
On April 17, Julia released a single called "Wishing Well," which just so happens to be a bitter breakup anthem that has to be related to Brandon. "Ever catch yourself falling for someone even when you have a good feeling they're bad news?" she wrote on Instagram. "You just close your eyes, open your heart, and hope for the best? I'm all too familiar with that feeling, and that's what inspired 'Wishing Well.'"
The lyrics are pretty telling: "I don't wanna play 'He loves me, he loves me not.' Let me go … You're a wish in a well that I tossed in myself. You're a wishing well filled with bad breaks."
And the lyrics for her other recent single, "End of Every Lie," tell a similar story: "At the end of every lie, stay or say goodbye, just give it one more try, at the end of every lie." Insert lurking eye emoji here.
If that's not enough to confirm your suspicions, Julia doesn't follow Brandon on Instagram (though he follows her), but she does follow Sheridan. It seems pretty obvious that she's over Brandon, and regrets how her relationship with Sheridan ended. Who knows? Maybe they'll give it another shot.
This article was originally published on