Katy & Nicki's Relationship Goes Beyond "Swish Swish"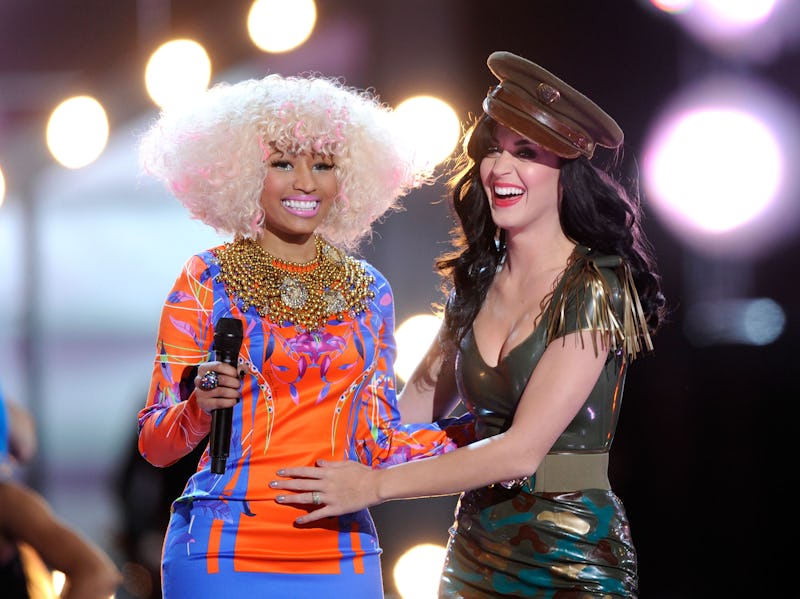 Michael Caulfield/Getty Images Entertainment/Getty Images
It's always awesome when one of your favorite artists releases a new single, but it's even better when two of them join forces. On Thursday, Katy Perry and Nicki Minaj's "Swish Swish" video dropped, and after hearing and seeing them work together, it seems like such a natural chemistry exists between them. But is it just based on the music, or are Perry and Minaj friends in real life? Although they're both busy ladies who don't seem to hang out too often, they've definitely had respect for each other for awhile.
According to their social media accounts, it doesn't seem like Perry and Minaj spend much time together, but since they share an industry, they cross paths quite a bit. And anytime they've interacted, it's definitely pleasant. Back in 2014, Perry shared a photo of herself hugging a pillow shaped like Minaj's butt in lieu of being there to accept the award for "Dark Horse" at that year's European Music Awards.
In her speech, Perry said that Minaj sent her the pillow herself, so really, that alone serves as proof that they've always been friendly, at the very least. How else could she explain taking a nap on that pillow? Seems like a pretty personal thing.
Of course, Minaj had to respond to that, which only seemed to cement their bond.
And even back in 2010, Perry wasn't afraid to show the love she has for Minaj. During a performance at her former high school in Santa Barbara, California, she told MTV News:
"I think Nicki Minaj is the truth. I think she is amazing, and I love her sense of style. I love her beautiful figure. It's hot. I like her whole attitude. She's so funny and a chameleon, and you really don't know exactly what you're going to get from her, but you know it's going to be entertaining at every corner. She's really fun. She belongs in this world. I'm very excited for her record. I can't believe she hasn't even put out a record yet and she's still Nicki Minaj! It's amazing."
Of course, a few things have changed since then (and Minaj has released an album or two), but it looks like their love for each other has remained the same. Perry even attended one of Minaj's concerts in 2015, and seeing how far back these women go, it's surprising it took them this long to release a single together.
But now that they've finally teamed up for "Swish Swish," there's no telling what could be in store for these two in the future. More collaborations, maybe?