Lindsay & Everett Are No 'Summer House' Fling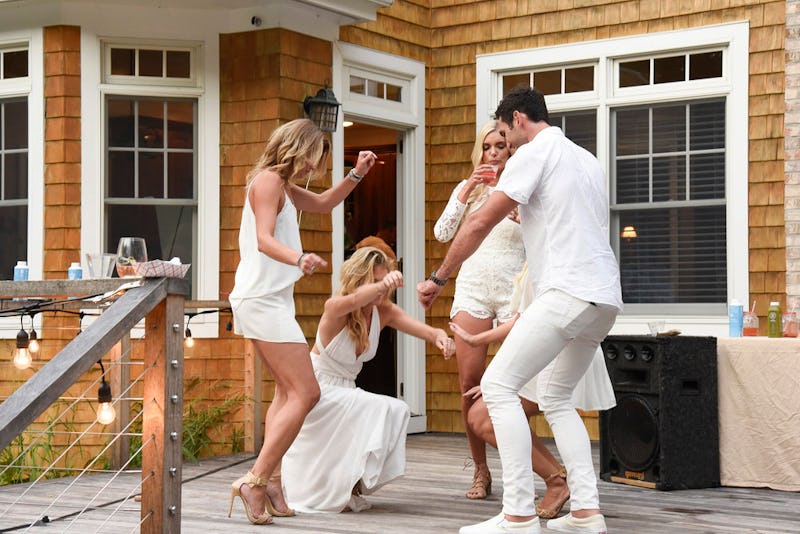 Eugene Gologursky/Bravo
If love can be fleeting, love on a reality television show is even more so. How can you be expected to stay in love with cameras in your face and just the slightest bit of fame coming between you and your beau? That's what I thought about Lindsay and Everett from Summer House, the only dating couple on the new Bravo series, but a little bit of research has proved me wrong.
For all intents and purposes, Lindsay and Everett seem like your everyday fun-loving couple on Summer House. Neither seems to have an interest in the Hamptons dating scene — they just want to go out and have fun together. In the preview into the season (aka the Vanderpump Rules backdoor pilot), it even seemed like they were close to moving in together. I give Lindsay and Everett a lot of credit for moving into a house full of single twenty-somethings for a summer, because when you're part of a couple, things can be pretty different. There is still fun to be had, of course, but it's a different kind of fun.
I wonder what the rest of the season will bring in terms of clashes between the single and the shacked up. In the preview episode, Lindsay and Everett seemed totally in love, so I had to know if their summer loving had them a blast or was just a bust. I dug into their social media accounts and it looks like these two are in it for the long haul. There are plenty of tweets and photos from the both of them that seem to indicate that Lindsay and Everett will be gearing up for another summer in almost-Montauk. Here's what they've been up to since Summer House wrapped.
They Spend Holidays Together
A couple that wraps all of those gifts together (and dresses up in Mrs. Claus outfits) stays together. But hey! What was Everett wearing while he snapped that picture? They both better be dressing up.
They Have Date Nights
And courtside seats at that! Doesn't seem to bad to be on a reality show, does it?
They Hang At Home
Because sometimes you just want to watch television with your honey.
They Give Gifts
Everett is definitely a keeper.
Judging by the time they're still spending together, I think it's safe to say that Lindsay and Everett's relationship is no Summer House fling.