Twitter Is Convinced Lorde & Jack Antonoff Are Dating After New Photos Of Them Surfaced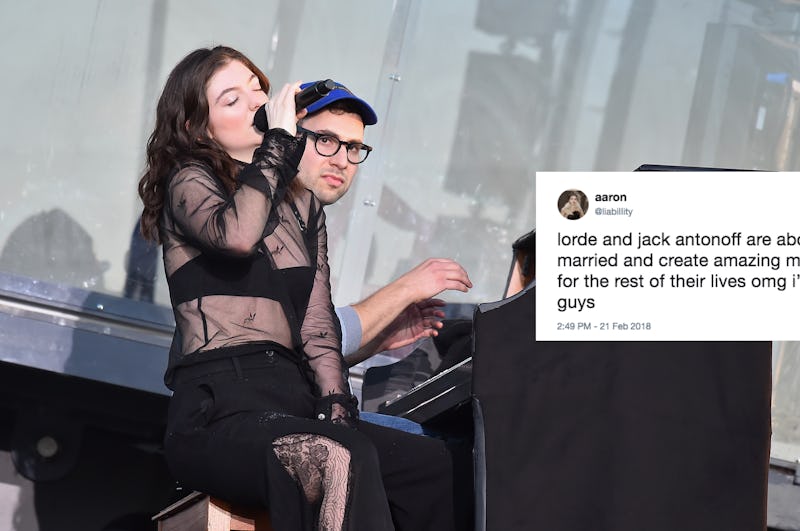 Theo Wargo/Getty Images Entertainment/Getty Images; liabiIIity/Twitter
They say pictures are worth a thousand words, and for Lorde and Jack Antonoff, some recent paparazzi shots may speak for themselves. The Bleachers singer slammed rumors that he was seeing someone at the beginning of January, but the new photos of the pair have fans seriously wondering if Lorde and Jack Antonoff are dating.
According to The Daily Mail, the musicians were spotted together in Lorde's hometown of New Zealand, and the pictures of the two hugging added fuel to the ongoing dating rumors. Toward the end of January, Lorde and Antonoff were pictured together at Clive Davis' Grammy party sitting side-by-side. Now, you may be thinking, but didn't Lorde say that the two were practically siblings in an interview? Yes, you're totally right. The singer chatted with Seth Meyers about her album Melodrama in July 2017, and talked a bit about what it was like to work with Antonoff. In the same interview, however, the "Green Light" singer also referred to Antonoff as her "work husband," so maybe there's some truth to the pair transitioning their work relationship into a more romantic one? Either way, Antonoff is sticking by his previous tweet about the rumor.
When reaching out to Antonoff's rep, Bustle was directed to the artist's Jan. 17 statement on Twitter. He wrote at the time,
"normally i would never address rumors but i resent having the most important friendships and working relationships in my life reduced to dumb hetero normative gossip. those relationships are deeply important and sacred. with that said, im not seeing anyone. lol."
Bustle reached out to Lorde's rep, but did not receive an immediate response.
But because internet is, well, the internet, fans are putting more stock in the new photos than Antonoff's actual Twitter statement. And as you may have already guessed, many supporters of both Lorde and Antonoff are stoked to see the two "together."
Not only are fans already making the 'ship official, they've also gotten a head start on making plans for their future.
Seeing fans getting excited about the rumor all over again may be exciting, but honestly, this fan's question about Taylor Swift may have won the night:
Considering that the Reputation singer is rather close to all parties involved, it's probably best that she sits this one out and stays on neutral ground.
Antonoff ended things with his longtime partner Lena Dunham in December after five years of being together. According to an E! report on Jan. 8, a source close to the pair shared that Antonoff and Dunham had been "growing apart," and the breakup was "mutual." The source also claimed that "it just made sense for them to end their relationship where it was. They want the best for each other no matter what. They are both moving on."
Shortly after the news broke, and while filling her Instagram account with inspirational quotes, Dunham launched an Instagram Live session Jan. 10 to chat with fans a bit about the process. According to E!, she said, "I'm wearing this ring that Jack gave me, and I'll always wear it, because love is a really cool, powerful, eternal thing, and it doesn't have to be defined the way we in Western culture define it, as beginnings and ends."
Breakups are never easy, but going through one in the public eye is surely a whole different beast. It's nice to know that Dunham still has a lot of love for Antonoff, even if the two aren't romantically involved. It sounds as though the ex-couple is handling things pretty cordially, but seeing as Dunham reportedly introduced Lorde and Antonoff, the news surrounding Antonoff and Lorde's budding rumored relationship could make things a bit awkward.
Here's to hoping, however, that all parties involved are able to handle the media blitz appropriately — whether Lorde and Antonoff are an item or not. And since they haven't confirmed anything yet, it's best to take the rumors with a grain of salt.