Miley & Liam Still Can't Escape Marriage Rumors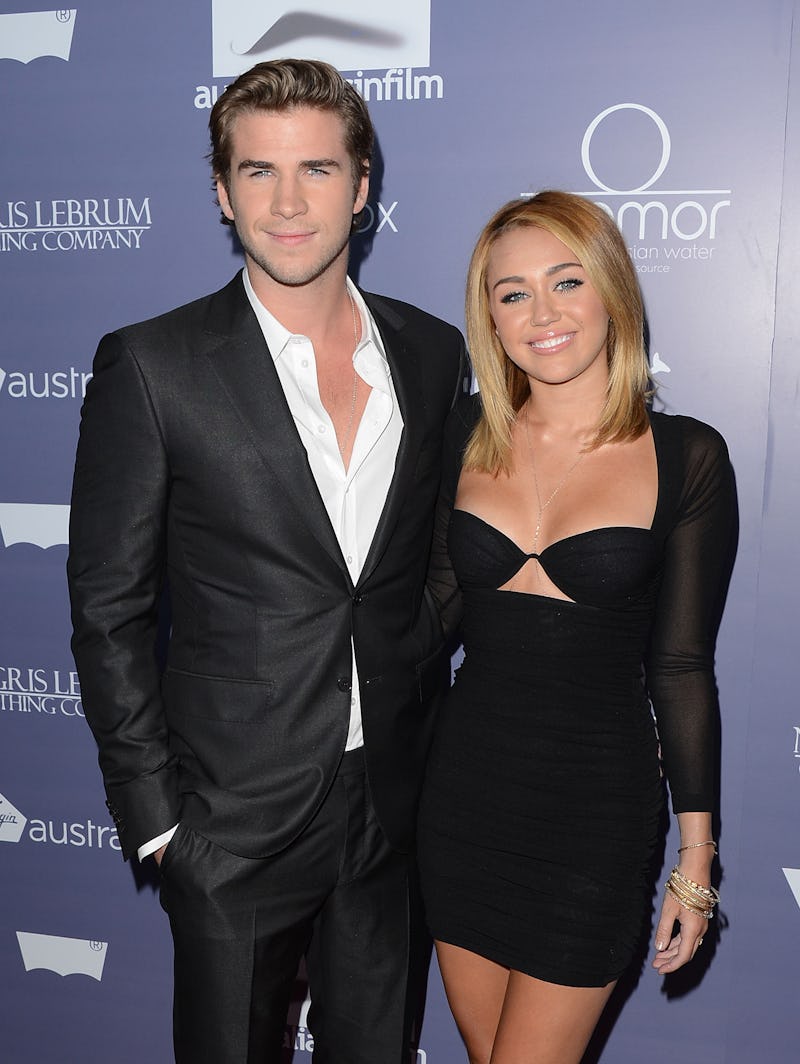 Jason Merritt/Getty Images Entertainment/Getty Images
Naturally, when a celebrity is spotted rocking a ring on that finger rumors are bound to swirl about the status of their relationship. But, despite being caught sporting a ring Liam Hemsworth has not married Miley Cyrus... yet. According to TMZ, the 27-year-old Australian actor was seen wearing a gold band while hanging out at the Cyrus home in eastern Kentucky on Sunday, Aug. 6, but that it didn't mean they were married. A source also told E! News that Hemsworth's ring is merely a representation of his future commitment to Cyrus.
The source claimed,
"He wears that ring as more of a 'promise' to Miley, but they are not officially married. The only thing that is missing is the legal piece of paper. The pair is not focused on planning a wedding at this time. They are more focused on making their love as strong as possible."
Plus, neither Hemsworth nor Cyrus have said anything about being married, no wedding photos have been spotted, and Billy Ray Cyrus hasn't opened up his mouth, which, as you'll see below, would probably be the case.
People magazine reported the on-again-off-again couple became engaged on May 31, 2012. However, they called it off in September 2013. The Last Song co-stars then decided to give their relationship another try in January 2016, so it totally makes sense that the two are taking their time with their second engagement. There's no need to rush when you're working on being back together again after a long time apart.
Hemsworth's ring doesn't mark the first time he and Cyrus have faced wedding rumors. On July 24, 2016, the "Wrecking Ball" singer posted a photo on Instagram of herself chilling at a pool and sporting a small diamond band on her ring finger. But she still hadn't walked down the aisle with her man.
On top of that, in March 2017, Cyrus' father Billy Ray Cyrus tweeted a photo of his daughter in a white dress, which sent the internet into a frenzy. (It appears now that the image ended up being from her "Malibu" video.) The speculation was so huge that Cyrus' manager had to step in to squash the rumors to Us Weekly.
In the meantime, E! News reports that the 24-year-old singer and her beau are just kicking back and hanging out with their families. "Miley and Liam are in a really good place because they truly understand each other...It is a really good situation right now and no one is in any rush to the altar," a source said.
As long as the two are on the same page then there's nothing wrong with keeping their relationship status low key. Whether Cyrus and Hemsworth marry today or tomorrow or ten years from now, their love appears to be stronger than ever.