Are 'Stranger Things' Stars Natalia Dyer & Charlie Heaton Still Dating? Let's Investigate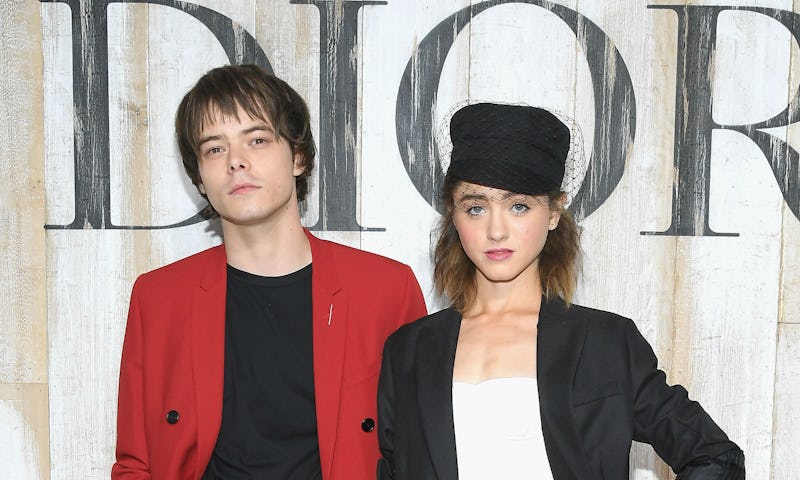 Pascal Le Segretain/Getty Images Entertainment/Getty Images
They've long-been known as a notoriously private pair, but their relationship has been especially mysterious as of late. Both stars' Instagram pages have gone relatively quiet, and it's been several months since the Stranger Things couple was spotted out in public. So, what's the deal? Are Natalia Dyer and Charlie Heaton still together? The answer isn't exactly clear, but ... maybe? (Bustle reached out to Dyer's manager and Heaton's rep for comment, but did not receive an immediate response.)
Fans first started to suspect that Dyer and Heaton were dating back in September 2016. Over the course of the next few months, it became pretty clear that — whether or not they were an actual couple — they were definitely spending a lot of off-screen time together.
Flash-forward to December 2017, and — even though neither one of the stars had spoken publicly about their relationship status yet — they finally made things red carpet official at the Fashion Awards in London, Marie Claire reported. Their first appearance together was very stylish and sweet, and likely caused a collective sigh of relief from Stranger Things fans all over the globe.
Since then, Dyer and Heaton have slowly gotten more comfortable being a couple in public. Well, kind of. They haven't been like, shouting their love from the rooftops or anything. They have made a few more appearances together at events, though, and have occasionally popped up on each others Instagram pages.
Speaking of which, according to Dyer's Instagram page, she and Heaton were definitely still dating as of April 15. The pair partied with Riverdale star Camila Mendes and friends at an after-party event in Palm Springs, after which Dyer captioned a photo booth GIF, "still pulling glitter out of my hair! thanks for having us @taola @palms #PalmsLV." The cute couple hit up Coachella together that weekend as well, JustJared reported.
Heaton made another appearance on Dyer's Instagram page a few days later on April 21, alongside their Stranger Things costar Joe Keery (who plays Steve Harrington). The picture shows Keery holding Heaton up on his feet in the Superman pose, and both guys are clearly dressed in their '80s era show attire. "[Back] at it like #season3 #tb," Dyer wrote.
In May, the Daily Mail snapped the couple looking friendly on set of the third season of Stranger Things. They took a quick break from work to hit up Dior's 2019 Cruise show together a few weeks later, but they've kind of been publicly M.I.A. since then.
Some fans on Twitter have reported seeing the couple out and about while filming in Georgia, but it's unclear when these reports were originally made. There are a few fan-snapped photos that appear to have been taken sometime in August, but again — they're kind of hard to confirm for sure.
Either way, perhaps fans will get a glimpse into their current relationship status during the Emmys on Sept. 17. Stranger Things is nominated in in several categories this year, including Best Drama — which, if won, could potentially produce a very excited, very affectionate Dyer and Heaton moment. Or not. Stay tuned.