Charlie Heaton & Natalia Dyer's Latest Red Carpet Appearance May Be Their Best One Yet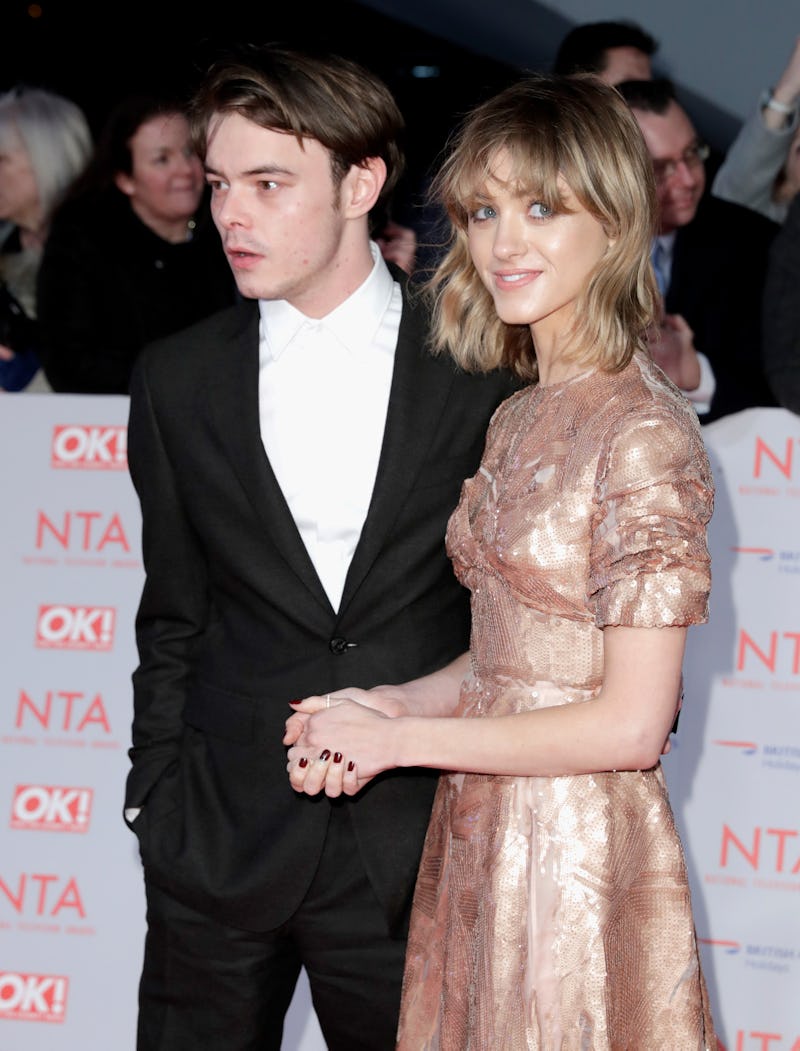 John Phillips/Getty Images Entertainment/Getty Images
Get excited, Jancy shippers. It looks like everyone's favorite in-real-life Stranger Things couple are slowly starting to come out of their shells. Natalia Dyer and Charlie Heaton attended the National TV Awards in London on Jan. 23, and not only did they walk the red carpet together, but they presented an award on stage together, as well. The co-stars have been easing into the public eye after finally making their relationship red carpet official back in December, but this latest sighting is the first of the new year.
Dyer and Heaton headed to London's O2 arena Tuesday night for the National Television Awards — a British TV awards show where the winners are determined by the public. Heaton opted to forego a tie for the event, but still looked super sharp in an impeccably-tailored, simple black suit with a crisp, white button-up shirt. Dyer gave us glitz, glamour and beach-y waves. The actor wore a floor-length, rose gold gown, adorned with intricately-woven sequins, and a faux-bandeau, ruched bodice.
The couple stayed close while walking the red carpet, and took to the stage later that evening to present Doctor Foster with the award for Best Drama, according to the U.K.'s Independent.
They also gave an interview during the event, where they talked about English accents — Dyer noted that Americans love all British accents, even cockney ones — and about celebrities being fans of their show.
It was right around this time last year when fans first started to speculate that the Stranger Things co-stars might also be an off-screen couple. On Jan. 9, 2017, Dyer and Heaton were snapped together at LAX after attending the Golden Globes with the rest of the Stranger Things cast, according to Us Weekly. While they avoided taking solo photos with each other on the red carpet that year, they often posed as a thruple alongside Joe Keery (Steve Harrington on the show). In May, they attended the MTV Movie & TV Awards, and were snapped looking "particularly cozy," according to InStyle.
After that, fans waited with baited breath for the couple to confirm reports that they were dating, and got an inkling of proof in October, when Dyer and Heaton were photographed holding hands while walking around New York, according to PopSugar. A few months later on Dec. 2, Dyer and Heaton posed together in front of a slew of sparkly streamers at East London's the Glory pub, where they partied at the Cara Delevingne x Burberry bash (as per Us Weekly).
Dyer looked super cute and casual opting for a floor-length, suede, purple trench over a polka dot dress, accessorized with a red and orange bandana around her neck. Heaton wore khakis with inked graffiti, a tartan print shirt, and a knee-length pea coat.
The next day, on Dec. 4, Dyer and Heaton finally gave fans what they wanted at the Fashion Awards in London, where they walked the red carpet together — just the two of them — for the very first time. While the couple stayed tight-lipped that night about their nearly year-long romance, Dyer eventually opened up to Us Weekly on Jan. 21 at the SAG Awards. "He's alright I guess," Dyer said when asked what she liked about Heaton. "He doesn't mess up our scenes too much! No, he's great. He's talented, like everybody in the cast. They're all super, just great to work with."
Dyer and Heaton have come a long way when it comes to putting their relationship on public display. The seemingly shy couple probably won't be getting all PDA-heavy on the red carpet any time soon, but that's totally OK and something they definitely deserve to keep to themselves. At the end of the day, all that matters to Jancy fans are that Dyer and Heaton are happy (and if they want to keep making cute public appearances together, that's cool, too).