You'll Be Obsessed With Sophie Turner & Priyanka Chopra's Major Sister-In-Law Goals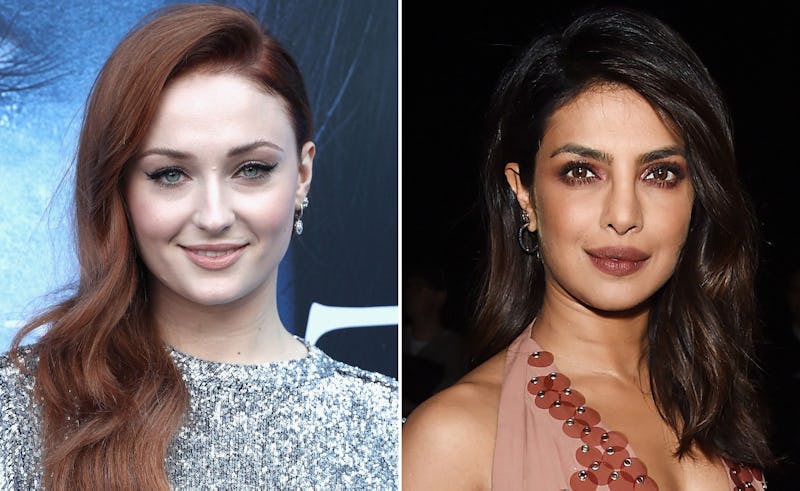 Frederick M. Brown/Getty Images Entertainment/Getty Images/Jamie McCarthy/Getty Images Entertainment/Getty Images
It seems like only yesterday that Priyanka Chopra and Nick Jonas first started dating, but the pair are now planning to get married. They announced their engagement by hosting a Roka, a traditional Punjabi ceremony that marks the beginning of a couple's wedding celebrations. Both shared snaps on Instagram afterwards, and the congratulatory messages rolled in, including from their future sister-in-law Sophie Turner (she's engaged to Nick's brother, Joe Jonas). But are Sophie Turner and Priyanka Chopra friends? TBH I hope so, having Sansa Stark in your corner is definitely a plus in my book.
Turner sent her well wishes to the couple by re-gramming a beautiful photo that both Chopra and Jonas had posted to their respective Instagram accounts, featuring the pair looking deeply into one another's eyes. Sophie captioned it: "Wow. First I'm blessed with an incredible future brother-in-law, and now such an beautiful, inside and out, future sister-in-law. I'm so excited to welcome you into the family @priyankachopra. I love you both @nickjonas."
While Chopra might not be quite on Maisie Williams' level as far as her friendship with Turner goes, the post seems to suggest they know each other better than we think. (For all I know though, Chopra might be in on Turner and Williams' matching Game of Thrones tattoos deal.)
Turner and Chopra have been spotted enjoying each other's company before, and even went on a cute July 4th double date earlier this year, cycling around New York together with the Jonas clan, according to the Daily Mail. Apparently, the fun continued into the night as Refinery29 shared snaps from Chopra's Insta-story that suggested she was at the Jonas family's Independence Day celebrations. In my opinion, the Jonas family look super close knit, and by the looks of things, Turner and Chopra are embracing that. Future BFFs, anyone?
Following the engagement announcement, Turner's fiancé Joe Jonas also took a moment to welcome Chopra officially into the family, posting the same image. He captioned it: "I couldn't be happier for my brother. Welcome to the family @priyankachopra We love you."
Chopra and her hubby-to-be were first linked after they attended the Met Gala in 2017 together. They arrived both dressed to the nines in Ralph Lauren. While it was rumoured that the pair had been dating earlier this May, a source told PEOPLE that while "they're flirtatious and have been hanging out, and text all the time", they they supposedly "very casual."
However, fast-forward to just last week, Chopra was announced the "future Mrs Jonas" on Instagram by her smitten fiancé, as she showed off an engagement ring with a diamond that could put give the crown jewels a run for their money.
The happy couple celebrated their Roka ceremony on Saturday according to the BBC, an event which is "a chance for the couple to exchange gifts and makes the union of their families public." The Indian Express revealed that both sets of parents were in attendance at the Mumbai ceremony. Dressed in traditional Indian clothing, both Chopra and Jonas shared an identical photo gallery of the event on their social media accounts.
Chopra wrote: "The only way to do this... with Family and God. Thank you all for your wishes and blessings."
Jonas, on the other hand, wrote: "Prayer, family and loved ones as the foundation to this new chapter."
As for when the wedding will actually be? Well, the couple haven't dropped any hints as of yet. I've reached out to their teams, but a rep has not yet commented. Of course, the couple may not share any details at all, which they have every right to do. Either way, I wish them all the luck and happiness in the world.