Katya & Husband Neil's Reaction To Their 'Strictly' Drama Is So Unexpected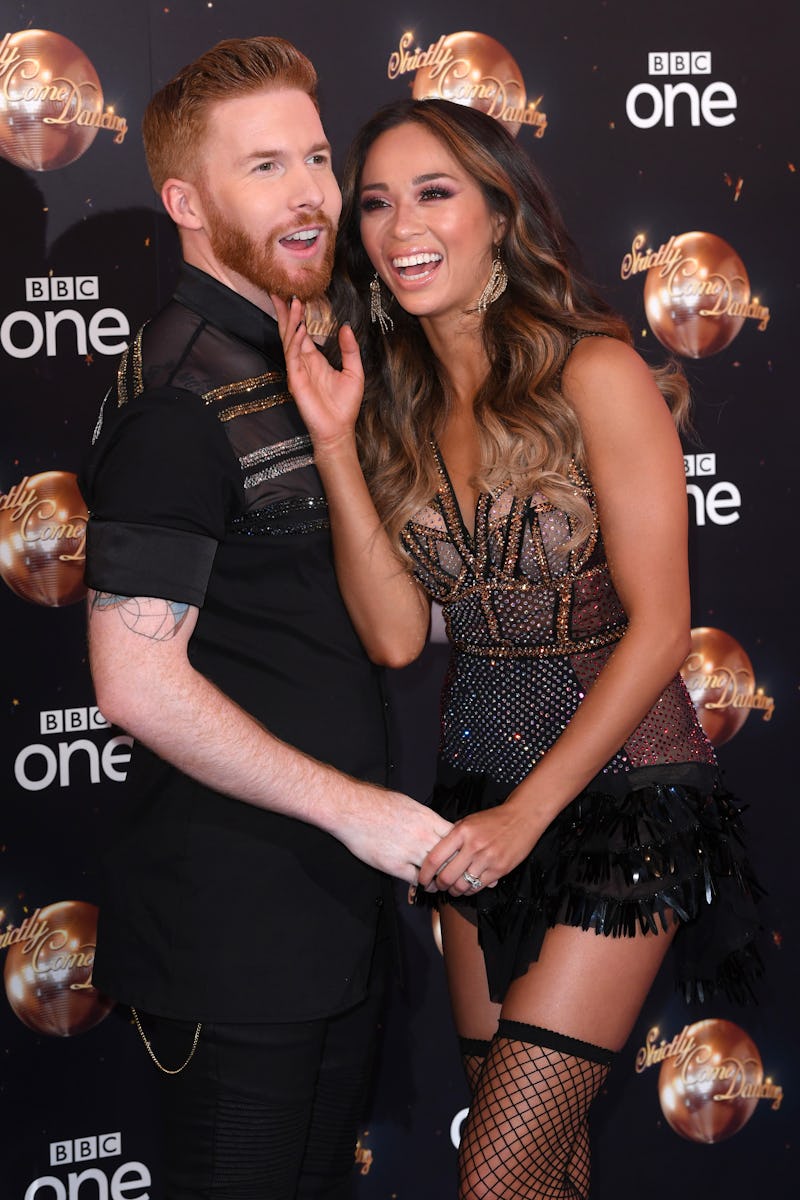 David Fisher/Shutterstock
After issuing apologies via social media, Strictly's Katya Jones and Seann Walsh took to Wednesday night's It Takes Two. There, they apologised directly to viewers after the kissing scandal that took place on Oct. 3, when photographs were revealed of them sharing an embrace on a night out. While Walsh and girlfriend Rebecca Humphries have subsequently split, the question remains as to whether Katya Jones is still with her husband Neil.
Well, it seems as though Katya and fellow Strictly dancer Neil are still a unit. When asked by Zoë Ball whether there was "anything else either of [them] would like to say," Jones replied: "I can't apologise enough to everyone who it hurt and involved," Jones said. "But, the main thing, me and Neil are absolutely fine and that's what matters to me most right now, and focusing on my job and doing it as professionally as I can."
This echoes the statement that the dancer published on Oct. 7 via Twitter. "I'm so sorry about any offence or hurt I may have caused with my actions," she wrote. "I wasn't thinking and it was a one-off mistake after some drinks. I love my husband and we are very happy together, this is not a reflection on our relationship."
Judge Arlene Phillips also commented on the issue, raising the prospect that Katya and Neil may have an open relationship during an interview with Lorraine on Oct. 10.
"We all love Neil and Katya, there's a togetherness and in truth, who knows what they're relationship [is like]," she said. "I know many people who have open relationships, we don't know that. And we knew nothing about Seann's relationship with [his] girlfriend, and obviously it's been something that's ongoing." Bustle have reached out to Neil and Katya's representatives for further comment, but have yet to hear back.
Whilst the BBC didn't address the situation directly with Walsh and Jones on Monday after the news broke, a representative from Strictly did issue a statement to Bustle UK regarding whether or not the pair would continue to dance together on the show, stating that "they will be dancing together" and that "they're both continuing on with the show and it's business of usual."
Anyway, back to the interview on It Takes Two. After both Walsh and Jones expanded on their apologies — with Walsh also addressing his relationship with now ex-girlfriend Humphries — Ball changed the subject back to dancing, discussing their training and what Saturday night will hold for them.
It appears that the couple have changed their dance routine to the Charleston for this weekend. "The Charleston, we're working really hard on," Jones told Ball. "We're still looking forward to Saturday and doing the Charleston as best we can."
Although, it has been reported that the couple were actually meant to be performing "an intimate number", as an insider told Metro, but this was switched "at the 11th hour by bosses who are horribly aware that viewers will be scrutinising every aspect of the couple's body language and chemistry."
We'll just have to wait and see what the reaction to Walsh and Jones will be on Saturday night, but overall Katya and Neil's relationships is, well, their relationship, and it should stay that way.