Kylie's Diary Offers A Variety Of Shadow Options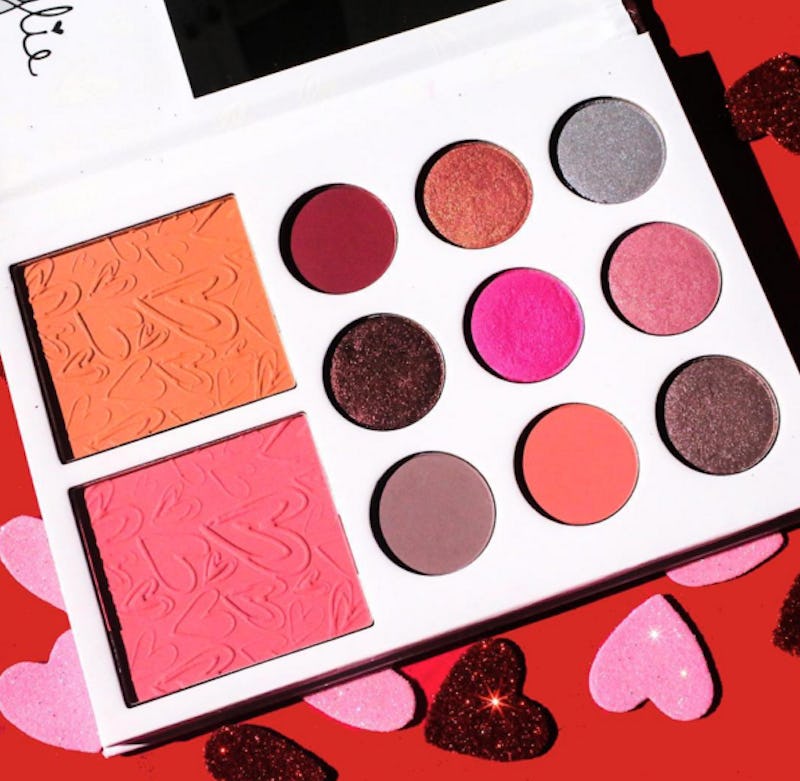 kyliecosmetics/Instagram
Kylie Jenner has given everyone a lot to look forward to this Valentine's Day. There are, of course, all of the cards, chocolates and flowers of a traditional V-Day celebration to get excited about, but now there's also brand new goods from Kylie Cosmetics to make your heart throb, too. Are the eyeshadows in the Kylie Cosmetics Kylie's Diary Palette matte? Find out all there is to know about the latest from the brand!
Jenner's given sneak peeks and posted some swatches on Snapchat to tease her upcoming collection, but the photo she recently posted to the Kylie Cosmetics Instagram showcases the inside of Kylie's Diary better than ever before. The zoomed in pic really allows for some up close and personal time with these shades, and based on the photo, there are quite a mix of finishes in the range. The caption details each and every color and finish, pointing out that there are four metallic hues, one pearlized option, one satin version and three matte shadows in the line-up.
There are also two first-ever blush shades offered in the palette. So, when you get your hands on this you're getting nine exclusive eye shadows as well as two brand new blushes from the brand. Is that enough to make you fall in love with this product or what?
I'm falling, head over heels.
You're in for quite the treat when you shop this set. There's so much variety offered in just one package!
Each of the colors are absolutely gorgeous.
Those metallic hues pack a whole lot of shimmer and shine. Just what you need to create a bold, beautiful Valentine's Day look!
It's easy to see why Kylie's Diary has stolen the hearts of many.
Plus, there's plenty more where this came from. The Kylie Cosmetics Valentine's Day 2017 collection is packed full of goodies that will make you swoon. So, be online the moment the range becomes available to shop. It'll be up for grabs at exactly 6 p.m. ET/3 p.m. PT on Feb. 2.
Give the gift of glam this Valentine's Day. You won't regret it!