Netflix's 'GLOW' Has Some Awesome Wrestling Cameos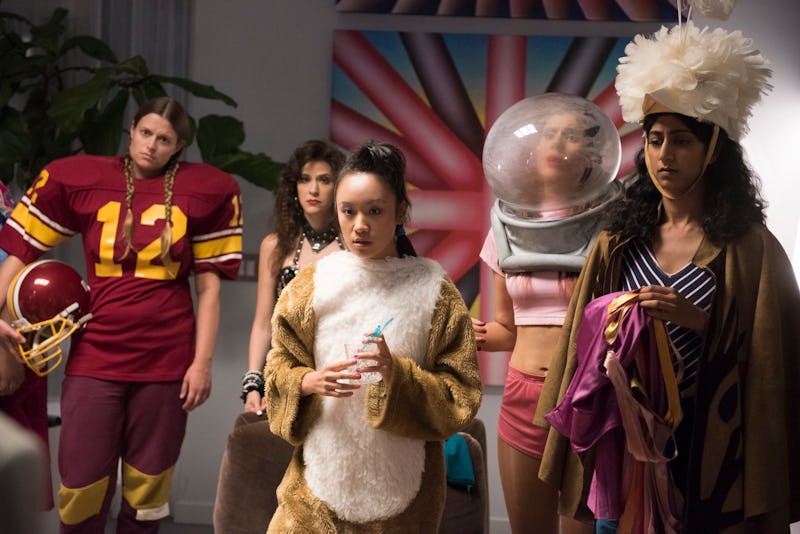 Erica Parise/Netflix
Let's get ready to rumble—or at least, get ready to marathon a new TV show. Netflix's upcoming comedy series GLOW is a fictional behind-the-scenes look at a popular television show of the same name, which elevated women's wrestling into the public eye in the '80s. Now, at long last, the Gorgeous Ladies of Wrestling are making a comeback — but are there real wrestlers on GLOW?
Sadly, not too many members of the cast started out in wrestling, which is actually pretty true to the series it was inspired by. According to the 2012 documentary GLOW: The Story of the Gorgeous Ladies of Wrestling (which is also on Netflix, and I recommend you watch it first because it makes the new show so much more interesting), the men who created the original show mostly sought out television actors, with the exception of some seasoned veterans like Matilda the Hun.
However, there is one prominent member of the Netflix series who's spent plenty of time in the ring: Kia Stevens, who plays Tamee, known later in the season by her wrestling persona of "Welfare Queen." Stevens first got her start on the Japanese wrestling circuit under the pseudonym "Amazing Kong," which was later changed to "Awesome Kong" when she appeared in Total Nonstop Action Wrestling (TNA); she's also appeared in the WWE as "Karma."
But although Kia Stevens is the only one of the girls with any wrestling experience, she's not the only person on the show with some WWE cred to her name. There's also John Henningan, who plays Salty "The Sack" Jackson in the first two episodes of the series and who used to go by "John Morrison" or "Johnny Nitro" during his time in the WWE. He now wrestles with Lucha Underground under the name "Johnny Mundo."
Of course, you'd probably expect some the male characters who perform as wrestlers to actually be real-life wrestlers outside of the show, and you'd be right. In episode 5 when Debra attends her very first wrestling match, the performer she flirts with is played by Kevin Kiley Jr., formerly "Alex Riley" in the WWE.
Meanwhile, his heel in the episode, Mr. Monopoly, is played by Joey Ryan, as confirmed by IGN. He is known, according to Rolling Stone, for taking out 11 other wrestlers with his penis.
Then there's Carmen's wrestling-obsessed family; both her brothers are played by real wrestlers, whom Outkick The Coverage identify as Carly "Carlito" Colón Jr. (who actually does come from a legacy family, as his father and brother are also wrestlers), and George Murdoch, also known as Brodus Clay. Both men worked for the WWE in the late '00s, and even recently teamed up in a tag team match for Qatar Pro Wrestling last year.
Watching the show, it's easy to see why so many wrestlers were down to play little roles in GLOW's premiere season; at its core, it gets what makes the combination of wacky storylines and compelling physical feats so compelling to people, even if it's not "real" fighting.
Ultimately, GLOW is a love-letter to wrestling—which makes it the perfect show to get your friends into the pastime. Trust me, it's a slippery slope from this to watching WWE SummerSlam every year.