Here's Why Urban Decay Vice Liquid Lippies Are Maj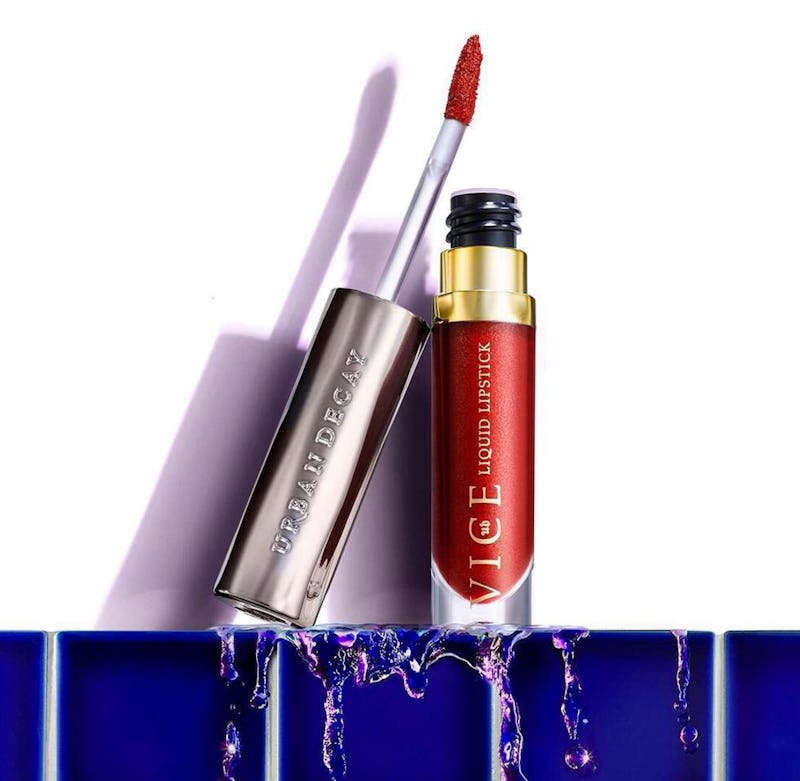 If you are a Beauty Junkie and a lipstick lover, you've probably been waiting (impatiently) for Thursday, Jan. 19 to arrive. That's the day that Urban Decay's Vice Liquid Lipsticks arrive via the brand's site. There are 30 shades, 10 of which are UD site exclusives. They come in two finishes — Comfort Matte, which is mega creamy, and Metallized. These lippies are $18 a tube. But what's the sitch with their wearability? Are the Urban Decay Vice Liquid Lipsticks long-wearing?
Vice Liquid Lipstick, $18, Urban Decay
Well, the fact that Urban Decay is touting the lippies as lifeproof and waterproof means they won't budge. "I don't want a lipstick that stays put," said no one ever.
All of those qualities makes the price even more attractive, since you won't be applying and reapplying throughout the day and therefore quickly blowing through a tube.
I have my eyes on Naked, Backtalk, and Trivial, which are pink x nude shades. The Vice Liquid Lipsticks on-sale date is creeping up on us. If you haven't already done so, sign up for an email reminder via the UD site. That way, you will be digitally alerted the moment these babies become available.
There are so many shades to choose from and they won't migrate or make a mess.
A metallic and red liquid lipstick is a "must have" for all makeup bags.
This caption accompanies the above photo and ticks off the awesome qualities of the Vice lippies.
I want to paint my mouth with these lippies ASAP!
These lippies will take up residence on your lips for the long-term. You ever have a guest who wears out their welcome by hanging around too long? Well, that scenario does not exist when it comes to lipstick! These lippies can cling to my lips all day and all night and I'll never want them to go away!
This short video will have you coveting this collection.
They're kiss-proof, as well. Therefore, your significant other won't be all sorts of smeared with lipstick.
This is Trivial and I want it so bad! UD notes in the product description on its site that the Vice lippies are formulated to have zero transfer and to wear comfortably without drying lips. Yes, yes, and yes!
The Vice liquid lippies cruise onto the UD site on Jan. 19. Be ready to say #ByeMoney.
Images: Urban Decay/Instagram (3); Courtesy of Urban Decay (2)