Judy Blume Finally Said Yes To An 'Are You There God? It's Me, Margaret.' Movie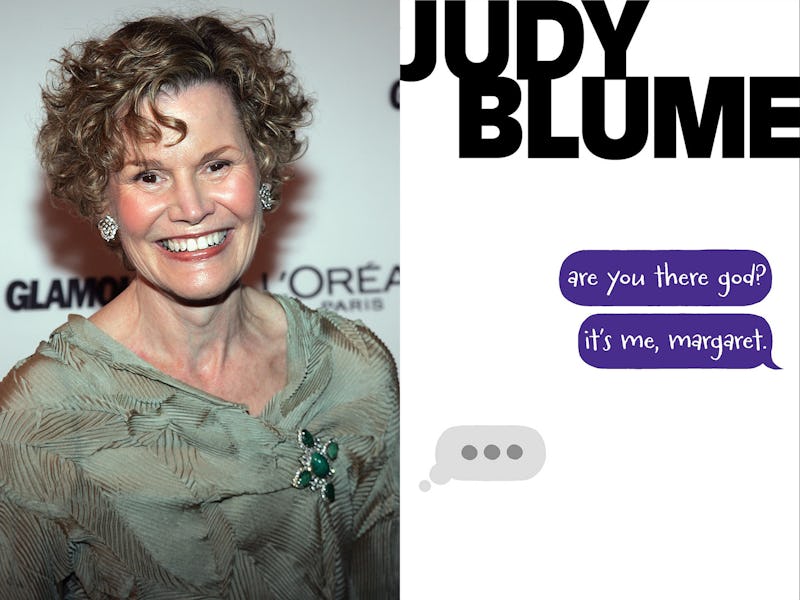 Evan Agostini/Getty Images Entertainment/Getty Images
You already know author Judy Blume is an icon when it comes to teen lit. Her middle grade and young adult books are mainstays in libraries and classrooms across the country, thanks to her unflinching and relatable takes on everything from puberty to divorce. But it is undeniable that her 1970 release, Are You There God? It's Me, Margaret., has had the biggest and most lasting impact, particularly among teen girls for whom the book was a right of passage. And now, almost 50 years after it was first published, the book could finally be adapted for film. Bustle has all the details below.
According to an article in Deadline, Blume has granted the rights to producer James L. Brooks' Gracie Films and Kelly Fremon Craig, who previously collaborated on The Edge Of Seventeen, the 2016 coming of age film that starred Hailee Steinfeld. If you've seen that film, you'll know that it was filled with exactly the sort of throwback teen angst that is Blume's bread and butter, so this is basically a partnership made in YA heaven. Fremon Craig will adapt and direct while Brooks will produce (along with a few others, including Blume herself.) According to Deadline, the film will not be shopped around to distributors until there is a "proper screenplay" in place.
Are You There God? It's Me, Margaret. centers on 12-year-old Margaret Simon, who has just moved from New York City to Farbook, New Jersey, and is anxious to fit in. Throughout the year, Margaret and her new friends discuss everything from boys and bras to getting their first periods — but Margaret also grapples with her own private relationship with religion, and her secret crush on a boy named Moose. When the book was first published, it was considered way ahead of its time thanks to its frank discussions about topics like menstruation and sex; so much so that it has been banned by schools numerous times for what was often deemed its "sexually offensive and amoral" content.
Are You There God? It's Me, Margaret. by Judy Blume, $7.99, Amazon or Indiebound
For many young women, especially in the '80s and '90s, Blume's book became something of a legend, passed down from girl to girl and read in stolen moments. For some, it was the first time they'd ever read about what getting their period would be like, or had seen their own thoughts about the weird new worlds of boobs and boys mirrored on the page. The prospect of witnessing this crucial coming of age story on the big screen is an exciting one for fans both new and old. We don't yet know when the film will be released, but until then you can dig up your worn paperback copy and relive all the pre-teen feels in preparation.