This Week's 'Catfish' Story Will Restore Your Faith In Love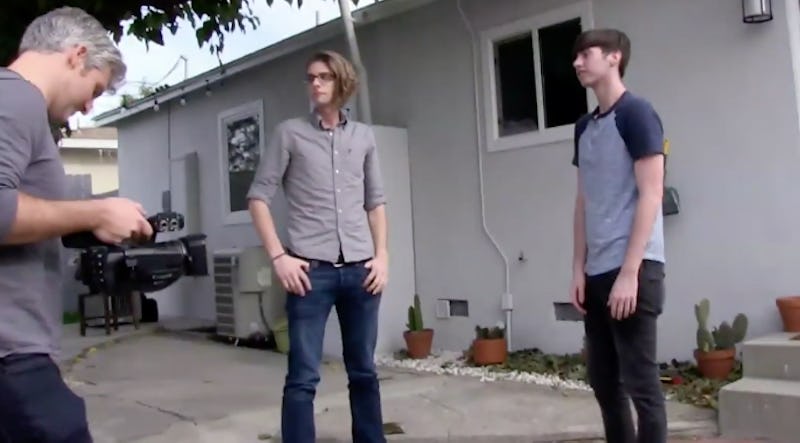 MTV
Spoilers for the Feb. 7 episode! It's always a treat when an episode of Catfish (executive producer, 46 episodes: Ariel Schulman) crescendos with blissed-out lovebirds holding hands instead of tears being shed in the front seat of Nev's car. The premise of Catfish mostly lends itself to sniffing out lies, deception, and fake social media profiles. Sometimes people are who they say they are, but it's never a given. Everyone is met with skepticism — it's just the nature of the game. That's why it's reason to celebrate when someone was accurately representing themselves and actually has the feelings they said they had. That's what this week's episode of the reality show delivered, and it was cute as anything. So, are Catfish's Zak and Garrett still together today?
The two were definitely still together when Nev and Max checked in on them a month after filming wrapped, and they seemed so happy. They even appeared together, physically in the same place, when Nev and Max video chatted them. Despite his hesitance to meet Zak, Garrett was exactly who he said he was, and when they both traveled to Los Angeles to meet up with each other, they embarked on a date and shared some smooches. It looked like it was a dream, and it seems like it continued for a while afterward, as well, though details are scarce. The two had been commenting and liking each other's Instagram photos as recently as last month.
Garrett shared a photo in January from an airplane, captioning it, "Life is an adventure #365daysofourlives #gay #love." While he didn't explicitly say that he was visiting Zak, it seems likely, as the two lived in separate states at the time of filming, and Zak also liked the photo. Garrett also left a seemingly flirtatious comment on one of Zak's photos on New Year's Eve.
Since that January post of Garrett's, though, there hasn't been much social media activity between the two, but that doesn't necessarily mean anything. There are some other hints to consider, though. Zak, who seems to share a lot of his personal thoughts on his blog, posted last month that he wants "to live a full life and I want to know what would happen if I dated that guy that's perfect for me but I'm too afraid he might hurt me. I want to move to a new city I've never visited with a guy I've internet dated for months." This sends some mixed signals as to if he's actually still with Garrett or if he's got other things going on.
His recent posts suggest that Zak has a lot in the air — he toys with the ideas of moving from city to city, abandoning Delaware, where he moved recently to pursue a relationship that didn't work out, according to what he told Nev and Max on the show. Zak is also advertising on his social media accounts that he's appearing on Catfish (supervising producer, 14 episodes: Leanne Mucci), so he doesn't appear to be embarrassed of the experience he had in front of the cameras.
These two had a lot working against them when they appeared on the show, though they seemed determined to pursue a relationship. Garrett shared that his family unfortunately wanted him to hide his sexuality and remain their "straight son," even though he wanted to pursue relationships with men. Zak had a more supportive family at home, based on what he said on the show, but they both still had to deal with the distance between them and the struggle that would have to ensue were they to move to each other. Since their posts on social media have dropped off in recent weeks, it remains unclear if the two simply haven't happened to post about each other, or if they've moved on to other things. Regardless, they both have some sense of peace now that they've finally managed to meet face to face.