Aretha Franklin's Final Performance Is A Testament To Just How Dedicated She Was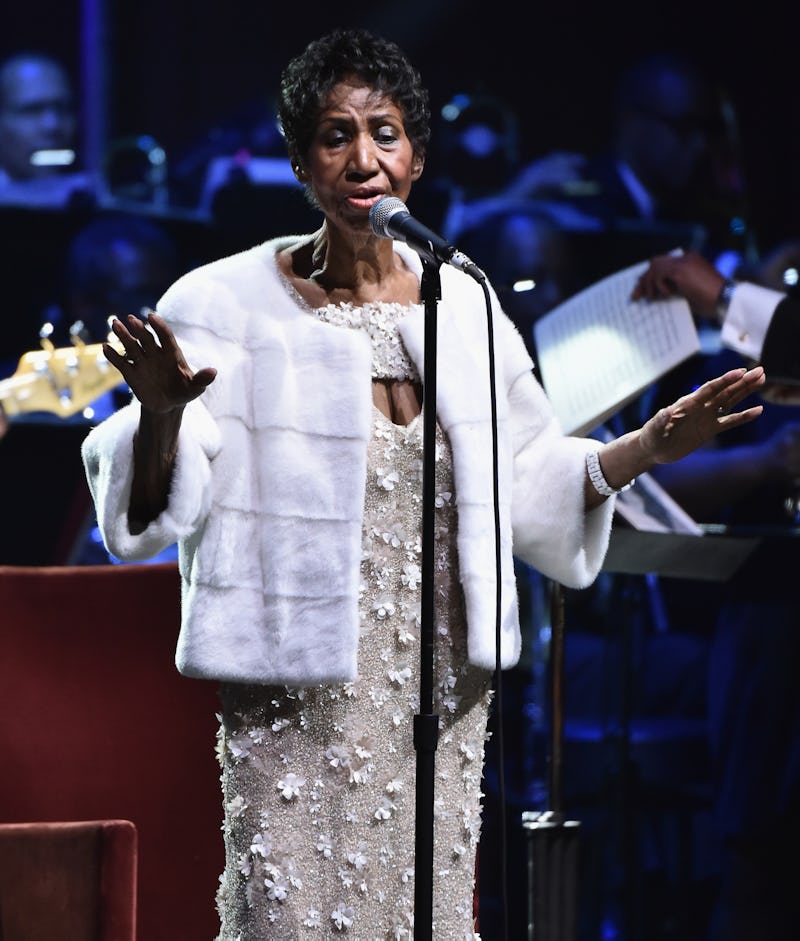 Theo Wargo/Getty Images Entertainment/Getty Images
After news spread about legendary artist Aretha Franklin's passing on Thursday, fans turned to her music for comfort. Looking back at Franklin's last performance is really a testament to her talent and dedication. Even though she had announced her retirement in February 2017, she still took the stage at Elton John's gala marking the 25th year of his AIDS Foundation in November of that year. A Rolling Stone video captured part of Franklin's moving performance on Facebook, and it's worth a watch.
The fact that Franklin continued to perform, even after she was ready to retire, is a testament to just how dedicated she was to her music. And that passion for everything — ranging from her music to her loved ones— is clear in the statement Franklin's rep released about her death. In a message on behalf of Franklin's family (shared by CNBC as well as other publications), the singer's rep said:
"In one of the darkest moments of our lives, we are not able to find the appropriate words to express the pain in our heart. We have lost the matriarch and rock of our family. The love she had for her children, grandchildren, nieces, nephews, and cousins knew no bounds.
We have been deeply touched by the incredible outpouring of love and support we have received from close friends, supporters and fans all around the world. Thank you for your compassion and prayers. We have felt your love for Aretha and it brings us comfort to know that her legacy will live on. As we grieve, we ask that you respect our privacy during this difficult time."
As devastating as the news of her passing is, it's clear Franklin left her mark on the music industry — and even she knew that. Speaking of her retirement in February 2017, Franklin explained how "enriched" she felt with her career in an interview with Detroit's WDIV Local 4. She said at the time,
"I feel very, very enriched and satisfied with respect to where my career came from, and where it is now. I'll be pretty much satisfied, but I'm not going to go anywhere and just sit down and do nothing. That wouldn't be good either."
Back in 1987, Franklin made history as the first woman inducted into the Rock & Roll Hall of Fame. She also earned a number of awards, including 18 Grammys and more than 40 nominations.
While it may not have been her final performance, when Franklin performed at the Kennedy Center Honors in 2015, it was an unforgettable moment — so much so that even President Barack Obama was moved to tears, according to a Rolling Stone report at the time. As seen in the video below, the former president got emotional, as others in the audience were moved by the music as well.
Whenever Franklin performed, she clearly gave it her all. And it's that level of passion, along with her undeniable talent, that makes her a legend in every sense of the word.