Ariana Grande Is Marching With Her Favorite Ladies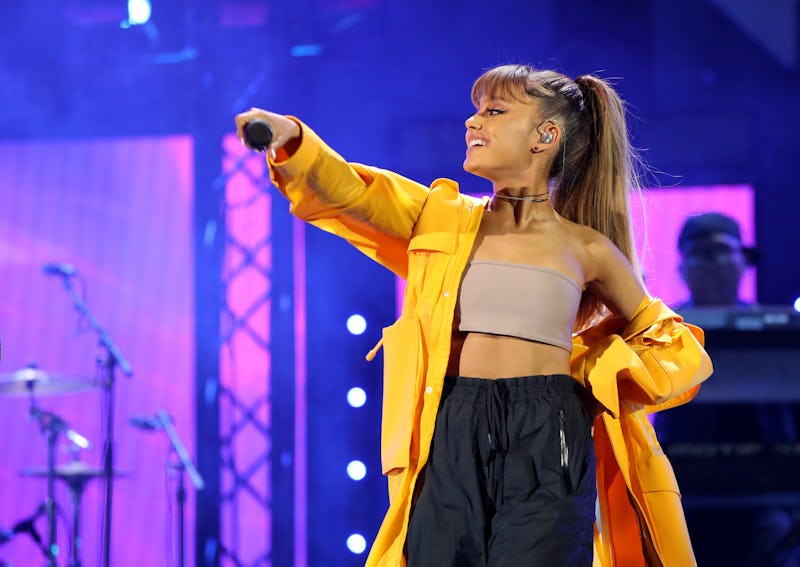 Christopher Polk/Getty Images Entertainment/Getty Images
Tiny in stature, mighty in her politics, obviously Ariana Grande is at the Women's March. She won't be alone either. In an Instagram post of Grande's mother Joan and grandmother Marjorie published on Friday, Jan. 20, Grande shared her plans to march with "these two incredible ladies tomorrow" and continued,
I can't wait to share this #womensmarch with the strongest women in my life and with all of the other strong, beautiful, unique, empowered, brilliant, amazing women out there who are marching as well! 💛😌
This isn't surprising considering Grande's mother's Instagram posts have proven she's a feminist, too — clearly feminism runs in the family. But she's not just marching with the two previous generations of Grandes, but with her friends, too. She followed this up with an Instagram video on Saturday, Jan. 21, showing her surrounded by friends in a van captioned, "we the people all the people #womensmarch."
And finally, fans were treated to a close-up snap of Grande's grandma wearing an extremely fetching "feminist" pin. Like grandmother, like daughter, I guess? Grande clearly has equally intense feels for her grandma that you do for yours, because this post was captioned "everything #womensmarch#myrock #queeeent." Since Grande has been preaching about the importance of women's rights since way back when, it's great to see her off to support a cause she feels strongly about.
Grande has been one of the most vocal feminists of her musical generation for a while now. Whether shutting down sexist what-ifs ("What if you could use makeup or your phone for one last time, which one would you pick?") on a radio interview, refusing to tolerate body-shaming, or speaking up in a radio interview in support of fellow musician Kesha, Grande has proved that feminism is always at the top of her agenda. ‌
So, I, for one, am exhilarated that someone who has so consistently had other women's backs is at the march. The obvious question the news poses, however, is which march is she at? While Grande has been using the #womensmarch hashtag, she hasn't qualified her statements with any confirmation as to whether she's hitting either of the two major marches in Washington, D.C. or New York City, or if she'd be headed to one of the many, many other marches taking place throughout the country.
Plenty of news outlets are assuming that by using the general hashtag, Grande is in fact headed to Washington, but honestly, given that nobody's spotted the singer so far, her location is anyone's guess. Regardless, Arianators, you've got a lot to be proud about: Your idol isn't just talking the talk, she's walking the walk.