Ariana Grande & Gabrielle Union's 'Bring It On' Twitter Exchange Is ICONIC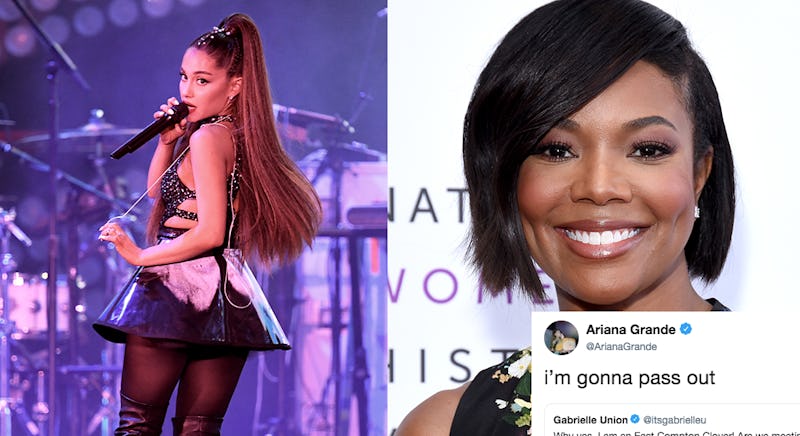 In lead-up to the release of her forthcoming album Thank u, Next, Ariana Grande has been offering exciting tidbits about the project which have paid homage to some of the most iconic films on the early-2000s including, Mean Girls, 13 Going On 30, and Legally Blonde. After recently sharing photos of recreated scenes from Bring It On, Grande and Gabrielle Union had a Twitter exchange that is sure to make fans of the film extremely cheerful.
After Grande posted the final clue to her video's narrative, which featured a snapshot of five women dressed in East Compton Clover gear, Union jumped-in to show her support for Grande and her upcoming project. The newly-minted mother, who played the role of Isis in the film, took to Twitter with her response, sharing:
"Why yes, I am an East Compton Clover! Are we meeting today @ArianaGrande I'll bring the punch"
Grande, who has created major anticipation for the video's release with her daily reveals, appeared to be taken aback by Union's response, replying to the tweet with, "i'm gonna pass out."
Over the past few days, many of Grande's hints have involved the singer dressing up as characters from movies while captioning her posts with famous quotes. In other instances, she's simply posted images from movies along with the words "thank u, next." There was also a moment when Grande shared a photo of herself with actor Jennifer Coolidge, who played Elle's BFF Paulette in Legally Blonde. In the pic, Coolidge is dressed as her character, leading many to believe that she may even make a cameo appearance in the visual.
As the fourth of her theatric revelations, which comes ahead of the secret project's debut, Grande's Bring It On tribute notably followed suit by borrowing a line from the movie that fans are sure to remember. Along with a snapshot of herself dressed in a Toros cheer costume, Grande captioned,
'i transferred from los angeles, your school has no gymnastics team this issaalast resort ........ ok i've never cheered before so what?'
She then followed the post up with a photo of a group of girls decked out in the Toros rival squad, the East Compton Clovers' uniforms. Continuing with the trend of adding her song's name to the easter eggs that she's sharing for the new project, Grande captioned, "east compton clovers. thank u, next"
While it seems clear that iconic '00s films will most likely play a major part in her upcoming music video for "Thank U, Next," there were only three out of the four movies were known until today's Bring It On reveal. Despite Coolidge's participation in the photo op, it remains unclear whether any of the actors from the mentioned films will appear in the video or if there are any other surprises to come when the video finally arrives.
However, Reese Witherspoon, who played Elle in the Legally Blonde film franchise, appears to be highly-supportive of Grande's plan to recreate scenes from the film. The Big Little Lies star offered her support after Grande posted a photo of herself channeling Elle on a treadmill working out with her orange Mac laptop. The photo, which was captioned with one of Elle's signature lines, "Whoever said orange was the new pink was seriously disturbed," prompted Witherspoon to share a screenshot of the photo on Instagram story. In her caption, Witherspoon wrote, "serious Legally Blonde Vibes," while tagging Grande and adding series of heart emojis.
Grande responded by sharing gratitude for Witherspoon and posting to her own story: "wait til u see the rest! thank u for originating one of the most iconic, necessary & brilliant female roles ever. love u the most."
With the 2000s nostalgia and support of Gabrielle Union and Reese Witherspoon on her side, Grande's "Thank U, Next" project is gearing up to be one of her best yet.