Ariana Grande Is Back On Twitter, Because She Can't Stay Away From Her Fans For Too Long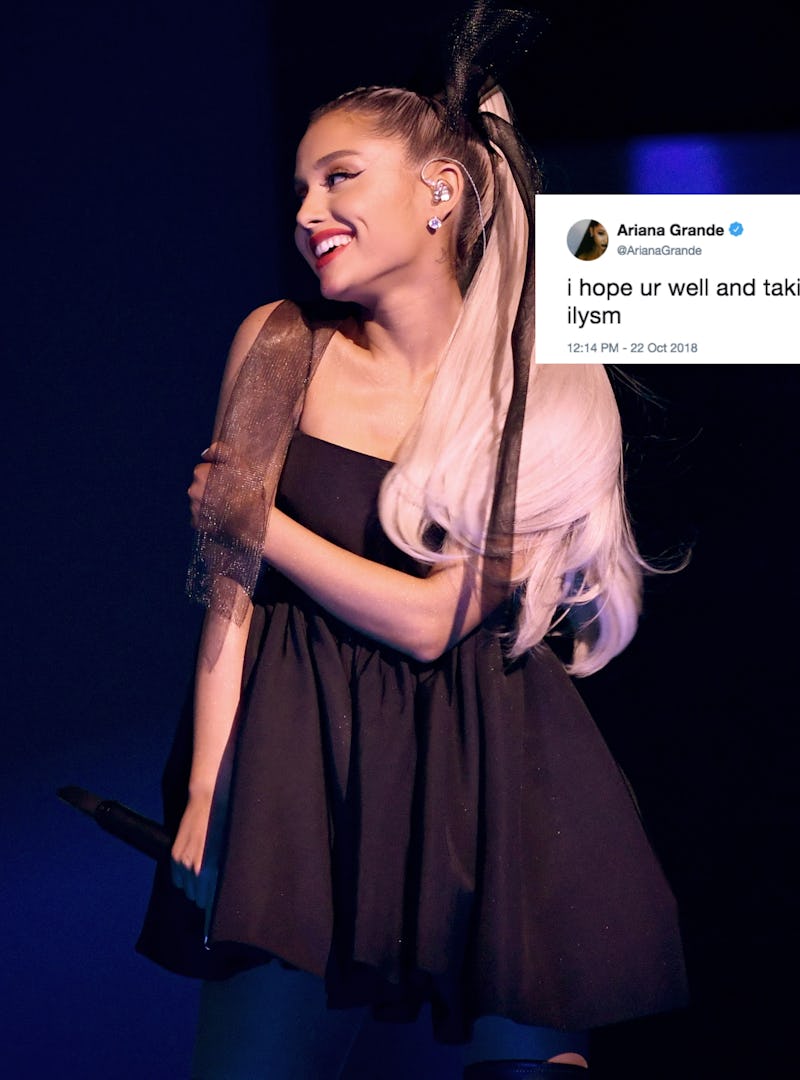 Kevin Winter/Getty Images Entertainment/Getty Images; Ariana Grande/Twitter
Attention, Arianators, the queen is officially back — on Twitter, that is. Ariana Grande is back on Twitter after the recent news about her split from Pete Davidson. Since this is Grande we're talking about, of course, she made her return to the social media site on Oct. 22 by posting some of the sweetest, most positive messages to her followers.
Even though she did previously post about her appearance on A Very Wicked Halloween: Celebrating 15 Years on Broadway on Oct. 15, her tweet spree on the 22nd proved that Grande was truly back to her typically positive and personal ways on the social media site. She first wrote, "f*ck why won't it tweet my clear heart." The "God Is A Woman" singer followed that up with a flurry of tweets where she told her fans how much she loved and missed them.
Grande also shared a lovely note to her followers in which she urged them to take some time to care for themselves. She said, "i hope ur well and taking care of yourselves ilysm." It's clear that the talented singer is choosing to stay positive in light of her recent split news. And in her classically sweet manner, she's urging her followers to do the same.
Not only are Grande's positive vibes on display via Twitter, but one can also tell that she's keeping her head held high by one of her recent outings. On Oct. 21, the singer was out and about in New York City as she shopped in the Soho area with some of her friends, according to People. After all, what better way to stay positive than by having a fun hangout with your pals?
The publication noted that on the same day as her shopping trip, she shared a positive message on her Instagram Story, which read, "Protect your peace, get rid of toxicity, cleanse your space, cultivate love." So, it's obvious that Grande isn't about to focus on the negative after her very public split from Davidson. (Bustle previously reached out to reps for Davidson and Grande about the split, but did not hear back.)
She also gave an update for fans about when they'll get to see her perform. In response to one fan asking about a Sweetener tour, she wrote, "i'm ready my heart needs it actually finalizing a few more things but i'm tryna get em dates to u asap." And when another applauded her for "kicking anxiety in the ass," Grande wrote, "i'm tryin but jus wanna see u tbh."
Of course, all of this comes shortly after the aforementioned breakup. On Oct. 14, TMZ reported that Grande and the Saturday Night Live star had parted ways and also called off their engagement. A source discussed the breakup to People, in which they said that the couple's relationship was, "way too much too soon." Their breakup came only months after the pair surprised the world with the news of their engagement in June, which came only a short while after it was first reported that they were dating.
While Grande has been vocal on Twitter since the split, she has still not yet commented directly on the breakup news. However, on Oct. 20, Davidson did address it during his appearance at the Judd & Pete for America Show at the Coronet in West Hollywood. He said, according to E! News:
"So, obviously you know I, we broke up or whatever but when me and her first got engaged we got tattoos. And it was like in a magazine like, 'Was Pete Davidson stupid?' And 93 percent of it said yes. So my boy, he was like, 'Don't listen to that sh*t man. They're literally f*cking haters.' And I'm like, yeah, f*ck that. I'm not stupid. And the other day we were in my kitchen and he was like, 'Yo bro. Turns out you were stupid.'"
It was a bit sad to hear that Grande and Davidson parted ways, seeing as though they appeared to have had such a strong relationship. But based on her tweets and recent public appearance, it seems as though the "Dangerous Woman" singer is doing alright and focusing on the positive post-split.